Posted by Hourglass Angel on Feb 24th 2022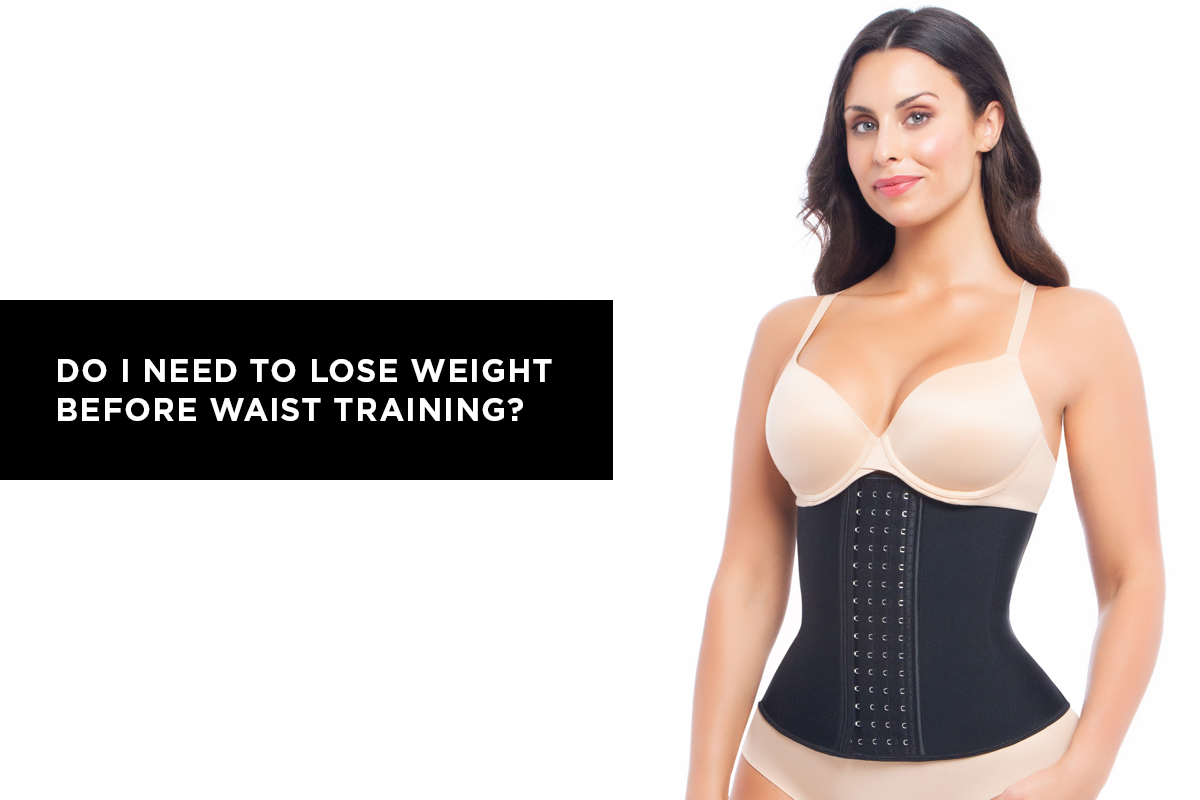 If you're considering losing weight, you may have come across waist training as a helpful tool to supplement your health-and-fitness journey. But you may wonder, do I need to lose weight before beginning waist training?
Using a waist trainer dramatically changes your shape into an hourglass from day one. A high compression waist trainer slims your midsection between 1 to 3 inches when you wear it – so no, you don't have to lose weight first to enjoy those immediate results.
What about comfort? If you're new to the practice, you might assume that the garment will be more comfortable or effective if you lose some weight before you start daily waist training. But that too is a misconception. Any person of any size can wear a waist trainer comfortably and effectively, and get stunning results, with or without weight loss.
To get the most out of your waist training, including your weight-loss goals, here's what you need to know.
What is Waist Training and How Does It Work?
Waist training is a daily discipline of wearing a high compression waist-slimming garment. It works best as part of a healthy lifestyle that includes a nutritious diet and regular exercise. To get the best results, people who are serious about waist training wear their slimming garment for eight to twelve hours a day.
Wearing a waist trainer works in several ways. High-compression materials, like latex, help to stimulate heat in your core. This is especially effective when you exercise, as it helps you sweat harder around target areas, like your belly, sides and back.
When you wear a waist trainer all day, it helps your clothes fit better and encourages a straighter posture when you're sitting or standing. Many people find it motivating to look in the mirror and get a vision for their body's unique hourglass shape. This helps them stay on track with healthy lifestyle habits.
Since waist training works as a complement to other habits that help you lose weight, you'll get the most out of it if you incorporate it into your weight-loss plans from the very beginning. If you're wanting to change your diet and exercise more, a waist trainer can support those goals.
How Long Should You Wear a Waist Trainer When You First Start?
Just like most lifestyle changes, wearing a waist trainer can take an adjustment period before it becomes a permanent habit. Rather than jumping in at full speed and wearing a waist trainer all day in the beginning, we recommend adopting this practice gradually.
You can start a daily waist training practice with just an hour or two at a time. Some people find it intuitive to begin by wearing a waist trainer during exercise. Once you grow accustomed to the way a waist trainer feels and how it molds to your shape, you can add a little more time wearing it each day.
If you add half an hour to an hour every day, you should be able to wear a waist trainer comfortably all day after a few weeks. Some people find it helpful to break up their time wearing a waist trainer into two or more shorter intervals in order to hit that eight-to-twelve-hour goal each day, especially in the beginning.
Once you're in a rhythm wearing a waist trainer every day, you can keep the practice going by rotating two garments through your wardrobe. You may want one waist trainer for workouts and another one for use under your everyday clothes. This way, you always have a clean and dry waist trainer and can be comfortable all day, every day.
How Long Do You Have to Waist Train to See Results?
If weight loss is one of your goals for waist training, a natural question is how long it takes of daily wear before you start seeing results. Just like any lifestyle change, that depends on your goals and how drastically you are committed to changing your lifestyle.
For example, if you desire to lose a drastic amount of weight and are making major changes to your eating and activity habits along with waist training, you will start to see results quickly.
On the other hand, if you aren't making major changes to your lifestyle and don't plan on losing a lot of weight, your results aren't going to be as fast or as pronounced.
The effectiveness of your waist training regimen also depends on how dedicated you are to hitting that goal of eight to twelve hours a day consistently.
Whatever your individual goals are, it is always helpful and motivating to track your progress when you start a new waist training habit. Take a "before" photo and waist measurement. Then, using the same lighting, clothing, and photo angle, take a progress photo each week. After a few weeks, most people have noticeable results.
If you want to see some real results of people of various shapes, sizes, and goals who tried waist training, check out our before and after gallery.
Will a Waist Trainer Fit Any Size?
You might be hesitant to try waist training without losing weight first because you're not sure if a waist training garment will fit or look flattering. You may also be concerned that if you lose a lot of weight, your waist trainer might be too loose.
But waist training can benefit people of all shapes and sizes! They are customized to fit based on your unique measurements.
The Size Me Down Adjustable Waist Trainer is a great option from size XXS to size 5XL. It is designed to fit wherever you are on your health-and-fitness journey. It features four rows of hook-and-eye closures, so that you can wear it at the compression level that fits best. Then, as you slim your waist, you can size down gradually by fastening on the next row of hooks. This is another great way to track your progress and celebrate as you go!
For the best fit, take your waist measurements carefully before you order your waist training garment. Using fabric or vinyl measuring tape, measure your natural waist size, which is the narrowest part of your torso a couple of inches above your belly button. An easy way to find it is by leaning to one side and observing where the natural bend is.
Be sure to lay the fabric flat and pull it tight enough so that it doesn't sag, but not so tight that it pinches. It should be level with the ground.
Choose your size by using the custom sizing chart provided for the garment that you want. Do not use any other size reference such as your dress or shirt size. If you're in between sizes, always choose the larger size for the best results. Remember that you can adjust your waist trainer to a custom fit by tightening it, but you can't make it larger. A waist trainer that is too small is not flattering or comfortable!
Once you receive your waist trainer, try it on to ensure that it fits. If you have a garment that fastens with hook and eye closures, start at the bottom of the waist trainer. Fasten the hooks by holding the garment at the narrowest part of your waist, and then pull it down as you work your way up the row of hooks.
A waist trainer that fits correctly will feel snug but should not pinch or cause pain. Remember that it can take some time to get used to. But once you get into the habit, wearing a waist trainer will become an effortless part of getting dressed each day.
The Best Waist Trainers to Wear During Weight Loss
When wearing a waist trainer during a time of weight loss, you'll want a garment that provides high compression, is comfortable to wear all day, and easily sizes down with you as your waistline shrinks.
Aside from the Size Me Down Adjustable Waist Trainer mentioned above, the Best Waist Trainer by Hourglass Angel HA102 is a favorite for beginners. It features three row of large hook-and-eye closures and is available in sizes XXXS to 5XL. It uses high-compression latex in the core in combination with steel boning for maximum slimming power.
Another great option to have in your wardrobe is the Zipped Up and Snatched Workout Waist Trainer by Hourglass angel HA108. You can put on this high compression garment in seconds and achieve waist slimming of up to three inches when you wear it. The double Velcro and zipper closures ensure a tight, custom fit. This waist trainer optimizes your workouts by stimulating thermal activity in your core and helping you sweat harder.
If you want to take your compression level up a notch, try a steel-boned corset like the Underbust Cotton Corset by Hourglass Angel HA202. Using tight laces and flexible steel boning, this waist-slimming corset can amplify your weight-loss results with dramatic sculpting power. With cotton lining it is comfortable, making it an ideal piece to rotate in your wardrobe.
Whichever waist training garments you choose, waist training can play a key role in your weight-loss journey. And the best part is, you don't have to wait to get started!