Posted by Hourglass Angel on Apr 3rd 2019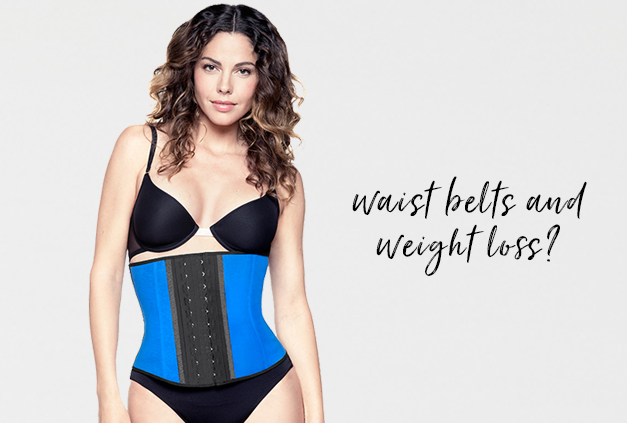 If you've been looking for some new strategies to approach weight loss, you may have come across the idea of using a waist belt during exercise.
A waist belt, also known as a workout band or waist trainer, is a corset-style garment you wear around your midsection during exercise.
But do waist belts help you lose weight, really? Let's clear up the facts about what waist belts actually can and can't do.
How Waist Belts Work
When you put on a waist belt, it has the immediate effect of flattening your tummy and compressing your midsection. Instantly, it makes you look slimmer and will help you stand with taller posture.
Many people find that putting on a waist belt is very empowering, especially when they're trying to lose weight. You can get a vision for what you can look like if you stick with your health goals.
You can also feel the way a waist belt is working during your workouts. It helps you straighten your back and keep your tummy tucked in, which is helpful in a variety of exercise types including strength training and cardio.
Furthermore, with high compression, a workout band stimulates heat throughout your core, which in turn helps you sweat. You may find yourself sweating in places you didn't even know you could! This is an effective way to amplify your workout, even if you're doing something low intensity like taking your dog for a walk around the block.
As you can imagine, if you wear a waist belt as part of a daily fitness routine, you'll see the results. Not only will you get the immediate benefit of looking trimmer when you wear it, but you may find that you're motivated day after day to keep up with your exercise plan.
As you can see, there's nothing magical about a waist belt. If you put one on and then sit on the couch all day, you're obviously not going to get results. A waist belt complements a healthy lifestyle that includes a nutritious diet of whole foods and a balanced exercise routine. It's the habit of wearing a belt in combination of these other factors that can help you lose weight.
How to Get the Best Results from Wearing a Waist Belt
Waist belts are not "one size fits all," so your results can vary depending on your approach to waist training. Here are a few tips to get the most out of wearing a waist belt for weight loss.
1. Select a high-quality garment that fits: skip the cheap off-the-rack belts that you can buy at a convenience store and opt for a high-quality waist trainer that has been carefully crafted and curated. If you wear a waist belt that is low quality and doesn't fit, it will be uncomfortable and won't provide the level of compression necessary to get noticeable results. If you're constantly readjusting your waist belt and don't feel great when you wear it, you won't want to keep wearing it!
When it comes to waist training, latex waist belts typically give you the firmest compression. We do have a several styles in latex-free options as well, from the only latex-free brand we recommend, TrueShapers.
Our shop carries several styles of waist belts ideal for workouts, including styles with Velcro closures or hook-and-eye closures with several rows. Both of these closure types enable you to size down the garment as you lose weight, so you'll always get a custom fit.
Make sure when you select a garment that you take accurate measurements of your natural waist and follow the size chart precisely. We've tested each garment and have adjusted the charts accordingly. Don't assume that because you wear a certain dress size that it will correspond with your waist belt size!
If you're in between sizes, always go up a size. Don't make the mistake of wearing a smaller garment in the expectation that it will make you look smaller. Compression level is what provides results, not garment size. If you wear a garment that is too small, it will be uncomfortable and unflattering.
2. Wear your waist belt daily and track your progress: consistency is key when it comes to getting results through waist training. Committing to taking a picture of yourself will not only show you how your figure is changing, but it can help keep you accountable to staying with the practice.
To get an idea of what weekly progress can look like from wearing a waist trainer, check out our before and after gallery, which features women of all shapes and sizes.
When you exercise, be sure to get a well-rounded mix of cardio and strength training. Together, they will help you burn calories, improve your metabolism and lose weight.
Even on days when you take a break from formal exercise, wearing your waist belt during activity like going for a walk or cleaning the house will make it more fun and more intense!
While it can take some time to grow accustomed to the way it feels to wear a waist belt daily, you'll get more comfortable every day. Start out by wearing it for no more than an hour or two, and then gradually add more time as you feel comfortable.
If you really want to take your waist training up a notch, wear an everyday waist trainer all day underneath your clothes in addition to your daily workout regimen.
3. Eat sensibly:any personal trainer can tell you that your exercise strategy is only part of the equation when it comes to weight loss. Filling up on nutritious foods in smaller portions will help you stay full and consume fewer calories over the course of the day.
You may find that if you wear a waist belt for most of the day, you'll be more comfortable eating smaller meals since your midsection is constricted. This can discourage you from overeating and contribute to a healthier diet overall.
As you can see, there are many ways a waist belt can be a part of a weight loss strategy. The best way to find out if it works is to try it yourself!