Posted by Hourglass Angel on Feb 3rd 2019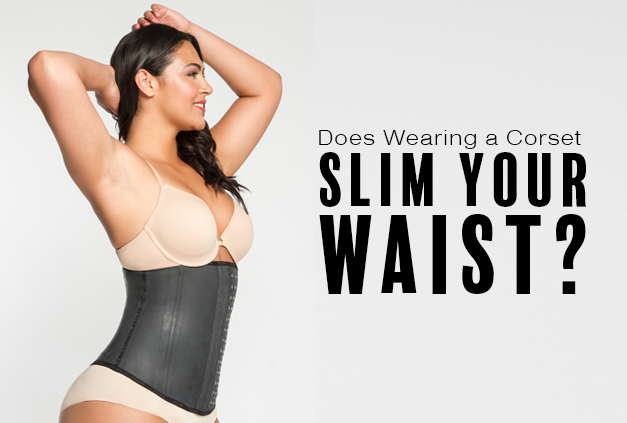 Whether a celebrity, office professional or stay-at-home mom, most people would get a confidence boost and feel more attractive with a slim and toned waistline. But do you need a crazy diet, an impossible workout plan or surgery to achieve one?
While healthy lifestyle choices go a long way in helping you achieve an hourglass figure and a slim waist, you might still be frustrated about not being able to reach your goals with your weight or your waistline. This can especially be the case if you've ever been pregnant or if your weight has every fluctuated significantly.
It's no wonder that women have been wearing corsets in some form for hundreds of years! They're an effortless way to get a smaller waist, instantly.
But does wearing a corset slim your waist, really? Isn't it uncomfortable, old-fashioned and just a temporary solution, anyway?
Corsets have come a long way, and they continue to be stylish and practical well into the 21st century. Whatever you may have heard, corsets continue to be a reliable way to slim your waist and can be a part of a healthy lifestyle.
What Is a Corset?
In the world of shapewear and waist-slimming, there are a few terms that get thrown around and used interchangeably. In order to better understand how corsets can effectively slim your waist, it's important to define what a corset is in the first place.
As a general term, a corset is a waist-slimming garment that uses firm compression to slim and sculpt the midsection. Corsets come in several styles and can be constructed with various materials.
Corset Styles and How They Work
Traditionally, corsets create a firm cinch at the waist using laces that are tightened at the back. While materials have varied historically, today most lace-up corsets are made with flexible steel boning to help the garment hold its shape.
The combination of tight laces and steel boning create firm compression around the midsection, which can slim your waistline by several inches. Lace-up corsets create a signature "cinch," resulting in a classic hourglass curve.
Steel-boned corsets can be made with a variety of materials including satin, cotton and even mesh. Lighter materials allow the garment to be more breathable, while smooth materials create a sleeker finish.
Corsets come in underbust and overbust styles. For the most dramatic waist-slimming effects, it works best to use an underbust corset that you can pair with your own bra. Some underbust corsets also style beautifully as outerwear over light fabrics if you want to make a statement. Overbust styles work well for costuming and lingerie, but they're typically not ideal for everyday use.
There is another modern style of corset, otherwise known as a waist cincher or waist trainer. Cinchers are different from traditional corsets because they do not use laces for slimming power. Instead, they use synthetic materials—typically latex—to provide compression around the waistline. These garments close at the front using hook-and-eye, zipper or Velcro closures. They provide a somewhat less dramatic cinch at the waist than steel-boned corsets, but can still effectively slim your waistline by 1–3 inches.
Some waist cinchers, called workout bands, are effective for wearing during exercise. They stimulate thermal activity in your core and help you perspire around your midsection while supporting your core and back, giving you a more intense workout.
Corsets and Waist Training
Not only can a corset can instantly slim your waist and create an hourglass silhouette for certain outfits, but you can also wear one everyday in a practice called waist training. A waist training regimen can be used as part of a healthy lifestyle, with the intent to lose weight or slim your waist.
Steel-boned corsets and latex cinchers are effective garments to use in a waist training regimen. In fact, you might even want both, depending on your goals.
To get the most out of daily waist training, we recommend wearing your corset for at least 8 hours, with a maximum of 12. If you've never worn a corset before, it can take some time for your body to adjust. Start with just a couple of hours a day if you're a beginner at waist training, and gradually add more time each day. With persistence, you'll be able to wear a corset daily after a few weeks. (If you're using a steel-boned corset, be sure to season it first!)
Healthy Lifestyle Tips While Waist Training
To most effectively slim your waist by wearing a corset, it's important to practice a healthy lifestyle routine including hydration, a nutritious diet, adequate sleep and regular exercise. A corset can give you a vision for what you can look like with a slimmer waist and will remind you to stick to your health goals. You'll also feel confident and attractive while wearing a corset, which can add to your motivation.
To get the most out of corseting be sure to:
Drink the recommended 8+ glasses of water a day, while limiting caffeine and alcohol intake.
Eat whole foods and avoid processed foods, especially sugars.
Practice an exercise routine with a good mix of cardio and strength training.
Get enough sleep so you'll have the energy to follow through!
Does Waist Training Actually Work to Slim Your Waist?
We love hearing stories about people who were able to slim their waist with a daily waist training practice. Some used a latex waist trainer and others tried a steel-boned corset. The common thread among those who get results is consistency—they stayed with it!
"I started to feel results before I could see them. I felt my posture getting better by the second week, and I could see my stomach getting a little smaller and tighter by the 5th week. By the 7th week I was able to move the trainer to the middle closure." – Gina B.
"I have lost 7 pounds during my waist training journey!" – Ruby J.
""I started to see results after about 3-4 weeks … Now I'm striving to make it work for me even more by eating cleaner." – Deandria B.
The only way to know if wearing a corset will really slim your waist it to try it for yourself! Let our team know if you have any questions or need more advice!