Posted by by hourglass angel on Nov 14th 2017
Want a thin, sculpted waistline? A fitband is definitely the way to go.
Since there are so many options, we thought it would be helpful to highlight some of the most effective workout bands we offer, as well as tips for achieving optimal waist training results.
You can pick the ideal fitband based on your body type, goals and style preferences. Here are our top six, so you'll be certain to find at least one that is a great fit for you.
(Be sure to also follow our recommended lifestyle tips below!)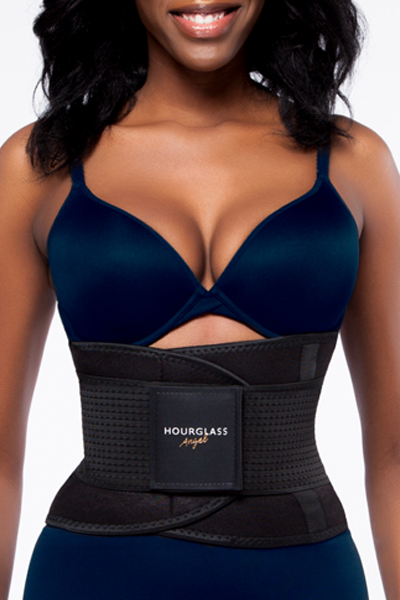 Latex Workout Band Curve Creator By Hourglass Angel HA101
We designed this fitness band in response to our customer's needs. It has several unique features that set it apart from other waist trainers for creating a killer workout.
First, it's designed with a Velcro front closure rather than hook and eye fasteners, for a precision fit each and every time you put it on. In addition to high-power latex, this workout band also utilizes flexible steel boning for additional compression and support through the core—providing a maximum slimming effect and boosting the intensity of your workout by stimulating perspiration. You can use it for many types of physical activity, from walking and biking to strength training and more.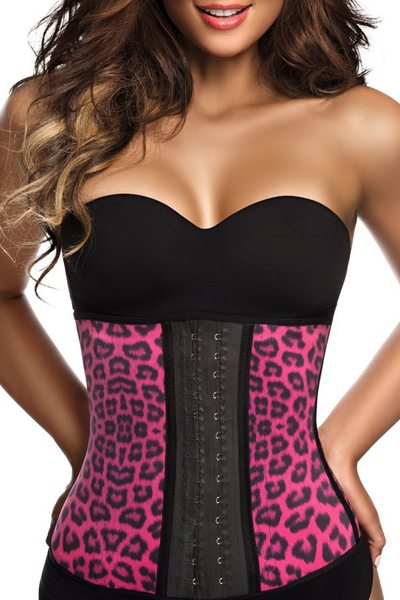 Animal Instincts Latex Waist Cincher By Ann Chery 2024
Flirty, fun and effective: that about sums ups this fitband from one of our most popular brands, Ann Chery. This waist trainer, which comes in pink or yellow animal print, was obviously made to be shown off. It's a selfie-favorite style on social media, so if you're wanting to share your results, be sure to have this piece on rotation in your workout wardrobe.
True to the quality of the Ann Chery brand, this workout band is powerful. It uses a latex core and flexible boing to provide maximum compression, which not only makes your workouts more effective by stimulating more sweat, but helps you stay motivated to achieve your long-term waist training goals. This garment features two rows of hook-and-eye closures and will size down with you when the inches comes off.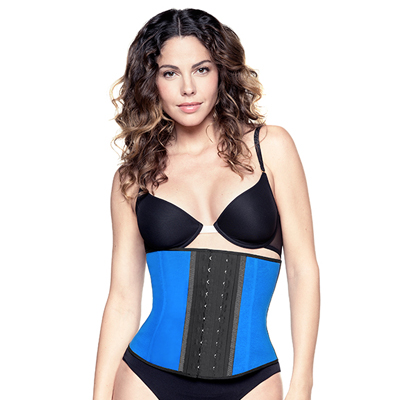 Waist Trainer Active Band By Amia
This simple but powerful waist trainer is a classic favorite among waist training enthusiasts. It sculpts 1–3 inches from your waistline instantly so you'll immediately see a slimmer figure. Like all good fitbands, it is designed to help you sweat harder and intensify your workouts.
The Amia brand is known for quality, effectiveness and simplicity. Constructed with two rows of fastening hooks at the front of the garment, this Amia waist trainer is designed to size down with you during your waist-slimming journey. It's highly recommended for anyone wanting to try waist training out for the first time and comes in three classic colors: blue, pink and black.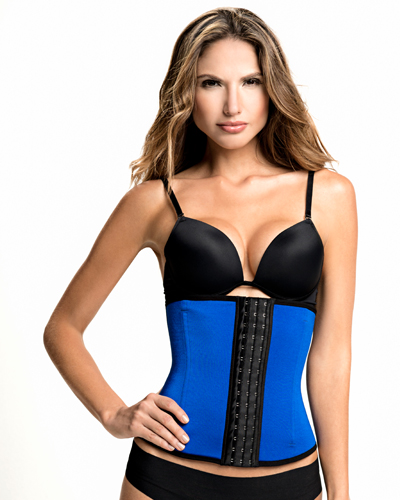 Highest Compression Workout Waist Trainer By TrueShapers 1063
If you're looking for a latex-free waist training option, we highly recommend this fitband from TrueShapers. This brand uses a unique fabric blend to create firm compression in the core, and this garment uses the additional strength from flexible steel boning for a maximum slimming effect. Thermaboost technology increases perspiration for increased intensity during your workouts. You'll look up to two sizes smaller just putting it on.
If you have sensitivity to latex, this waist trainer is a must-have! It is just as effective as a latex waist trainer, which is great news for anyone who has avoided waist training due to this concern. We recommend rotating it through your wardrobe with another TrueShapers waist trainer if you want to follow a daily waist training regimen.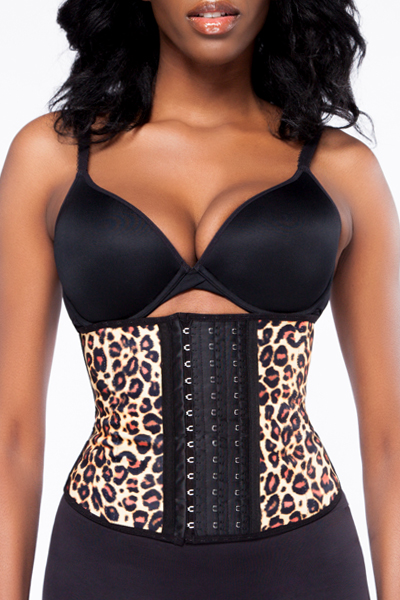 Petite Latex Waist Trainer By Hourglass Angel HA100
You can get the dramatic curves you want from this waist trainer, which was specially developed for petite figures. Designed by our experts right here at Hourglass Angel, it is cut shorter than the average waist training garment, which can be too long on a shorter torso. The shorter cut ensures a comfortable fit as well as better slimming results if you're under 5'2" or have a short torso.
This piece contains flexible steel boning for optimal immediate shaping power that also boosts heat in the core for maximum slimming power. It's the perfect foundation for your workout wardrobe, for instant slimming as well as an essential piece of your long-term slimming journey.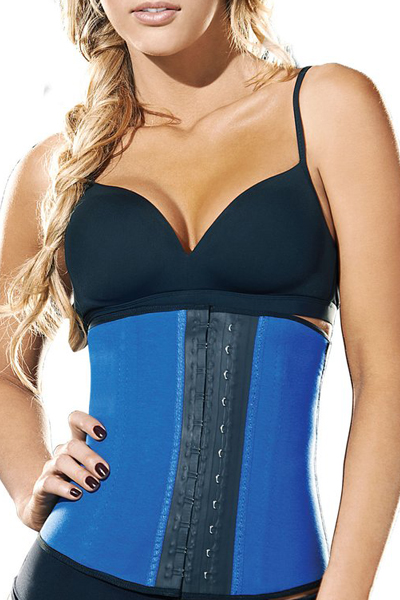 Workout Waist Trainer By Ann Chery
This classic waist trainer is one of our customer favorites and rates among the highest with reviews. It provides instant slimming through firm compression and will decrease your waist size by 1–3 inches.
Ann Chery's workout band is ideal for the gym but also can be worn under everyday clothes. The band is constructed from a latex core with a soft cotton exterior and interior lining, for maximum compression. By stimulating thermal activity in your core and boosting perspiration, it will give you the waist-slimming results you desire in the short and long-term.
How To Get the Most Out of Your Workout Band
Once you find the ideal waist trainer for your body type and goals, you'll want to be sure you're getting the best results by following these tips, including lifestyle choices as well as optimal ways to wear it.
Healthy Lifestyle
Like any health and fitness strategy, waist training isn't a magic bullet; it works best as part of an overall healthy lifestyle. Here are some best practices that will ensure that you're getting the most bang for your buck.
Hydration: when you're wearing a waist trainer on a daily basis, you will be sweating a lot more around your core. So not only should you get the bare minimum of about eight glasses of water a day, but you should actually aim for more to make up for the loss of water. The benefits to staying hydrated are numerous, from boosting your energy to controlling your appetite. Don't let your hard work and dedication to waist training go to waste by getting dehydrated!
Nutrition: there's a ton of advice out there about which foods to eat and when, but when it comes to your health there are just a few factors that matter most when it comes to maintaining a healthy weight: eating "whole" foods and limiting processed ones, and monitoring your calorie intake and activity level. We highly recommend getting help from a nutritionist if you're not sure where to start with this.
Physical Activity: This is obviously hugely important if you want to get the most out of your fitness band! For the best results, do a combination of strength training exercises as well as cardio of varied intensity four to five times a week; this will burn a lot of calories and increase muscle mass, which is what ultimately leads to weight loss. Your fitness band will help you intensify your workouts and keep you motivated! See more in this article: Waist Training While Exercising: The Secret To Maximizing Your Workouts
Waist Training Best Practices
In addition to wearing your fitband during workouts, we highly recommend an ongoing waist training regimen to amplify your waist slimming results. Here are some best practices for anyone serious about waist training:
Use at least one everyday waist trainer or corset in addition to your workout band. While you can wear some fitbands under your casual or business attire, we don't recommend it for long hours, as workout bands are constructed to be worn no more than a few hours at a time.
For the best results, wear a waist trainer for at least eight hours a day every day. You can combine the use of your fitness band and everyday trainer.
But don't jump in too quick! If you're new to waist training, you need to ease your way into a regimen. Start out with just and hour or two a day with a waist trainer and gradually increase the amount of wear each day. The fitness band is a great place to start with that. After three to four weeks you should feel comfortable wearing a waist trainer all day.
Prepare to size down your waist trainer after a couple of months! If you are dedicated to the practice and the healthy lifestyle suggestions we made above, you should notice that you're able to tighten the waist trainer after a couple of months or even switch to a smaller size if it's already fastened as tight as it will go. But remember, results vary from person to person, so don't be too stuck on a calendar goal. Just stick with it and you'll see results.
We hope this article answers your questions about waist training with a fitband and that you're inspired to try waist training (or even step it up to the next level if you're already doing it)!
Want more tips and advice? Be sure to check the other articles on our blog or contact our expert waist training stylists on our customer service team for advice.