Posted by Hourglass Angel on Mar 15th 2020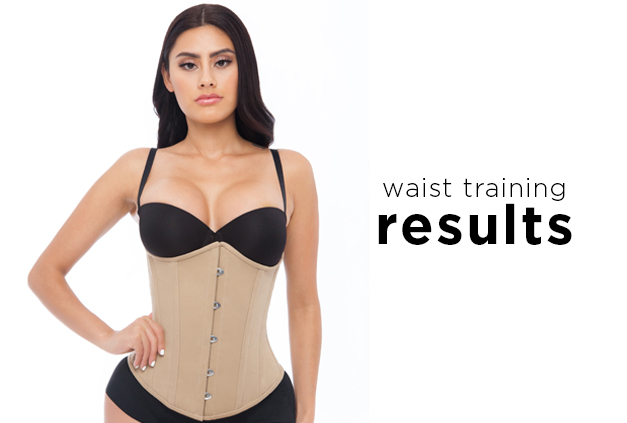 If you're looking into starting a waist training regimen, you're probably excited to see improvements in your figure. Wearing a waist trainer provides instant slimming for your waistline and can play a role in your healthy lifestyle for losing weight or toning up.
So how long do you have to waist train to see results? Beyond the instant slimming, the timeline for experiencing other positive outcomes really depends on what garments you're using, how you're using them, your goals, your body type and your lifestyle.
There are a lot of factors that contribute to answering that question, so let's break things down to determine what you can expect.
What is a Waist Trainer?
"Waist trainer" is a general term that can apply to various garments and can be used in different ways. So what results you get from a waist trainer and how long it takes to get them depends in large part on what you use and how you use it.
In general, a waist trainer is a garment used with the intent to slim the waistline. High-quality waist trainers like the ones we carry in our shop come in two styles: 1) the latex (or latex alternative) "cincher," which fastens in the front and provides compression from its material construction, and 2) the steel-boned corset, which provides compression from laces tightened in the back.
Generally, cincher waist trainers are very versatile and a good choice for beginners, while corsets give you even more dramatic curves. Both are very effective at providing waist training results—many people prefer to have both!
People can either use waist trainers as shapewear—with the intent of providing instant slimming for certain outfits or occasions—or they can use them as part of an everyday regimen. Wearing a waist trainer every day can be used as a supplement to other healthy lifestyle habits that lead to a slimmer, firmer midsection. We'll talk more about these practices below.
Waist Training Cinchers
Cinchers can come with various features, including shoulder straps for additional support; different lengths that provide more or less coverage; plastic or steel boning for reinforcement; closure types including rows of hooks, Velcro or zippers; and styles designed for everyday use or workouts. Which style is best for you depends on your waist training goals, your body type and personal preferences.
The Hourglass Effects Waist Trainer by Hourglass Angel HA105 is an example of a versatile waist trainer that is effective for use in instant slimming, workouts or an everyday waist training routine. It can help you drop up to three inches from your waistline as soon as you put it on, enhancing your natural curves. Brightly-colored panels are arranged in an hourglass design, creating a sporty look that is ideal for workouts. The core is made from high-compression latex, lined with soft cotton-spandex. Nine columns of flexible steel boning keep your hourglass shape in check, while also resulting in a straighter, more confident posture. You can also adjust the compression level with three rows of hook-and-eye closures.
Waist Training Corsets
Steel-boned corsets also come in different cuts, styles and materials. For the best results with waist training, we recommend using an underbust style corset rather than one that covers the breasts. There are several effective materials you can find in a corset bodice including mesh, cotton and satin, which provide different levels of comfort, breathability and smoothness. Some corsets are short and provide a sharper hourglass cinch at the waist, while others provide more coverage and sculpting for the whole torso.
The Underbust Mesh Corset by Hourglass Angel HA206 is one of our favorite recommendations in corsets. The mesh design lets your skin breathe, so it keeps your body cool—especially if you're wearing other layers or you're committed to a serious corseting regimen. The full-length design provides powerful slimming for your entire midsection, including part of your hips. It hugs the bustline, providing a natural, flattering enhancement. The extra hip coverage helps to smooth bulges around your waistline, while the high back covers up pesky back bulge.
Another style of corset we like to recommend for the best waist training results is the Underbust Cotton Corset by Hourglass Angel HA202. Designed by our in-house experts, this underbust cotton corset provides a natural feel to your skin as it sculpts your midsection. We want corsets to be as comfortable and natural as your other undergarments. That's why we've designed this underbust corset with cotton fabrication, so it feels soft against your skin, feels lightweight and stays comfortable for as long as you wear it. The corset uses flexible steel boning for powerful compression, slimming your waistline into the coveted hourglass shape—no pain, pinching or discomfort. Plus, it comes in multiple colors, making it easy to hide beneath your clothing.
The underbust design gently lifts your bust to give it a fuller look.
Instant Results with Waist Training
One of the exciting things about wearing any style of waist trainer is that it will provide results the instant you put it on! With a properly sized waist-slimming garment, you create the appearance of dropping several inches from your waistline. This means you can also potentially drop a size or two in your pants or dresses while you wear the waist trainer.
You'll also notice more flattering hourglass curves, which create an ideal foundation under clothing or during your workouts. A waist trainer will also help you hold your posture straighter and prevent slouching. Many women love the way that their waist trainers make them feel sexier and more confident, which can contribute to their motivation to follow through with their fitness and self-care.
But this is just the beginning. If you're interested in practicing a daily waist training regimen, you may want even more results over the long term.
Results Over Time with a Waist Training Regimen
Daily waist training is the practice of wearing a waist training garment for 8–12 hours a day as part of a healthy lifestyle, with the intent to slim down. (Note that it takes a few weeks to work up to this practice, as your body needs time to adjust to the way daily waist training feels.)
While you will still see instant slimming every time you put a waist trainer on, results from a daily waist training regimen can vary quite a bit depending on several factors:
Style of garment: As we've already outlined in detail, what garment you use and what you use it for can affect your results. If you just use a workout waist trainer for workouts, for example, your results are going to be different than if you use a steel-boned corset.
Consistency: Someone who wears a waist trainer irregularly for only a few hours at a time is going to have a different experience than someone who is dedicated to wearing a waist training garment for at least eight hours a day.
Lifestyle: How much you slim down is going to vary quite a bit depending on how much your lifestyle changes when comparing before you started waist training to after. If you switch from eating junk and being completely sedentary to a healthy diet and daily exercise, you are probably going to see results very quickly. But if you make few changes to your lifestyle, you're not going to see a quick change.
Goals: Women start a waist training regimen for different reasons, from wanting to lose pregnancy weight to wanting to tighten up without weight loss. If you're trying to lose a lot of weight, you're probably going to notice the changes more than someone who is making small tweaks.
Body type: The canvas you're working with also contributes the results you get. If you naturally carry weight around your middle and you dedicate yourself to waist training and lifestyle changes, you're probably going to see faster results than someone who carries their weight in their hips instead. Genetic factors can also contribute to how much your body is able to change, no matter what techniques you're using to slim down your waistline. You can't force yourself to be a size 4 when your body is healthy in a size 12.
So...how long do waist training results take? Some people may notice results in a few days, while for others it can take weeks or months. It really all depends on your commitment and the overall healthy lifestyle habits you're using during your waist training journey. To get a feel for what you might expect, check out our Waist Training Before and After Gallery, which features women of all shapes, sizes and lifestyles.
Tips for Getting the Best Waist Training Results
No matter what your goals are and what types of garments you use, here are a few best practices:
Take measurements and photos: You might not even notice your results unless you track them! Take weekly waist measurements and photos and see your progress.
Prioritize your health: Waist training is not a magic pill. It works best as a complement to a sensible, sustainable diet, adequate hydration, regular exercise and sensible self-care practices.
Be patient: Most people will not see results overnight. But you can enjoy the confidence from the instant slimming that you can achieve in a waist trainer and get motivated to stick with your long-term health and fitness goals.
We hope that this information will help you get the most out of your waist training journey! Please contact us with questions and share your results with us too! #BeTheHourglass