Posted by Hourglass Angel on Jan 22nd 2020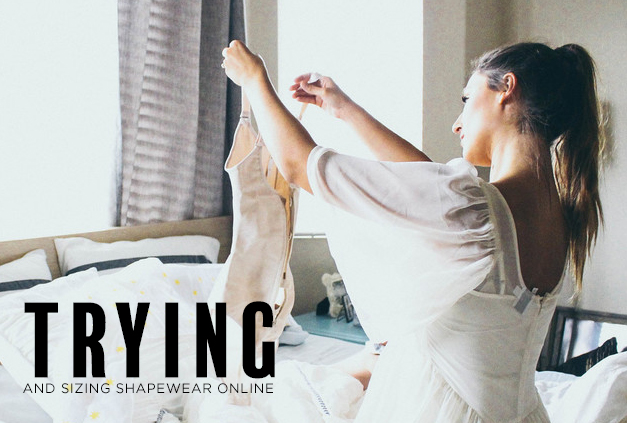 When buying shapewear and intimates, it can be a little tricky to order online. After all, you can't try the garments on, so you want to ensure that you're getting the right size.
Buying shapewear online is a great option because you have such a wide selection of quality garments that, by comparison, very few brick-and-mortar stores are able to offer. At Hourglass Angel, we have a huge selection of carefully curated shapewear designed for all shapes and sizes, so we're confident you can find what you're looking for.
If you're wondering how to find the right size when buying shapewear online, be sure to follow these tips for every style of garment. And if you still aren't sure if it will be the right fit, you can rest assured with our 100% guarantee.
First Thing's First: Good Measurements
Unlike other types of clothing, you can't guess your shapewear size. Each garment has a precision fit, which is why it is important to get the right measurements. Size can between garment styles and brands as well.
We've tested the sizes of all of the garments in our shop, so be sure to follow our custom sizing chart with each piece. Because of our adjustments, the sizing chart on the website may differ from what you see on the package. We want you to get your size right the first time!
When you consult a garment's sizing chart, consider what you'll be using it for. For example, if it is a waist-slimming garment like a waist trainer, then the only measurement you'll really need is your waist. You'll need your bust and hip measurements for garments that cover those areas.
Note that you'll want to take new measurements each time you order, even if you have ordered from us before. Even slight changes can make a difference in the way that a garment fits.
There are three important measurements you'll need for shapewear:
Always use soft measuring tape made of vinyl or fabric to get the most accurate measurements. When you take your measurements, the tape should be level—so no drooping or diagonal measurements. Use a mirror or ask for help from a friend to make sure you get it right.
The tape should lie flat over your body, either directly on your skin or over a very thin garment. Pull it just tight enough so that you can slip a finger or two underneath. It shouldn't squeeze in any way, but it shouldn't droop either.
Bust
To take a bust measurement, lay the tape around the fullest part of your chest. It's easy to get this measurement lopsided, so be sure that it's level.
WaistTo take a waist measurement, pull the tape around the narrowest part of your waist. This is where you'll see a natural bend in your torso when you lean to one side, about two inches above your belly button.
Hips
For a hip measurement, measure around the fullest part of your hips. This again can be a little tricky, especially if you're curvy, so use a mirror or a friend to make sure the tape is level.
Measurements can be easy to forget or mix up, so be sure to write them down when you're done!
How to Choose a Garment That Fits Your Needs
A shaping garment will only give you the results you want if it's the right type for your unique needs. That's why, in addition to accurate measurements, you'll want to make sure that you're getting the right style of shapewear for your body type, target areas and the occasion you'll be wearing it for.
To find the right size shapewear online, consider some different styles and whether they're a good choice for you. We've compiled some of our customer favorites as examples, so you can get an idea of what styles are available and how to find the right size.
Measuring for Waist Slimming Shapewear—Including Plus-Size
There are several styles of waist slimming shapewear, designed to target the midsection. Our most popular garment types of waist slimmers are cinchers and corsets, which typically provide coverage and compression between the bust and hips.
The Best Waist Trainer by Hourglass Angel HA102 is a waist-slimming customer favorite. It instantly shrinks the waistline by up to 3 inches. You can wear this waist trainer comfortably underneath clothes or during workouts. We recommend it for everyday use as well as for special occasions. It benefits virtually every body type (because who doesn't want a slimmer midsection and a flat tummy?). It comes in sizes up to 5XL, making it a favorite plus-size option.
To get the right fit for a waist-slimming cincher or corset, the only measurement that really matters is your waist. Use your tape measure to take that measurement above the belly button and compare it to the size chart. This technique applies no matter what size you are. If you're not sure where your natural waist is, bend to one side while facing forward. The place where your torso naturally creases is where you should take your measurement, once you've straightened up again.
If you're in between sizes on the size chart, choose the larger size. This particular waist trainer features three rows of hook and eyes, so you can adjust it to fit. You don't want to wear a waist trainer that is too small, as it will be uncomfortable and unflattering.
Measuring for Bodysuits and All-Over Shapers
A bodysuit is a style of shapewear that targets all common target areas, usually including the waist, butt, hips and upper thighs. It's convenient to sculpt and lift in all the right places with one garment. Bodysuits are typically going to be a good choice for special occasions, evenings out, and sometimes work attire.
The Compression Garment Bodysuit by Vedette 134smooths back bulges and hips while flattening the abdomen. The strapless shapewear makes over your body with firm control of the tummy, waist, and back while the underbust design lifts and shapes the chest. And its lacy design makes it look less like shapewear and more like lingerie. This garment can benefit your body type if you need control for your butt and hips and an added lift for your bust.
For this style of garment, you'll want to consider all three body measurements: hips, waist and bust. Since this garment is constructed with latex, you'll get firm compression throughout. The measurements consist of a range (i.e. 24"-26"). Go with the largest measurements for the best results. It may be tempting to go with a smaller size, but don't do it! Remember, this garment is adjustable with straps and stretchy, so it will adjust to give you a good fit.
Another all-over shaper is the Amazing Shape Open-Bust Mid-Thigh Compression Bodysuit by Leonisa 018688. Sitting beneath and providing support to the bust, this garment extends down to the mid-thigh and is a great option under gowns. Wide fixed length straps finish in a high back, both eliminating bra bulge and providing support. Once again, you'll want to consider all three measurements in order to find the right size when you order online. Since the straps are not adjustable, this garment is best for women with proportions that match those on the sizing chart.
Measuring for Butt Lifters
Some shaping garments are designed to lift and shape your butt, usually with the added benefit of slimming your midsection and flattening your tummy too. The Dana High Waist Panty Enhancer with Front Closure by Vedette 506 uses built-in rear rounding technology to firm up the butt's natural shape, while the high waist design target the waist and lower abdomen. It's best for women who want to add more shape to their backside and works well for any occasion.
For this style of garment, you'll obviously want to put attention on your hip measurement, but don't forget to keep the waist in mind as well. As with other garment styles, go with the larger size if you don't have an exact match for both waist and hip on the sizing chart.
Measuring for Thigh Shapers
Thigh shapers are garments that are designed especially to target your butt, hips, legs and thighs. They often have the additional benefit of slimming the waist so you'll have a consistent smooth look throughout your figure. They are a favorite option to wear under mid-length skirts and figure-hugging pants.
The High Waist Firm Control Thigh Shaper by Va Bien 3757 uses satin control panels throughout the garment to smooth your trouble areas, while the control waistband and flexible bone at the tummy keep this garment from sliding down.
To measure for this style, once again take your hip and waist measurements and go with the largest size on the chart that matches your numbers. Be sure to follow all of our best practices for measurements, and you're sure to be pleased with the fit.