Posted by Hourglass Angel on Oct 3rd 2018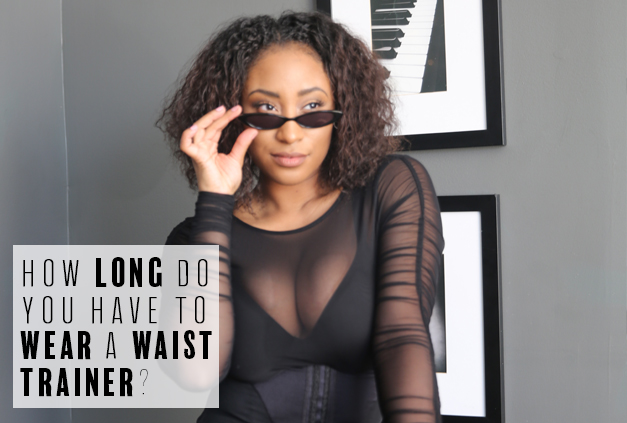 If you're new to the world of waist training, one of the first questions you might ask is this: "How long do you have to wear a waist trainer?"
The answer to this question depends, naturally, on what you're hoping to get out of your waist training experience. Some women who try waist training incorporate it into an ongoing healthy lifestyle routine, while others only want to wear a waist trainer for special events.
Whatever your goals are, here's what to expect regarding how often and how long you should be wearing your waist slimming garment.
Understanding Waist Training Options
If you've done even a little bit of shopping, you'll notice pretty quickly that not all waist trainers are made alike. There are different cuts, styles, materials and levels of compression. How long you wear your waist trainer in part depends on which one you're wearing and why. Here's a basic breakdown of the options:
Everyday waist trainers: These are typically constructed with a latex core that provides compression and are designed to be hidden under clothing for all-day use. Most styles use hook-and-eye closures at the front of the garment.
Workout waist trainers: These are the styles you're going to typically see more often on social media. Often designed with bright colors and patterns, they are fun display at the gym or in your workout selfies. Like everyday waist trainers, they usually provide compression with latex. Since they're constructed with sturdier material, they are ideal to wear during physical activity.
Steel-boned corsets: These are the more traditional garments used for waist training. Instead of using latex, the bodices are reinforced with flexible steel boning and tightened with laces in the back. A corset is going to give you a more dramatic cinch at the waist.
Different Waist Trainers for Different Goals and Occasions
How long you wear your waist trainer depends on your intention and your goals. Here are a few ways you might consider wearing a waist trainer:
Special occasions: A waist trainer can create stunning results as an undergarment whenever you're dressing to impress. This could be a formal event like a wedding or something fun like a costume party. Either way, you'll probably want to wear your waist trainer for at least several consecutive hours and should prepare accordingly. Whether you use a latex waist trainer or a steel-boned corset, you will need some time to break in the garment as well as help your body grow accustomed to the way it feels (more below).
Related Post: Shapewear 101: How to Use Shapewear for Special Occasions
Ongoing daily waist training regimen: Some women love they way they look in a waist trainer so much that they want to incorporate it into their daily wardrobe. Daily waist training can be an effective part of a healthy lifestyle routine, whether you're trying to achieve an hourglass figure or lose weight. We recommend an everyday waist trainer if you're a beginner, or a steel-boned corset if you're wanting to kick your slimming power up a notch.
See more about how to start a waist training regimen in The Ultimate Guide to Waist Training .
During workouts:As we've discussed already, many waist trainers are designed specifically for enhancing workouts. A workout band stimulates thermal activity in your core, making you sweat harder and intensifying your workout. Workout bands aren't designed for all-day wear, so if you want to use a waist trainer during workouts in addition to an ongoing routine, be sure you rotate between the two styles.
Adjusting to a New Waist Trainer
Since waist trainers provide high compression around your core, it takes time to adjust to wearing them. This is important to consider if you want to wear a waist trainer for a long event or on an ongoing basis.
When you wear a latex waist trainer for the first time, you'll want to wear it for no more than an hour or two. If it fits correctly, it will feel very snug. While it shouldn't pinch or restrict your breathing (this is a sign that it doesn't fit correctly), it may still feel slightly uncomfortable and stiff.
You can grow accustomed to your waist trainer and help it break in by wearing it for a little more time each day. If you wear it on the first day for an hour, try wearing it for an hour and a half to two hours on the second day and continue to work your way up gradually.
After a couple of weeks, the waist trainer should feel like it has adjusted to your figure and you should be comfortable wearing it up to twelve hours. If you're planning on wearing it for a special event, be sure that you give yourself enough time in advance to break it in so that you'll be as comfortable as possible. It's a similar concept to breaking in a new pair of shoes.
If you want to wear a steel-boned corset, it is especially important that you take the time to break it in, otherwise known as seasoning. If you don't season your corset properly, you risk damaging it. To season a corset, wear it for about two weeks, snugly, but not fully tightened (you should be able to fit a finger or two underneath the bodice). Wear it for a little longer each day. You'll know the corset is seasoned when it molds to your figure and doesn't have any gaps. Then you can pull the laces tightly for the full effect.
How Long Should You Wear a Waist Trainer Each Day?
If you want to wear a latex waist trainer or corset on a daily basis, the goal is to wear it long enough each day to experience the best results, while also considering comfort and safety.
For the best results, we recommend wearing a waist trainer for at least eight hours a day, every day. By spending most of your waking hours in a waist trainer, you'll be practicing good posture, enjoying the benefits of a slimmer figure, and be more focused on your health and fitness goals.
Some people prefer breaking that time up into two sessions of four or more hours each. After you've been wearing a waist trainer for a while, however, you'll grow accustomed to the way it feels.
We don't recommend that you wear your waist trainer more than the maximum of twelve hours each day. This gives your skin more opportunity to breathe and your torso the opportunity to relax.
If you're using a workout band for waist training, we don't recommend wearing it for more than about three or four hours. They are designed to enhance workouts and aren't the most comfortable for all-day wear. If you want to do a daily regimen, we recommend having both a workout band and an everyday waist trainer or corset.
Some people wonder if they can clock in more waist training hours overnight. It's possible, but it's not for everyone. See more: Tips for Sleeping in Your Corset .
How Long Do You Have to Wear a Waist Trainer Before You See Results?
Some people hope to see changes in their figure even when the waist trainer comes off. How long this could take for you depends on several factors.
First, you will not get the best results with waist training if you do not pair it with a healthy lifestyle. A nutritious diet, a well rounded exercise routine, adequate rest and proper hydration are all factors that contribute to weight loss and slimming. Waist training is just one piece of the lifestyle puzzle.
Waist training contributes in several ways. It enhances your workouts and stimulates heat in your core. It provides motivation by helping you envision a slimmer figure. It reminds you to eat in smaller portions. Wearing a waist trainer also supports your back for straighter posture and increases confidence.
With all of these factors at play, you can see results in as soon as a week or two, or perhaps after a month or two. It also depends where you're starting from. Someone who is making drastic changes to their lifestyle quickly and wearing their waist trainer daily is going to see very different results than someone who is making minor lifestyle tweaks and isn't as committed to the practice.
If you're wondering approximately how long your waist training results will take, check out our before and after gallery , which features women of different shapes and lifestyles. Each of them share their waist training results over an eight-week period. Consider which person is most like you if you want a potential guess at what your experience will be like.
How long will you wear your waist trainer each day? We'd love to see your results, which you can share with on via social media with #BeTheHourglass. If you have any further questions about how to get the most out of waist training and shapewear, be sure to keep up with our blog, or contact our expert stylists with your specific questions!