Posted by by hourglass angel on Feb 6th 2018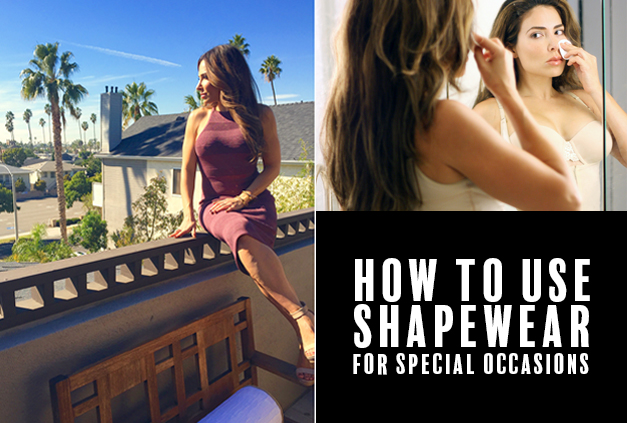 You probably already know that shapewear is useful for any occasion. But let's face it: one of the best times to wear it is for special events.
Whether you're a bride looking for a bridal corset, or dressing your best for a gala or other formal event, you want to feel comfortable and confident in your gown. The right shapewear is a key to getting your look just right.
If you're not so sure if shapewear is for you, take note that most celebrities on the red carpet rely on it unabashedly and without hesitation. The Kardashians, Jessica Alba, Tina Fey, Gwyneth Paltrow and Halle Berry are just a few who have gone public about their love of shapewear.
Choosing the right garment will depend primarily on the "trouble spots" you want to target as well as what style of gown you'll be wearing. Here are the basics when it comes to using shapewear to slim, support, lift and sculpt for any formal event.
Waist Slimming Shapers
Perfect dress pairings for waist cincher: a-line, ballgown
Pretty much everyone can benefit from a slimmer waist and flatter tummy. For this reason, you'll have a lot of options for waist enhancement in formal attire.
For the most dramatic waist sculpting, we recommend a waist trainer or corset. The Classic Waist Cincher by Amia 102 creates a firmer, flatter midsection and can help you lose 1–3 inches from your waist measurement as soon as you put the garment on. It also eliminates love handles, so you'll have a smooth, flawless foundation for the dress to lie over.
Waist-slimming shapers are especially flattering for dress styles that accentuate the waist, including a-line and ballgown styles. And they can enhance any body type, so you really can't go wrong.
Thigh Slimming Shapers
Perfect dress pairing for thigh shaper: clinging or pencil skirt
One of the biggest concerns women have in formal attire is their thighs. Whether you have a tight-fitting gown like a mermaid cut, or you have a flowing gown and just don't want to show any bumps, you'll want a thigh-slimming shaper.
There are a few options when it comes to thigh shaping. The main question is how much coverage you want. Some thigh shapers primarily shape the upper thighs and hips, while others provide coverage all the way to the knee. If you're wearing a shorter skirt, you'll want to take note how much coverage you can have.
A good all-around thigh shaper is the Best Shapewear Mid-Thigh Bodysuit by Amia. It offers slimming and sculpting from just below the bust to mid-thigh, providing a smooth foundation for multiple dress styles. With a lacy bottom at the opening of the legs, it lies flat while holding firm. You'll get the double benefit of a controlled, flat tummy and smooth, sexy thighs.
Butt-Lifting Shapers
Perfect dress pairing for butt-lifting shaper: mermaid cut
While you want your shapewear to slim your trouble spots like your waist, hips and thighs, you don't want it to flatten your butt. In fact, you may want it to lift and enhance your backside so that you can fill out your gown.
Whether you need to create more curves or control the ones you already have, a butt-enhancing shaper is the way to go. Many of them also slim your waist so you can fully accentuate all of your curves in the right places.
The Alexandra Butt-Lifting Shaper by Vedette 504 is one of our most popular butt-enhancing shapers. The open-bottom design firmly squeezes and lifts your natural features, while the rest of the garment creates a smooth waistline and hips. This is a great option if you are concerned about visible panty line; you get the invisibility of a thong back with a lot more "oomph." We recommend this shaper if you have a narrow body shape or a curvy top and need to create balance with a fuller bottom.
All-Over Shaping
Perfect dress pairing for bodysuits: sheath
Most of us have more than one trouble spot. For formal occasions it often works best to address all of them with one garment. An all-over shaping garment is built to create an hourglass by lifting the bust, slimming the waistline, firming up the rear and smoothing out your hips and thighs.
The Amie Mid-Thigh High Waist Open Bottom Enhancer by Vedette 911 does it all. The high waist design will flatten and slim your torso below the bust, and continues to provide coverage and sculpting through the thigh. But with an open-bottom design, you'll also benefit from a curvier butt.
Say goodbye to the whole gamut of trouble areas, and say hello to smooth thighs, a slim waist and a round butt. This garment is lightweight and will keep you cool and comfortable for long events.
Lower Abs
Perfect dress pairing for corselettes: cocktail
This is one of the peskier trouble spots for a lot of women. Even if you are slim at your natural waistline above the bellybutton, this lower abdomen area can look unflattering if you're not wearing the right kind of shapewear under your dress.
The key to controlling this area is using shapewear that is long enough and firm enough to get the job done without revealing any bumps or seams underneath your dress fabric. A firm compression bodysuit like the Mia Corselette Bodyshaper keeps your whole tummy safely tucked in and secure using tri-layer lining and a latex core.
Bra Bulge
Perfect dress pairing for vest style waist cincher: strapped and sleeved looks
No one likes to talk about this trouble area, but the truth is, anyone can suffer from bra bulge, or a less-than-smooth upper back area. Your first line of defense is, of course, a bra that fits well, which is why many of our garments are designed with an open bust—so you can pair them perfectly with your favorite bra.
But if you're still battling the bulge, even with a great-fitting bra, you'll want shapewear that provides more coverage for your back, preferably over the braline. Choose a vest-style waist trainer or a bodysuit with straps to get adequate support and coverage for your bust.
Bust-Lifting
Perfect dress pairing for bust-lifting longline bras: strapless.
Some formal dresses make it difficult to get breast support and enhancement with a normal bra, but sometimes a standard strapless bra just doesn't get the job done. A longline bra or overbust corset provides firm lifting and support for strapless styles as well as light smoothing of the upper waist to create a smooth finish underneath your dress. The Longline Smooth Strapless Bra by Dominique 8541 is a favorite choice for bridal and other formal attire.
Posture Support
One simple thing that anyone can do to improve their appearance in formalwear is stand with a straighter posture. This can make you look thinner and more confident, even if you have not physically changed anything else (just ask any photographer!).
Did you know that many styles of shapewear can provide posture support? In particular, firm compression waist trainers and bodysuits will not only pull in your waist but straighten your torso while you wear them. So while you might, in your natural state, want to slouch and hunch your shoulders, with the right shapewear you'll naturally sit and stand a little straighter—creating a big difference in your overall appearance.
More Tips for Getting the Most Out of Your Formal Shapewear
The most important factor in using shapewear for special occasions is choosing the right garment for trouble areas and dress style. Once you have that picked out, the next step is making a few tweaks so you get everything right:
Take accurate measurements! Our shaping garments have been carefully curated and tested, so follow the sizing charts precisely. If you're not sure how to measure, check out this guide.
Try on your shapewear well in advance of the event to ensure that it fits correctly. Step into it gently and fasten where needed. You shouldn't have to yank or pull to get a good fit, but it should be snug and create a flattering finish. If it pinches or is very uncomfortable, it doesn't fit. If it's not quite right, exchange for a different garment or different size. See here for our return and exchange policy.
Also try on your dress with the shapewear underneath before the event to make sure that they work well together. If you're having your dress altered, remember that when you'll want to wear your shaper when you trying on your dress for the final fitting.
Practice wearing your shapewear and break it in before the event, just as you would with a new pair of shoes. Not only does the garment need to break in, but your body needs time to grow accustomed to the way it feels. This is especially important in maximum compression garments like waist trainers. If you're wearing a waist trainer for a longer event, be sure to work your way up to it. Start out by wearing it for an hour at a time and then gradually increase the amount of time you wear it until the day of the event.