Posted by Hourglass Angel on Jan 4th 2022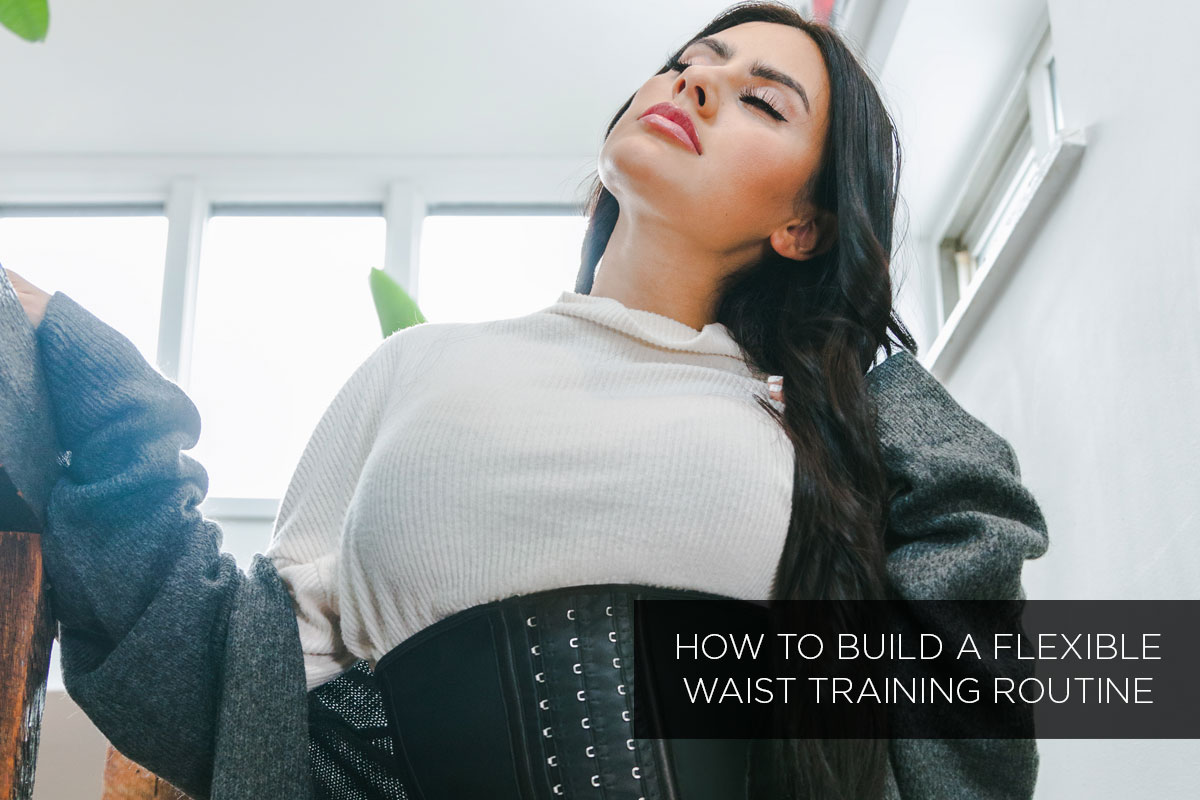 Starting a waist training regimen is a great way to achieve your slimming goals. Wearing a waist trainer every day, in combination with healthy eating and a fitness routine, can be an excellent way to build an hourglass figure.
But what if you can't wear a waist trainer every day? Or what if you want a break? Can you still get results from waist training, or should you even bother?
You absolutely can still get results from waist training even if you don't follow a daily waist training regimen perfectly. In fact, it might even be better for some people to follow a routine that is realistic for their lifestyle, rather than trying to do more than they are able to.
Whether you waist train every day or need a bit more flexibility, the key is consistency. Today we're sharing how to build a flexible waist training routine that will still get you the results you want.
How Waist Training Works
Before we talk about how to build a flexible waist training routine, it's important to understand what waist training is and how it works. Waist training as we're defining it is the daily practice of wearing a waist trainer as a part of a healthy lifestyle, with the intent to slim the waistline.
There are a few approaches to waist training. Many people start by wearing a workout band waist trainer during exercise. A workout band uses firm compression around the midsection to generate heat and perspiration in your core, resulting in a more intense workout. You can benefit from a workout band in many types of exercise, including strength training and cardio. Wearing it during brisk movement such as going for walks or cleaning the house also has benefits.
You can also wear a waist trainer as shapewear that slims the waistline several inches and smooths out the whole midsection. A waist trainer designed for everyday use can be worn underneath your clothing.
This method works in several ways:
It stimulates heat and perspiration in the core using compression material.
It also helps you use better posture and reminds you to engage their core, eat small meals and follow through with other lifestyle goals.
Finally, if you track your waist slimming progress with photos and waist measurement, a waist trainer can help you be motivated and get a vision for what your slimmer waist can look like when you wear it daily along with a healthy diet and exercise plan.
If you're new to waist training and are not accustomed to the way it feels to wear a high compression garment, it can take some time to work your way up to a daily routine. We recommend starting out by wearing your waist trainer for just a couple of hours a day. You can incrementally add more time each day until you're comfortable wearing it for most of the day.
How Long Should You Wear a Waist Trainer a Day to See Results?
Ideally, we recommend that you wear a waist trainer 8 to 12 hours a day for the best results. This daily practice will help you stay in the habit and follow through with a healthy lifestyle.
However, if you need a more flexible waist training plan, there are a few ways you can adjust this goal:
Split your waist training into more than one session per day. If you find that you need a break, wear your waist trainer for a few hours, take it off for one or two, and then put it back on again. Good opportunities for breaks are during your commute or when you're unwinding on the couch.
Wearing a waist trainer for SOME amount of time is better than nothing.If you have a day where it's just not going to be possible to wear your waist trainer for a full day, consider when you can wear it. Even if it's just for a couple of hours, that can help!
Commit to wearing during workouts.A fitness routine is an essential piece of a successful waist training plan. If you can't wear a waist trainer all day, at least wear one during your workout (or walk, or whatever activity you are doing).
Wear your waist trainer at night.Some people find that it's easier to clock those waist training hours when they're asleep. Not everyone finds this comfortable, but if you find that it works for you, go for it!
Don't give up when you get off track.It's normal to get out of the habit from time to time, but don't let that stop you from getting back into the habit. Whether you are on vacation, have an illness, or have any other reason why you haven't been wearing your waist trainer as much as you want, get back into your daily routine as soon as you can.
How Many Times a Week Should You Waist Train?
For the best results, we recommend waist training every day of the week. Having said that, we know that it's not possible for everyone. But don't let that stop you from waist training altogether! You can still experience the benefits with a flexible plan throughout your week.
Here are more tips:
If you need breaks, make those breaks consistent.For example, if Saturday is a day you want to lounge around each week, then make that the day you don't wear your waist trainer. Just make sure you're also consistent about putting it back on every other day of the week.
Make a different plan for different seasons.If you're someone who is at the beach a lot during the summer or otherwise can't comfortably wear a waist trainer in a particular season, come up with a particular plan uniquely for that season. If you only wear your waist trainer three days a week during that season, get back into a daily routine once that season is over.
Create a plan for your current waist slimming goals.Maybe you don't want to wear a waist trainer every day for the rest of your life. But you can create a habit that will help you reach your goals now. For example, if you are adjusting your lifestyle at a time like the New Year or after having a baby, a waist trainer is a great tool that can help you reach your goals. It's also helpful if you're preparing for an event like a wedding. Wear the waist trainer daily until you hit your goal; then reassess whether you want to continue daily or ease up a bit. (Just remember that waist training is an important part of maintenance too!)
10 Ways to Create Your Flexible Waist Training Routine
To sum it all up, here are some of the ways you can build a more flexible waist training routine:
Wear your waist trainer for multiple shorter session each day.
Take short breaks at the same time (like during your commute).
Take a break once a week (or every other week, etc.).
Wear your waist trainer during workouts when you can't wear it all day.
Wear your waist trainer at night.
Remember: something is better than nothing.
Don't give up when you get off track.
Wear your waist trainer more, or less, during different seasons.
Create a plan based on your current goals.
Adjust your plan when your goals change.
The Best Waist Trainers for a Flexible Routine
Ready to create a flexible waist training routine that works for your schedule, your preferences and your goals? These waist trainers are adjustable, so they can be fastened according to your comfort level, and size down with you when you're ready.
Zipped Up and Snatched Workout Waist Trainer by Hourglass Angel HA108: This zip-up waist trainer can be slipped on in seconds, so you can start your routine faster. It'll instantly shrink your waistline up to three inches while optimizing your workout. The high strength zipper gives it a firm, secure fit, while the Double-Velcro strap provides extra reinforcement.
Best Waist Trainer by Hourglass Angel HA102: We designed this hourglass waist trainer with flexible steel boning for maximum effectiveness. It instantly shrinks your waistline by up to three inches, while stimulating heat around the midsection and increasing perspiration. Ideal for wearing all day, this garment uses three rows of large hook-and-eye closures to create a strong, secure fit. It also allows room for you to adjust as you make progress over time.
Max Air Flow Breathable Waist Trainer by Hourglass Angel HA111: With this waist trainer you can enjoy the benefits of full compression around your midsection in a breathable, comfortable package. It's perfect for those days when you need more breathability, like when the weather is warm. But it doesn't sacrifice effectiveness. This waist slimming garment provides full coverage of the torso and is constructed with latex along with flexible steel boning. The mesh design increases air flow and helps you feel cool. Three rows of hook-and-eye closures give you the space to slim down over time.