Posted by Hourglass Angel on Mar 27th 2019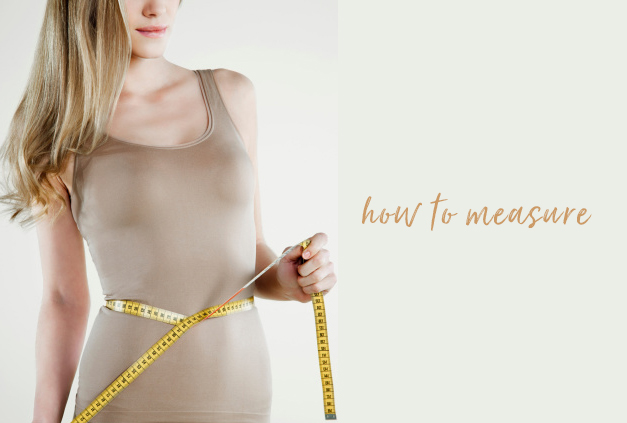 If you want to be successful with waist training, one of the most important factors is choosing a garment that fits correctly. A waist trainer that is perfectly suited for your figure will look flattering the instant you put it on. It will be the most comfortable, and will contribute to the waist-slimming results you want.
The question is, how do you measure waist for a waist trainer?
While it seems like it would be pretty straightforward process, it's not difficult to take an incorrect measurement. Follow these guidelines to ensure that you get the most accurate measurement so that you can get the right size. Remember, it's important to take your measurements any time you order a new garment, even if you've ordered before.
What Kind of Measuring Tape to Use
The best kind of measuring tape to use for your waist trainer measurement is a vinyl or fabric tape designed for taking garment measurements.
If you don't have it on hand, it may be tempting to use an alternative, like the kind you would use to make curtain measurements or taking your best guess with a flat ruler and a piece of string. Don't even try it!
For the most accurate results and comfortable process, a soft tape will work best. You can pick one up at any store that has craft or sewing supplies for a few dollars. Many grocery stores and pharmacies carry them too.
How to Take Your Waist Measurement
Once you have the correct kind of measuring tape, stand in front of a mirror or get help from a friend to take your measurement. For the most accurate results, measure without a shirt. The goal is to use the tape around the narrowest part of your waist. For most people, this is about two inches above your belly button. Another way to find the natural waist is to bend to one side. Where you see the bend is where your waist is.
Standing up straight when you take the measurement, make sure that the measuring tape is level all the way around. It shouldn't be drooping anywhere or stretched diagonally across your body at any point. This is why it's important to measure in front of a mirror or with help from someone else.
The tape should lie as flat as possible against your skin once you've leveled it out. Don't stretch it or pull it tight, or you won't get the right measurement, but don't let it hang loose either. You should be able to slip a couple of fingers underneath the tape.
How to Determine Your Size
Write down your waist size in inches after you've taken your measurement. Then, look carefully at the sizing chart for the waist trainer you are interested in.
All of the waist trainers in our shop have been carefully curated and tested and have custom sizing charts. Do not assume that you will get the same size as your clothing. Waist trainer sizes are not the same as clothing sizes; what's more, each brand can vary slightly.
If you're in between sizes, you'll always want to size up. Some people make the mistake of ordering a size smaller because they think it will help them look skinnier, but quite the opposite will happen. If you order a size too small, not only will the waist trainer be uncomfortable, but it will also be less flattering on your figure and won't provide enough coverage.
Remember, you can adjust your waist trainer to fit by fastening it on different rows of hooks. If you're concerned that you won't have enough room to "size down" if you order the larger size, then consider ordering a waist trainer with three rows of hooks.
You might also want to check out the customer review section to see if there are any comments about sizing. While sometimes people have issues simply because they didn't take correct measurement, you might nonetheless come across a comment from someone similar to your size who can help you. The more detail they leave in their review about their sizing experience, the more helpful it will be to you (and remember this for when you leave your own review!).
Other Sizing Considerations to Consider
While the waist size is the measurement that matters most when ordering a waist trainer, there are other sizing considerations that apply to some people.
If you have a petite frame (about 5'2" or less), then you will likely be most comfortable in a waist trainer designed for petite women.
If you have a tall frame (if you're taller than about 5'8"), then you may get better coverage for your midsection in a waist trainer designed for longer torsos.
If you're plus size, be sure to look at our collection made especially for sizes up to 5XL.
If you have a large bust or want extra coverage for the upper back, you may prefer a vest style waist trainer. Just note that some come with adjustable straps and some don't. If you have a high bust-to-waist ratio, you may want a garment with adjustable straps so that it will fit better.
How to Try on Your Waist Trainer
Once it arrives, you'll want to make sure that your waist trainer fits correctly before you start wearing it.
If you have hook-and-eye closures, you may find it challenging to put the garment on for the first time, as it will feel very snug. Start at the bottom of the waist trainer and fasten the loosest hook at the narrowest part of your waist. Slowly work your way up the garment, pulling it down over your abdomen as you go.
A waist trainer that fits well will feel very snug (that's how you know it's working!). But you shouldn't have to yank on it to fasten it—or otherwise you risk damaging the garment. If it doesn't fit, you can exchange it within 30 days of purchase.
Still Need Sizing Help?
Our expert stylists are here to assist you! Contact us if you need advice with sizing or help picking out the perfect waist trainer.