Posted by hourglass angel on Jun 29th 2017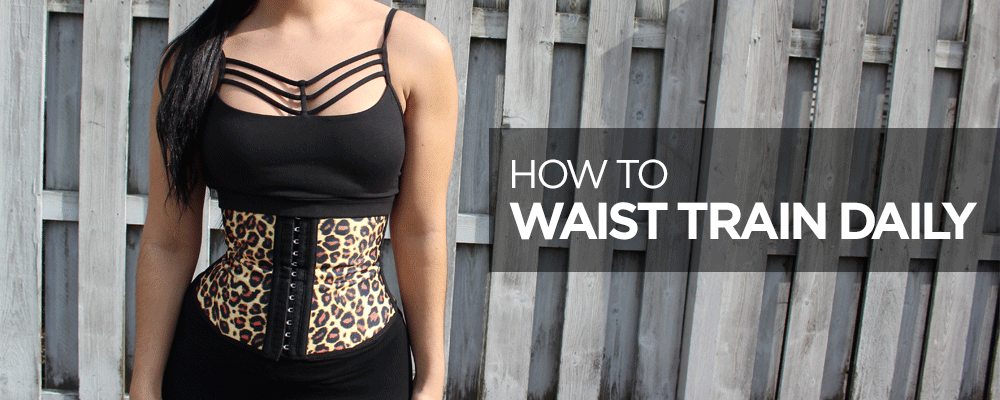 Wearing a waist trainer every day can completely transform the way you look. It takes time, with dedication to daily wear and a healthy lifestyle, but pretty much anyone who wants to try can do it.
In fact, we have multiple testimonies from women of various lifestyles who have been thrilled with the results. You can read some of their stories in this post: New and Improved 2017 Waist Training Guide.
Since everyone is different, we've found that women who are serious about waist training approach it a little bit differently, which is why we make body shapers for every type of woman. We've gathered some tips to make it work depending on your goals and your personal lifestyle.
First Things First: Defining Waist Training
Before we talk about the different options with waist training styles, it's important to be clear about what waist training is. Some women like to wear cinchers and corsets as a way to slim down or make a statement for special occasions. This is not the same thing as daily waist training.
Waist training is the practice of wearing a corset or cincher every day (recommended for at least eight hours). The goal is to "train" your waist. It works by helping you perspire more, hold a straighter posture, and in some cases manage your portion control during meals. It works best when paired with regular exercise and a nutritious diet so that you are building lean muscle and burning fat while slimming your waistline.
Since waist training can be a part of a healthy lifestyle, here's how you can make it work for your specific needs.
Best for Under Clothes: The Everyday Waist Trainer
Most women are going to want a waist trainer that can be hidden under clothing if they are going to successfully wear one for at least eight hours a day. Our everyday waist trainers provide compression through latex panels that can be easily concealed under most clothing. The exception is if you're wearing a very thin shirt, revealing dress a crop top, in which case you might want to choose a different style of seamless shapewear for the day.
We recommend having at least one waist trainer in a color that can blend with your skin tone and the colors you wear on top.
The only time we don't recommend wearing an everyday waist trainer is during workouts, as they aren't designed for rigorous movement. There are waist trainers designed specifically for that, which we'll discuss next.
Work Up a Sweat in Workout Bands
Workout waist trainers are the types that everyone likes to show off because they're often brightly colored and fun. These are designed to make you sweat harder and get better results out of your workouts, without worry about damaging them.
If you're serious about waist training, we highly recommend that you have at least one workout band, because you'll be getting the best results with regular exercise.
Some women starting out with waist training actually begin with just a workout band to wear all the time. While this can work for a little while, we recommend that you eventually have another waist trainer in your wardrobe. Workout bands are constructed more sturdily, which means that for long days you may be more comfortable in a different style. Ideally you should only wear a workout band for a couple of hours. They are often cut a little bit shorter than other styles of waist trainers to give you more freedom of movement during exercise. You may find that under your casual or business attire you prefer more coverage, particularly for the lower abdomen.
Related: How Many Waist Trainers Do You Need To Waist Train Daily?
For Dramatic Slimming: Underbust Steel-Boned Corsets
Another style of garment for waist training is a steel-boned corset. These come in a variety of styles and fabrics. The underbust style focuses on the waist and provides the versatility to be pair with your own bra.
Corsets can be very effective for daily waist training. They are different than cincher waist trainers in several ways. They fasten in the front with steel busks and are tightened in the back with laces. Their bodices are constructed with flexible steel boning, some if it spiral and some of it flat. This combination of materials results in a precision fit and dramatic results when the laces are tightened. Because of the way they are built, corsets provide a dramatic hourglass cinch at the waist and can help you drop several inches instantly. Long term, you may also find that a corset provides more slimming power.
Some women prefer corsets as a matter of style preference. In general it is slightly more difficult to conceal them underneath clothing; however, they can be used as outerwear in a way that latex cinchers can't. If you want to wear your cincher underneath your clothing, we recommend satin or brocade. Cotton can be worn under clothing as well, but it is a little thicker and can be more difficult to conceal.
Another reason women prefer corsets is because they are latex-free. What is more, since they rely on steel boning rather than latex to provide compression, they can be more durable and last longer.
For Fun and Fashion: Overbust Corsets
For effective waist training purposes, underbust corsets and cinchers are better designed to give you the best results. However, from time to time you might want to make a fashion statement with an overbust corset. They are often used for lingerie and costumes. Depending on your personal style, an overbust corset top can be used as outerwear, either for dressing up or for some sassier everyday style. You can also wear some underbust corsets underneath clothing in place of a bra and underbust corset.
Overbust corsets provide the same effect of dramatically slimming your waist while providing extra lift and support for your bust. In effect they substitute the need for a bra. However, most women don't wear them every day, which is why we don't recommend them for waist training.
Extra Support: Vest-Style Waist Trainers
Most waist trainers are designed to sit firmly under the bust, but some women prefer extra support with straps. Waist training vests are ideal if you want extra support for your breasts or coverage for your back. Like other everyday waist trainers, most styles are designed to conceal underneath clothing and can rotate through your everyday wardrobe.
Take note if you have an unusual bust-to-waist ratio: we recommend that you choose a style with adjustable straps so that you can customize your fit. Otherwise you may find that either the straps or the bodice of the waist trainer don't hug your figure firmly, which isn't the way it is designed to fit.
Styling Suggestions
Now that you know your options, here are a few ways you can use various styles of waist trainers in your wardrobe.
Working professional: Wear an everyday waist trainer or lace-up corset underneath professional button-down tops and suits for a classy, curvy feminine look.
Keep it casual: Everyday waist trainers and vests work beautiful under jeans and t-shirts or other feminine tops.
Play dress-up: Get a stunning hourglass shape under your favorite dresses and gowns using a cincher or corset. A-line dresses or any styles that emphasize the waist are particularly stunning.
Gym hottie: Show off your workout band by pairing it with your favorite sports bra and shaping leggings. You can also wear it over a moisture-wicking top.
Corset diva: There are multiple ways to wear an underbust corset over your clothing. Wear a satin or brocade corset over a thin top to create a classy Victorian or gothic look. We also recommend wearing tops or dresses that show off your shoulders—fabrics that flow, or even off-the-shoulder styles.
Overbust options: While you might like to keep your flirty overbust corsets for private use, as mentioned above they can also be fashioned as outwear. Wear them like a tank top and layer with a jacket, or over frilly tops and dresses to create a nice contrast between your tiny waist and your shoulders and hips. Overbust corsets also make sexy options for costumes around Halloween or other dress-up occasions.
Once you start experimenting, you'll find that the possibilities are endless when it comes to styling your waist trainer!
The most important thing to remember when starting your daily waist training routine is to stick to it. The longer you do it, the more confident and comfortable you'll feel wearing a cincher or corset in any number of ways, from casual wear to professional attire, to at the gym and when dressing up to go out.
Looking for more waist training style inspiration? Be sure to follow us on Instagram or check out our boards on Pinterest. Or see what other people are wearing by checking out #BeTheHourglass. We also have an expert team of stylists waiting to help you find the perfect waist training solution for your style, your body type and your personal needs.