Posted by Hourglass Angel on Oct 29th 2021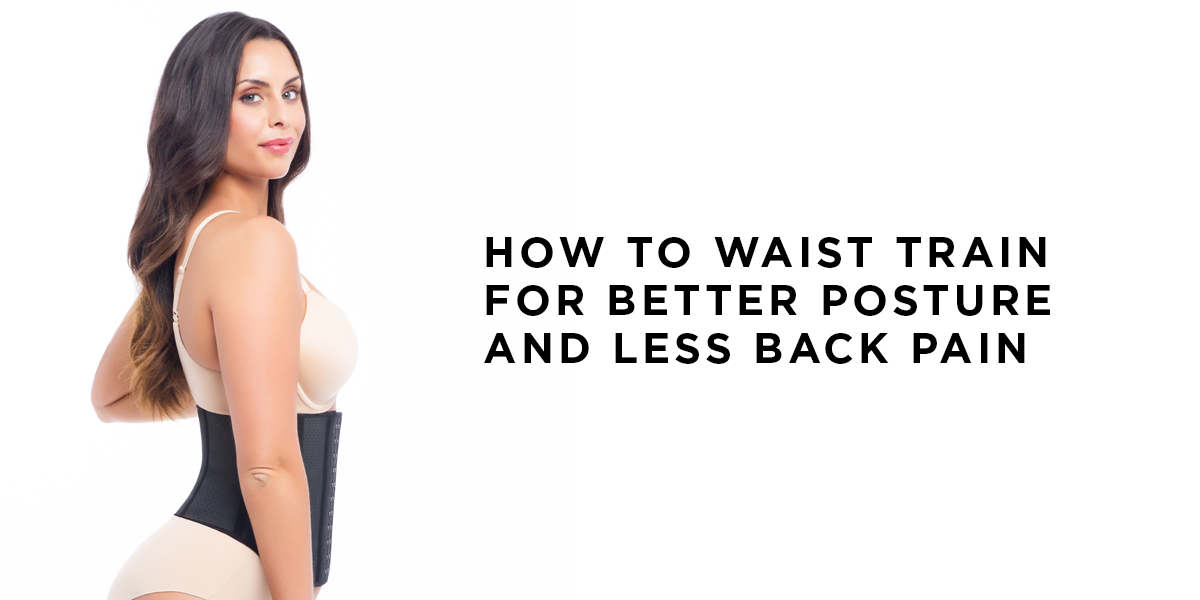 There are many benefits to start a waist training regimen, but one that you might not think of at first is to help your back.
Wearing a waist trainer daily not only can play a role in slimming your waistline, but it can also support your posture. Good posture is essential to relieving back pain and helping you feel comfortable and confident as you go about your day.
You'll want to make sure that you're following best practices to get the most out of this practice, so here are some tips on how to support your posture with waist training.
Why Posture Matters and How a Waist Trainer Helps
Most modern lifestyles are not conducive to creating a healthy posture. Many of us are sedentary for much of the day, sitting in a hunched position in front of a computer screen. And if you have an active job or stay at home, it might not be much better—especially if you aren't cognizant of your posture when you're standing, lifting, bending over, or looking at your phone.
Poor posture inevitably leads to back pain for many people, in different parts of the back depending on how you carry yourself. It follows that if you get in the habit of practicing good posture, you may experience less back pain since you're not putting painful strain on the weak parts of your back.
It's difficult, however, to constantly remember to use good posture when you're not in the habit. Fortunately, waist trainers can help support your posture in several ways.
A high compression waist trainer acts a little bit like a splint around your torso. When you wear one, you won't be able to slouch as easily. The garment will constantly remind you to sit or stand up straight with better posture.
Having said that, you don't want rely solely on a waist trainer to improve your posture. Waist training works best with healthy lifestyle practices, particularly exercise and core engagement throughout the day if you want a stronger, straighter back.
How to Get Started with Waist Training
If you've never tried waist training before, it's not something you'll want to jump into fulltime in the beginning. A high compression garment takes time to get used to, especially if you have poor posture, because your body won't be accustomed to keeping a straight back all day.
When you first start out, wear your waist trainer on the loose setting for short periods. For example, the first day or two you might wear it for only an hour or two add a time. Slowly increase the amount of time you wear in your waist trainer each day. If needed, wear your waist trainer for two short sessions rather than one long one.
You might find it helpful to time your waist training for when you need the most back support. For example, wear it when you're at a desk or doing activities that put the most strain on your back. You might also consider wearing it when you're working out.
If you wear your waist trainer every day for a few weeks, gradually increasing the amount of time you wear it, you should be comfortable waist training eight or more hours a day. That's enough time to see a noticeable difference in your posture and, as a result, the way your posture feels. You'll be more comfortable in the garment, and it will have broken in and molded to your body's shape.
Stay Consistent
An effective waist training regimen requires a daily commitment. It helps if you make that commitment up front! Otherwise, it's easy to make excuses about why you won't wear your waist trainer on a given day, and you'll fall out of the habit.
Take weekly progress photos with your waist training routine so that you can document how much it is helping. It also might be motivating if you keep a journal that records how your posture and back pain improve when you're wearing the garment regularly.
As your posture improves, it might be tempting to use your waist trainer less, but keep it up! Over time, see if you can tighten it to the next setting, if applicable. Keep track of your waist measurements and see how they have improved!
If you do fall out of the habit, it's not difficult to start it up again. And if you need fresh motivation, you can always try a different waist trainer and see if that challenges you to reach even better results.
Do the Right Workouts
There are a lot of reasons people can have poor posture, but one of the ways it can be improved is by strength and flexibility workouts. Strengthening your core will help you hold your posture correctly and put less pressure on the back muscles or spine in places that you shouldn't. Postpartum women may especially find that since their abs are so stretched out following pregnancy that they have difficulty with posture.
While you can benefit from workouts that target the core, like Pilates, you can also strengthen your core with strength training routines that work large muscle groups, like variations of squats, lunges and deadlifts. When you do these kinds of exercises correctly, you should be engaging the deep muscles of your core, which will ultimately help your posture.
You can also focus on engaging your core and straightening your posture throughout the day when you're not working out. A waist trainer can remind you to do this constantly. Pull your abs together on an exhale and hold them there with a flat back for as long as you can whenever you think of it. Practice this—often called abdominal breathing—by lying on the floor and keeping your lower back flat to the ground so you know what it feels like.
If you're postpartum, be careful not to do exercises that "crunch" your abs until you are fully healed. Many women have a separation in their abdominal wall after pregnancy, and crunching can make it worse. Once again, a waist trainer can help with this! Wearing a waist trainer during workouts will keep your tummy flat and your back straight in exercises that engage the core.
Best Waist Trainers for Back Support
Any quality waist trainer that is properly fitted should provide support for your posture, which can improve back pain. To ensure correct fit, take your waist measurement whenever you order a new waist trainer. Use measuring tape that is fabric or vinyl so that it can lay flat and measure the narrowest part of your waist. It be taught be not stretched; you should still be able to fit a finger or two underneath the tape.
Follow the sizing chart precisely for your chosen garment; these have been customized on our website for every waist trainer. If you're in between sizes, always go up a size for the best results.
You may also want to choose a waist trainer that provides support in your target areas. For additional upper back coverage, try a vest waist trainer. For coverage of the lower back and hips, choose a longer waist trainer.
If you want to try waist training for better posture, you should be off to a great start with these tips! Contact us if you have any additional questions about the perfect waist training garments for your needs.