Posted by Hourglass Angel on Aug 29th 2018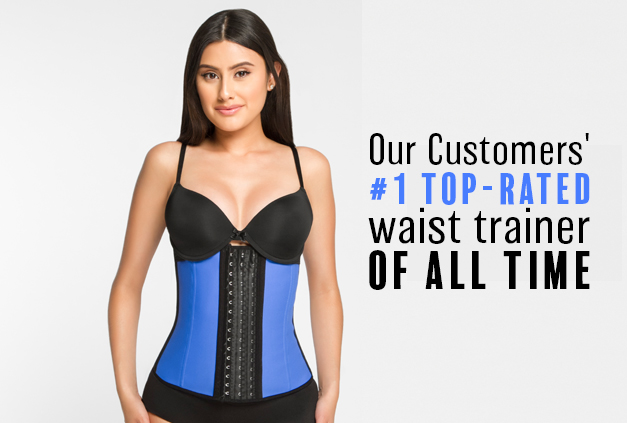 When shopping for a new cincher, one question that many people ask us is simply, "Which waist trainer is the best?"
While it's difficult for us to answer that question because that depends on a lot of factors related to what each customer is looking for, we thought it would still be helpful to offer at least one suggestion.
And that suggestion is the appropriately named Best Waist Trainer HA102, which we designed ourselves. There are several features in this style that you won't find anywhere else, and dozens of happy customers confirm that this is one of the best quality waist trainers you can get (at a very affordable price too!).
Construction
We decided to design our own line of waist trainers because there are many that just weren't hitting all the marks when it came to what we thought our customers were looking for. In particular, we wanted to offer the waist-slimming power of a steel-boned corset in the convenient, stylish form of a latex cincher.
So we took the best of both worlds and a designed a latex waist trainer that was reinforced with flexible steel boning throughout the bodice. The result is a high-power waist cincher that is durable and effective.
We also wanted to offer more waist training options in plus sizes, so we designed this waist trainer with the curvy woman in mind. This waist trainer provides stunning results from XS–5XL, so you can experience the effects of waist training no matter what your natural shape and size.
Features
We didn't hold anything back when designing the ideal waist trainer.
First, it uses a powerful latex core to provide maximum compression around the whole torso. As mentioned above, the garment also uses 9 pieces of flexible steel boning to reinforce the latex and maintain that hourglass shape.
You'll find three rows of hooks on this waist trainer, which is what many of our customers have said that they prefer because it gives them the space to size down when needed.
This waist trainer also uses a combination of cotton and spandex lining so that it feels soft and dry against your skin.
And of course we couldn't resist having a bit of fun with the color and print options. You can grab this waist trainer in bright colors as well as animal print if you want to show it off. But if you prefer to wear it discreetly under your clothes, it comes in black and nude as well.
Results and Benefits
So what happens when you put the perfect combination of features in a waist trainer together? We like to think it's as close to the perfect waist trainer as you can get.
When you first put on this waist trainer, you'll experience the benefits immediately. It will sculpt 1 to 3 inches from your waistline immediately, making it ideal to wear whether you're going to work or the gym. It also creates a slim and smooth waistline, eliminating muffin top and love handles. You may find that your clothes fit better, as they have a smooth foundation you can lay the over.
Another benefit of this waist trainer is the way it can enhance your workouts. Wearing maximum compression around your midsection will stimulate heat and perspiration in your core, making your workouts (and even your everyday physical activities, like walking) more effective. This is why we recommend pairing waist training with healthy lifestyle habits, so you can get the best results when trying to lose weight and tone up.
This firm compression waist trainer also corrects your posture and supports your back when you wear it. For this reason it can be a huge benefit if you sit at a desk or are on your feet for long hours every day.
Put all of these factors together and consider how these results could affect you: corrected posture and a slimmer midsection may lead to more confidence as well as more motivation to be healthy and stick to your goals. Waist training isn't just about changing the way you look; it's about transforming the way you feel. You can feel great about the body you already have with a waist trainer that is made for women of every shape and size.
Customer Reviews
We could probably talk all day about why we love this waist trainer, but don't take our word for it. The proof is in what our customers are saying about this popular garment. Here are some of their experiences:
Fast results:
"I lost 2 inches in my waist after week one. Definitely worth the money. If you follow the instructions and wear...it really works." – Guest
That's incredible to hear! We're glad to know that one of the most affordable waist trainers is getting these kinds of results.
Quick delivery and effective:
"This is my second waist trainer from Hourglass Angel, and the waist trainers really do work! Eat right and exercise. The waist trainers are simple to clean. I received my Waist Trainer in less than a week." Deja L.
Are you noticing a pattern with our happy customers yet? Follow our instructions, which includes a healthy lifestyle that pairs well with a waist training regimen.
What customers are looking for:
"I purchased a trainer several months ago and needed to get a new one to size down. This one is what I was looking for the first time I purchased! I can't wait to see results in a few weeks!" - Emily Y.
As we said, we created this waist trainer based on the feedback from our customers and what they are looking for. We're glad to know that you're happy with the result!
Quality and comfort:
"This trainer is the best quality trainer I have ever purchased. It is really comfortable, and there sizes are turn to fit. I love it and would highly recommend this to anyone looking for a good quality product." - Shari H.
That's exactly what we want to hear!
For all of these reasons, if you're looking for the best waist trainer, we hope you consider this one. But we encourage to continuing read all the reviews for yourself, and if you have any questions, we're happy to help!