Posted by by hourglass angel on Aug 7th 2017
At Hourglass Angel we believe that true beauty comes in all shapes and sizes, which is why we strive to provide a great selection of plus-size shaperwear.
We love curves, but it's no secret that they can create some unique shaping challenges. Shapewear designed with plus-size curves in mind takes into account the support you may want for your bust and back as well as contouring and smoothing for other target areas.
Here are our favorite selections of plus-size shapewear, with tips for making it work for your unique styling and shaping needs.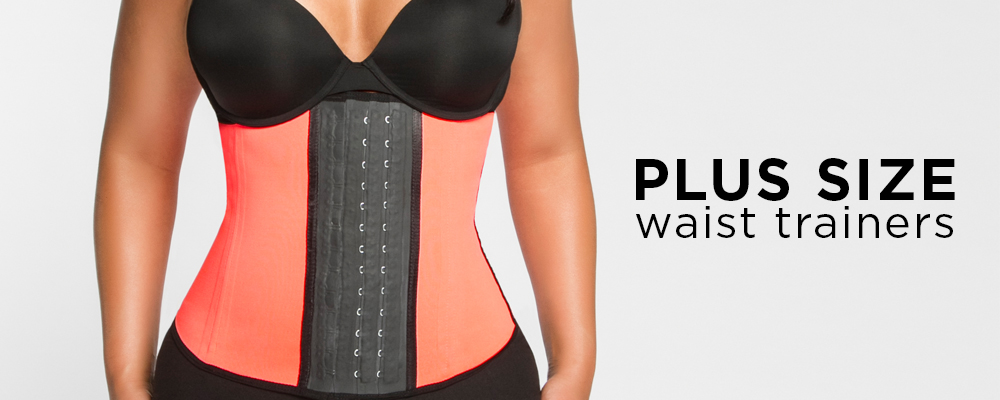 Plus Size Waist Trainers
A waist trainer is hands-down one of the most flattering types of shapewear you can use to enhance any body shape. Firm compression around the core flattens the tummy while creating hourglass curves and a tiny waistline. If you have curvy hips and a full bust, the power of a little waist can be stunning—and it's very easy to attain with a high-quality waist trainer. Plus-size waist trainers are designed with the curvy woman in mind and will provide full coverage for the torso without leaving gaps or causing pinching and discomfort.
One of our favorite plus-size waist training options is our very own Best Waist Trainer by Hourglass Angel. It takes up to three inches off your waistline instantly and creates an hourglass shape. The reason it works so effectively is because of the flexible steel boning inside the bodice, combined with the compression of a latex core. While steel like this is typically reserved for lace-up corsets, we decided that we'd combine the best of two styles—and this is what we came up with. Waist trainers work by providing long-lasting maximum compression around the core, which stimulates perspiration and thermal activity. For this reason, this waist trainer is also ideal as a workout band.
Since we recommend having at least two options if you're serious about a waist training regimen, check out another workout band ideal for plus sizes, the Latex Workout Band Curve Creator by Hourglass Angel. It offers the same benefits as the Best Waist Trainer, with the convenience of a Velcro closure for when you're on the go. You'll experience superb compression during your workouts, which will increase the effectiveness of your exercise program. You can wear this during a variety of cardio and strength training exercises, or even on walks if you want to kick the intensity in your core up a notch.
We also recommend vest-style waist trainers for plus sizes, particularly if you want additional support for the bust and coverage for the back. The Latex Waist Trainer Vest by Hourglass Angel is a waist-slimming, bust-enhancing everyday waist trainer that will also slim your waist up to three inches in an instant. It also combines the compression power of latex with the durability of light steel boning for maximum waist-slimming power. And of course, it eliminates any fear of back bulge, with more coverage for the upper back, and offers extra support for your bust.
These waist trainers all run from size XS all the way to 5X, making them effective slimming options for anyone. The Best Waist Trainer and the Latex Waist Trainer Vest utilize three rows of hooks, so if you plan on sizing down, they will adjust to a perfect fit. And the Workout Band easily adjusts to the exact size you need with its adjustable Velcro closure.
(And here's a little bonus hint: it's hard to pick just one, so why not try all three?)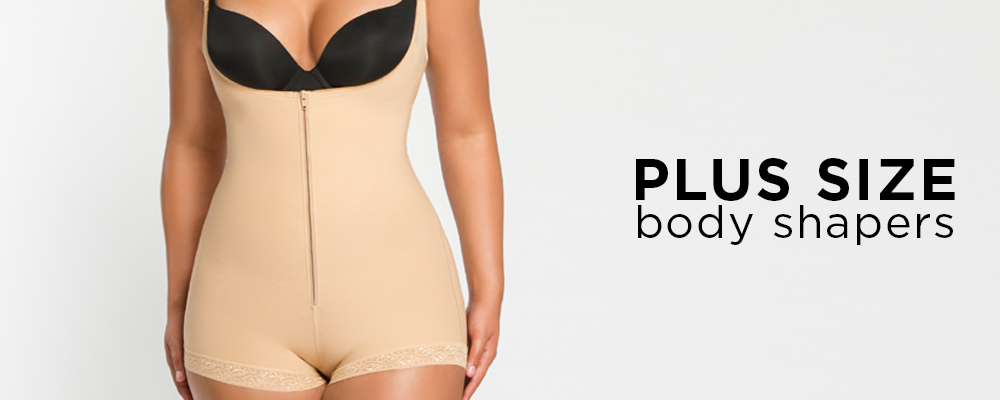 Plus Size Body Shapers
If you're looking for a full-body makeover, we highly recommend bodysuits. These are ideal for special occasions or anytime you want to make a lasting impression. Bodysuits can hide invisibly under gowns, skirts and suits. Remember that for the most dramatic slimming and body-contouring results, you want high compression, not necessarily a smaller size.
We have a couple of plus-size options that we love. Which one is right for you depends on your target areas as well as what you're wearing on top.
The Thermal Body Suit Plus Size, Rose 4505 By Co'Coon will slim your tummy, midsection and hips into an hourglass shape without flattening your rear. Its special booty-lifting band is unique and works seamlessly with the other components of the garment, including thermal latex tummy panel that keeps the lower abdomen in check. You can instantly reduce your waist and hips by up to two sizes. This garment comes exclusively in sizes 2XL–5XL, so you know it will flatter a curvy woman in all the right places.
The Leonisa Celebrity Style Body Shaper is another option that provides all-over slimming, with added full thigh control. While it's powerful enough to wear for special events, it's also lightweight and comfortable under everyday attire. You'll experience a trimmed tummy, hip control, thigh-slimming, elimination of back bulge, and all-over smoothing in one simply zip-up garment. It also uses an open-bust design with straps for added support to the bust.
Both of these options are designed to be invisible under your attire, so be sure to choose the color that suits your wardrobe best!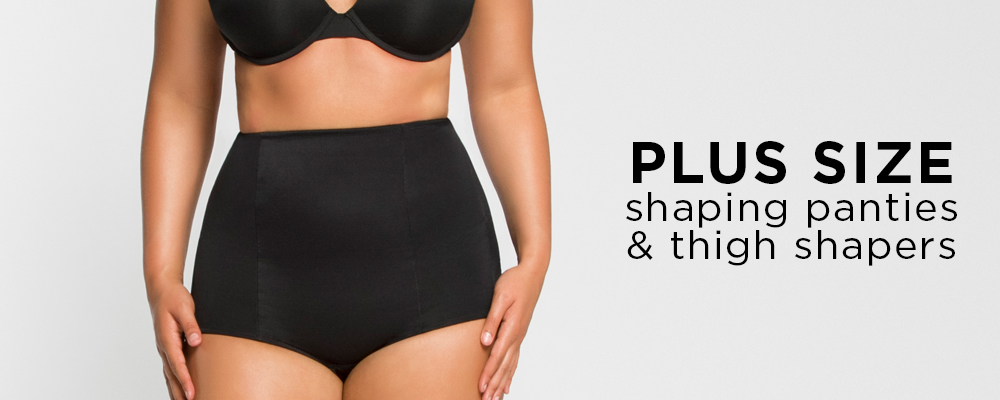 Plus Size Shaping Panties and Thigh Shapers
One of the best benefits of quality shapewear is that it makes getting dressed in the morning easy! So many of your outfits will be much more flattering with a smooth foundation underneath. A must-have in every woman's wardrobe is a shaping panty.
The High-Waisted Panty Shaper with Booty Lift by Leonisa uses a high cut waist and compression to create a flat tummy and eliminate all instances of muffin top. In the back, curved seams and specially gathered elastic create a natural rear-rounding effect, without padding. You'll get firm slimming of 1–2 inches instantly.
Another option, depending on your body type and what you're wearing over the top is a panty shaper with thigh control. The High Waist Firm Control Thigh Shaper by Va Bien is our favorite option and comes in sizes up to 6XL. Satin control panels smoothen your trouble areas including the thighs, hips, tummy and rear. And the garment stays firmly in place with a control waistband and flexible boning right at the natural waist.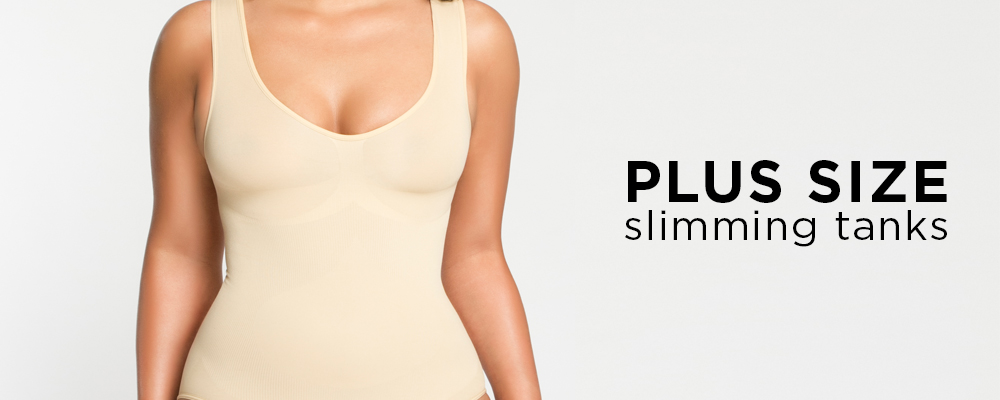 Plus Size Slimming Tanks
Another shapewear must-have in any wardrobe is a slimming tank. This is an easy solution that you can layer underneath almost anything, and a good one will slim and smooth your whole torso.
Our plus-size recommendation is the V-Neck Slimming Tank by TrueShapers. Our stylists were blown away by how great this tank looks and feels on several different body types. It can be worn by itself or underneath dresses, blouses and other tops and works for casual or athletic looks. The deep V-neck cut makes it extremely versatile under a variety of styles, including plunging necklines. Just step in and out of it for easy-on, easy-off. We also love how comfortable it is and how it can make a seamless, smooth look effortlessly. We carry it in sizes up to 3XL.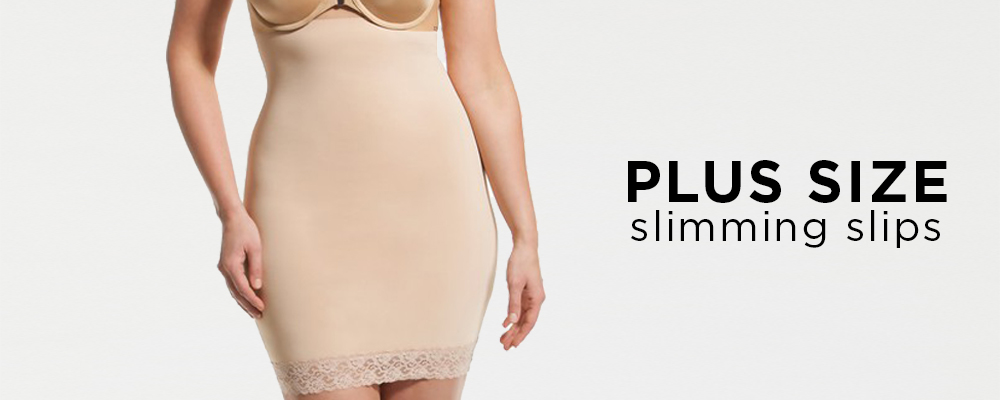 Plus Size Slips
The final piece of shapewear to complete a plus-size wardrobe is a shaping slip. Whether you're an office professional who likes to dress to impress or you prefer more casual dress and skirt styles, a slip will ensure that your dress or skirt falls beautifully over your curves, the way it was designed to.
Our favorite slip for plus-size figures is the Sleek Curves Shaping Slip by Hooked Up. What makes it work so beautifully is its unique design that hooks into your bra. You can customize it to your unique shape by pairing it with your favorite bra, without worrying about any pinching or spillover effect. And back bulge—be gone. The body of the slip is also very effective, as it is designed to slim the waist and hips while providing all-over smoothing. The bottom of the skirt is finished with a lacey, silicone-backed hem that won't ride up. To sum it up, your dress can flow the way it was designed to, over an hourglass-smooth silhouette.

Inspired yet? Let us help you find the right shapewear for your body! We're passionate about helping women of every shape and size find the right shapewear that will make them feel beautiful and confident, no matter what they're wearing. From special events and weddings to everyday apparel, you can look fabulous every day, no matter what your body type. You just need to start with the right foundation underneath.
We know the unique challenges that come with each body shape, and that's why we have expert stylists who are prepared to answer your questions and help you find the perfect shaping garment for your needs. If you've done your homework and want some extra assistance putting that perfect outfit together, contact our customer service team and we'll be happy to answer questions and provide recommendations.