Posted by Hourglass Angel on Jul 5th 2020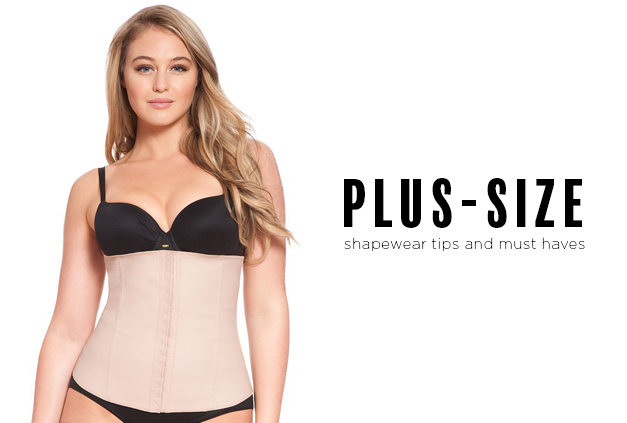 Here at Hourglass Angel, we believe that every size and body type is beautiful. And everyone should have the opportunity to feel confident and sexy no matter what they're wearing.
That's why we carry a curated selection of shapewear garments designed with curvy plus sizes in mind. The right plus-size shapewear will enhance your best features and help your figure look smooth whether you're dressed up or going casual.
Not all plus-size shapewear is made alike, which is why you should know what you're looking for before you shop. What's more, there are slight differences in sizing and style that you may want to look for that you wouldn't necessarily encounter in other sizes.
We've put together this Shapewear 101 guide to finding the best plus-size shapewear so that you can confidently order the best shapewear for your styling needs.
How Do You Pick the Right Size Shapewear?
The key to finding the best plus-size shapewear starts with proper sizing. In order to enhance your curves and get the most flattering look for your body type, it's important to take accurate measurements and apply them appropriately.
For most shapewear, you'll need measurements of some combination of your bust, waist and hips. Be sure to take your measurements any time you want to order new shapewear; don't just assume your size.
How to Take Measurements
For all measurements, use soft fabric or vinyl measuring tape. It should lay as flat as possible against your skin or a very thin bra or top and panties. Don't pull it tight; you should be able to fit two fingers underneath. But don't let it hang loose either. When correctly measuring, the tape should be parallel with the floor all the way around your figure.
For the most accurate results, use a mirror—or better yet, a buddy—to help you keep the tape level.
For the bust: measure around the fullest part of your breasts.
For the waist: measure at your natural waist. This is about two inches above the belly button. You can also find it by bending to one side while facing forward. Your waist is where your skin folds naturally.
For the hips: Measure around the fullest part of your hips.
Once you have your measurements written down, consult the sizing chart for your desired garment (once you've picked it out). Note that sizes vary from brand to brand. We've customized our sizing charts so that you know you're getting the right size as long as you follow your recommendations.
Common Sizing Issues
Plus-size women can run into a couple of issues when sizing their garments.
First, you may find that your proportions don't quite line up with the ones on the chart. For example, your waist measurement might indicate that you need a 3XL, but your hips might indicate that you need a 4XL.
Which size you get depends on the garment and its purpose.
For example, if you want a waist-slimming garment that sits above the hips, then the hip measurement is irrelevant. In that case, go with the size that hits the waist measurement (most garments should indicate the waist measurement only if this applies).
But if your garment does cover the hips, then you'll want to get the 4XL in order to achieve the best results.
If your measurements are considerably disproportionate (more than one size apart), there are a couple of options to consider. To start, you may want a garment that has adjustable straps and sizing options so that you can tighten the areas that might feel a little looser.
Alternatively, if you have multiple target areas that you want to shape and slim, you may want to consider using two shaping garments instead of one, so that you can get the right fit in all the right places. For example, you could pair a thigh shaper with a waist trainer.
The second sizing issue you may run into is if you're in between sizes. Our rule of thumb is always to go up a size. We know that can be a challenge to some people (after all, who doesn't want a smaller size?), but trust us—you'll be happier with your results. Smaller size does not equal a better shape.
Remember that many shaping garments are adjustable and can be tightened to the ideal fit if they feel a little too loose. But conversely, you can't unloose a garment that is too tight. Shapewear that is too small is uncomfortable and unflattering (if you can even get it on).
How Do You Pick the Right Style of Shapewear?
Once you have the size nailed down for your plus-size shapewear, the next question is what style is best for your needs. The variables in shapewear that are most important to consider are compression level, cut and material. These determine the amount of hold a garment has, what areas it targets and how comfortable it will be, depending on your preferences. Ask these questions to determine which plus- size shapewear options are best for your unique needs.
Occasion and style of dress: are you dressing up for a formal event, or do you want to look your best in your everyday attire? Or are you looking for workout gear? Formalwear may require high compression shapewear that is designed to provide powerful sculpting in order to enhance your curves in a form-fitting dress, while casual attire might do well with breathable shapewear that comfortably smooths and supports your figure in a way you can feel good in every day. And if you want workout gear like a waist trainer, be sure that you're getting a garment that is designed for that purpose.
Target areas: Plus size women have lovely curves, but they can land on different places. Do you want to minimize and smooth your waist? Your hips? Your thighs? Your butt? All of the above? Different cuts of shapewear focus their shaping power in different areas.
Shaping goals: Do you want to focus on slimming and smoothing your midsection so your curves can pop? Or do you want more coverage and control for your butt and hips? To you want to primarily focus on one area, or do you want all-over shaping? Consider the ffects of different compression levels and garment cuts.
What Is the Best Plus-Size Shapewear?
While there are many options available for plus-size shapewear, here are some of our top recommendations!
Best Waist Trainer by Hourglass Angel HA102: We designed this high compression waist-slimming garment in-house after getting feedback from our customers about what they want in a plus-size waist trainer.
Wear this high-compression latex waist trainer comfortably underneath clothes or during workouts. It's designed with flexible steel boning for maximum effectiveness. This feature works together with the latex core to maintain your hourglass shape, while still allowing you to bend and move easily. Three rows of large hook-and-eye closures create a strong, secure fit while allowing room for sizing down over time if you're using this garment to aid in slimming down.
Squeem Waist Trainer 26PW: You can wear this ultimate waist-slimming garment almost anywhere. This maximum strength waist cincher from Squeem discreetly slims your waist by 1-4 inches while you're wearing it. It is available in sizes up to 3X.
The way this plus-size waist cincher works is simple. A firm compression latex core keeps your entire midsection smooth and under control so that whatever top you're wearing falls smoothly and enhances your curves in all the right places. This shaper can also make you look instantly longer and leaner. Flexible boning in the bodice supports the spine, while gently lifting and lengthening your torso for a polished, tall posture. It's a great choice for special occasions and casual wear alike. You can also use it as part of a daily waist training routine.
Thermal Body Suit Plus Size, Rose 5505 by Co'Coon: This thermal bodysuit provides firm compression to shape and enhance your figure from just below the bust to mid-thigh. It's ideal for formal or business attire. It results in a slimmer tummy, controlled hips and thighs, and a lifted and rounded butt.
Unlike other special occasion shapers, this garment is very easy to get into and out of with its secure zipper front and two row, hook and eye closure at the top. A wide elastic band and two columns of flexible boning help to lengthen your torso and prevent roll down under the bust. The floral lace leg openings, lined with silicone to prevent riding up, add the final touch.
Want to discover more plus-size shapewear options?
Being plus size means you have gorgeous curves that deserve to get special attention! Choose plus-size shapewear that enhances your best features and helps you look smooth and feel confident in any attire.
Browse our curated collection ofhigh-quality plus size shapewear and find your perfect match. If you have any questions about sizing or finding the right garment for your needs, be sure to contact our expert stylists. We love curves, and we love helping women look and feel their best.