Posted by hourglass angel on Jun 2nd 2018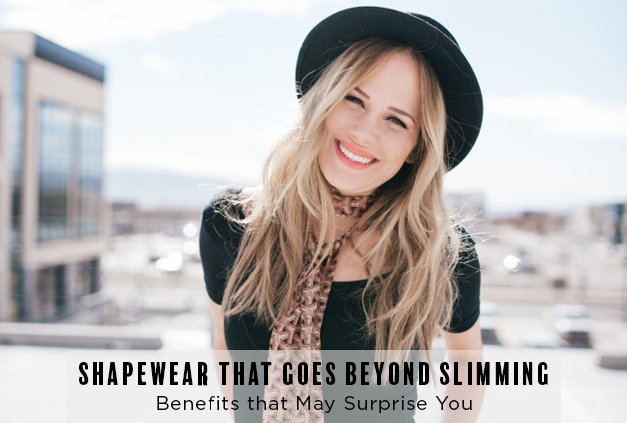 What's the main reason to buy shapewear?
We'd guess most women would say that they want to look slimmer and enhance their curves.
And while those are definitely the most obvious benefits of shapewear, did you know that there are several other reasons why shapewear can be a part of a your journey to health and happiness?
Here are some of the surprising benefits of shapewear that go beyond shaping.
Confidence and Self-Esteem
We believe that every woman is beautiful just as she is—and you should feel sexy and confident no matter what your shape and size! Shapewear can help you look great and enhance your natural features, while helping your clothing fit in a more flattering way, the way it was designed to.
Self-esteem can go a long way in helping anyone succeed in work and in life. Your coworkers, friends and loved ones notice because when you feel more confident and secure in your own skin, you're giving yourself the respect you deserve. And when you're respecting yourself, other people are more likely to respect you as well.
There are many garments that can help you feel confident no matter what you're wearing. We recommend the Best Body Shaper by Vedette 104 as an all-over shaper that can benefit any body type by slimming the waist, lifting the butt and bust, and controlling the hips and thighs.
Posture Support
Certain shaping garments not only slim and shape your figure, but also provide posture support by helping you pull in your tummy and sit or stand up straight.
The benefits of better posture are numerous. Photographers will be the first to tell you what a difference it can make in portraits and wedding photos. Subjects with better posture look confident and beautiful, while subjects who are slouching just don't have that same glow.
And it holds true in real life as well. By standing taller, your demeanor is naturally more confident—even if you don't feel it at first (we bet you will grow in that feeling eventually!)
Good posture also has health benefits including being easier on your joints and spine, helping you breathe more efficiently, and even improving your mood, energy levels and mental health.
Any firm compression garment that supports your torso can improve your posture while you wear it. The Mia Corselette Body Shaper by Vedette 136 is a favorite shaper that uses firm compression around the waist and is supported by shoulder straps, for a firm, tall hold.
Increased Heat, Better Workouts
One of the things you'll notice when wearing a compression garment is that it makes you feel warm. In fact, stimulating heat and perspiration is what can make shapewear so effective—especially in waist training.
When you wear compression shapewear during workouts, you'll stimulate thermal activity in the skin underneath, which will stimulate perspiration and increase the intensity. And a sweaty workout is a good workout (and good reason to choose high-performance activewear that also wicks away sweat).
Waist trainers, shaping leggings and compression tops are all must-haves for your workout attire. They make you look great whether you're at the gym or taking selfies, and you'll achieve your most affective workouts.
Complementing a Weight Loss Program
While there's nothing magical about shapewear that makes you lose weight, it can play an important role in your weight loss program in several ways.
First, wearing shapewear while you're trying to lose weight can give you a vision for a slimmer figure and can help you stay motivated. You may find yourself a lot less likely to reach for junk food when you look in the mirror and see what the healthy, confident version of yourself looks like.
Another way shapewear can complement your weight-loss goals is by intensifying your workouts, as mentioned above. Do a combination of cardio of varying intensity along with strength training, paired with a nutritious diet of whole foods, and you'll have a winning combination for better health and weight loss.
Lastly, a compression garment like a waist trainer can steer you towards eating smaller portions because it will restrict your midsection, making large meals uncomfortable to consume. We recommend eating several small meals a day rather than two or three large ones in order to optimize your health, and shapewear can remind you to stay on track.
With all of these benefits, it would almost seem strange not to want to wear shapewear! Whether you're just starting out or you want to add to your collection, we've got the shapewear selection you need on your journey to a happier, healthier you.