Posted by hourglass angel on Jul 22nd 2017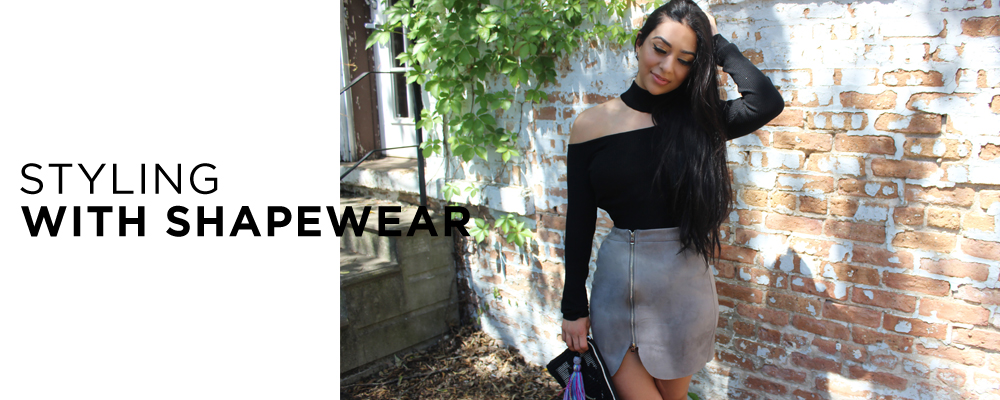 "I can't wear that because…"
Do you every catch yourself saying that because you think you can't pull off the outfit? While certain styles are more flattering for some body types than for others, few items are entirely off limits, thanks to the power of shapewear.
If you're worried about muffin top with those tight jeans, we've got solutions for that.
If you're worries about how your thighs are going to look in that little black dress, we've got a solution for that.
If you're not sure how flattering that dress is going to look in the back, we've got a solution for that.
You can perfect your look in pretty much any outfit if you start with the right foundation underneath. It takes a little bit of trial and error as well as knowing your personal style, but here are a few ideas to help you get started.
Clingy Dress + Shaping Slip
Tight, figure-hugging dresses can be very flattering on any size. The trick is to make your silhouette smooth so that the fabric can hug your curves in all the right places. You also want a shaper that is seamless so that it won't show through.
The ideal solution for under a clingy or wrap dress is a shapewear slip. It will smooth out all of your curves in one feel swoop, from your bust down to your thighs, and no one will know your secret.
You can choose a slip that has a built-in bra, or choose an open-bust style so that you can wear the bra of your choice in order to customize your fit. The Hooked Up Shaping Slip actually connects with your bra so that you don't have to worry about back bulge showing through.
Tight Sweater + Shaping Cami
Figure-hugging sweaters are feminine and cute and can look great on anyone. In fact, they're a great option for showing off your curves in cooler weather. To make this style work, a camisole shaper is a must-have. We recommend open-bust styles in order to get optimal lift and support for your breasts while slimming your midsection, although if desired you can choose a style that has a convenient built-in bra. You might prefer the built-in bra if there's a chance you might want to take the sweater off.
Skinny Jeans + Shaping Panties
Skinny jeans are hardly optional anymore if you want to look stylish in your casual attire. But the problem they can pose for a lot of women is the dreaded muffin top.
But not to worry—shaping panties are the go-to solution anytime you need to smooth out your midsection. Choose from thong back styles and a variety of coverage options so you can get slimming and smoothing exactly where you need it. Be sure to choose a high waist panty if you want control for your whole midsection.
Little Black Dress + Thigh-Slimming Bodyshaper
In a little cocktail dress, black or otherwise, you want comfortable control. The best option is going to be a full body shapewear garment or shaping shorts that provides slimming and smoothing for the waist as well the thighs and butt. Many of our bodysuits come with strapless options. Choose the amount of coverage you want based on your body type and trouble zones. Spanx are a celebrity favorite when it comes to invisible but powerful slimming.
Pencil Skirt + Butt-Lifting Shaper
In a garment like a pencil skirt that emphasizes your waist as well as curves around your backside, you'll want powerful shaping where it matters: everywhere! But you'll want it to be lightweight. We recommend a lightweight bodyshaper like the Perfect Butt Thermal Pant by Flakisima. The open-bottom design provides invisible lifting and rounding of the butt, while the rest of the butt lifter shapewear keeps your waist under control while slimming the thighs.
Sheer or Lace Top + Long Shaping Cami
Tops that show off a little of what's underneath aren't too revealing if you have a solid-colored tank underneath. This is a scenario in which to wear a camisole shaper with the bra built in. You can keep your midsection smooth and your tummy flat while sporting a very flirty look. Just make sure that the cami is long enough to provide coverage all the way to your hips.
Backless Styles + Backless Shaper
If you have a dress or top with little to no coverage for the back, not to worry; you can still slim and smooth your midsection in the front. This strapless, low-back shaper gets the job done, and no will ever suspect you're wearing shapewear.
Tunic or Sweater + Shaping Leggings
Leggings are hot and also very confortable, and yes, anyone can wear them. The key to making it look chic is with a long top that drapes to about your thighs. But don't mistake this look for something like a paper bag; you can still show off your waist, legs and butt underneath. So you'll want to make sure they are smooth. Don't settle for cheap cotton leggings; you can achieve a much more flattering finish with body shaping leggings that slim the waist, lift and butt and smooth the thighs.
Casual or Business Tops + Waist Trainer
We couldn't resist mentioning that a waist trainer is one of the most versatile pieces of shapewear you can own and works under most outfits. Add the "wow" factor to your everyday apparel with our most popular type of shapewear.
We hope that you're inspired by the possibilities when it comes to your shaping solutions. If you love a certain look but have been holding back because you're not sure if it will work with your shape or size, do yourself a favor and just try it out. It gets easier to do once you have a few pieces of your favorite shapewear rotating through your wardrobe. Then you'll know what looks best on you and will grow accustomed to pairing your shapear with your favorite outfits.
If you need additional styling advice and suggestions for shapewear, that's what our experts stylist are here for. Contact us with your questions and we'll be happy to help you find your perfect shaping solutions.