Posted by by hourglass angel on Nov 6th 2014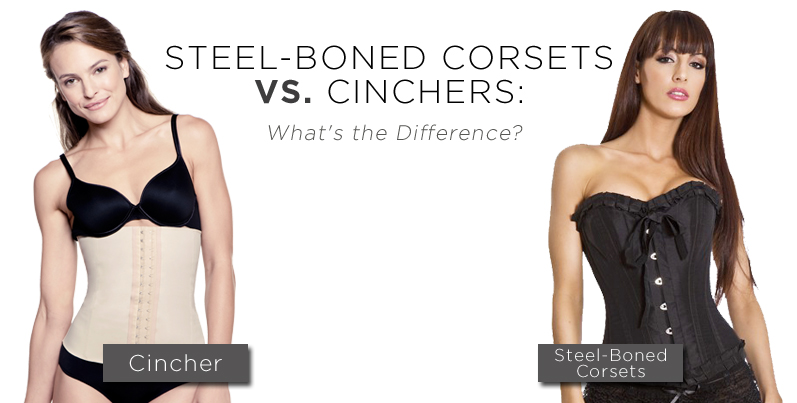 Two Ways to Train Your Waist
If you're curious about the modern waist training trend that is sweeping Hollywood and transforming everyday women, one of the first questions you'll encounter is whether to use a traditional steel-boned corset or a cincher. Both are effective at training your waist, so does it matter which type you use?
Some women swear that corsets are the only way to go, while others wouldn't try anything other than their favorite compression cincher. Which option is best for you depends on your waist training goals and ultimately what feels best.
Corset Basics
Corsets are designed to provide the most dramatic waist-slimming effects. They are typically constructed with 25 columns of steel boning for the firmest hold. Most lace up the back so you can achieve that hourglass look by lacing and pulling to your desired tightness. Many corsets will take multiple inches off your waistline instantly while you wear it. With time and dedication, waist training with a corset can produce impressive results.
Corsets can be uncomfortable after wearing for a few hours, although you may get used to the way they feel. They also don't always provide a seamless look under clothing, particularly where the laces are. If you're going for a smooth, invisible look under your clothes, a corset might not always be your best choice.
The Nude Sand Underbust Corset is a classic corset design that works fabulously as a waist trainer.
Cincher Basics
Cinchers are like corsets in that they target and visibly shrink your abdomen while wearing them, but their construction is different. They may use a combination of spandex and/or latex with fewer steel columns of boning. Don't be fooled just because they don't have as many columns of steel boning; these modern materials provide ultimate compression and firm shaping and can instantly reduce your waistline by several inches.
Another big difference between cinchers and corsets is that cinchers don't use lacing. While they will look smoother under clothing, they won't give the same precision fit that corsets do. However, you may find that they're more comfortable for extended use.
The Cincher by Amia is everything you need in a cincher, with PowerLatex and Flexiboning technology for maximum shaping power.
The Best of Both Worlds
You don't have to choose either/or when it comes to corsets and cinchers. They're so versatile, you might just want to have both! For they days you want dramatic slimming or a vintage look, wear a corset – under or over your clothes. For long days at the office, wear your cincher. Or, if you want the effects of the corset and the smoothness of your cincher, wear a cincher over your corset! With two or more waist trainers in your wardrobe, the only thing you will lose is inches off of your waistline.