Posted by hourglass angel on Jun 20th 2018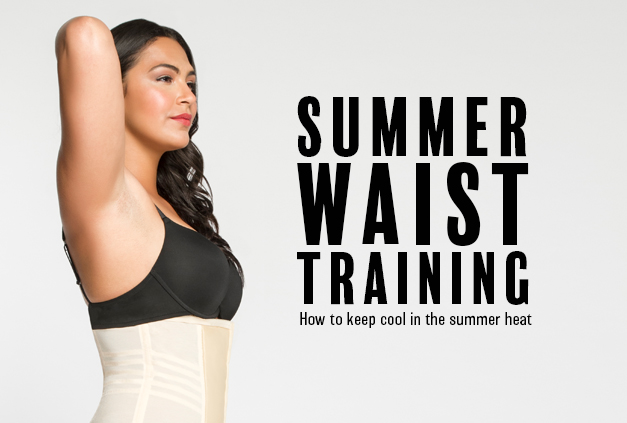 Your waist training should regimen should year-round for the best results. But while more sweat is always good for workouts, summertime can be a challenge because of the extreme heat! After all, waist trainers do make you sweat more around your middle, which can understandably be uncomfortable if you're not prepared.
But don't worry—we've got you covered, whether you're slimming down for a wedding, getting your beach body ready, or just wanting to look hot in the hot weather.
Here's how to stay cool white waist training in the summer heat.
Choose Breathable Materials in Your Waist Trainer
Not all waist trainers are made the same, and one of the key differences is in the materials. Some of the most popular styles of waist trainers are constructed with latex, which can be very effective at providing compression, but will also cause you to sweat.
If you'd like to skip some of the extra sweat, you may want to try a latex-free waist trainer over the summer months.
The Slimming Waist Cincher Shaper by Leonisa 019624 doesn't sacrifice slimming power even without the latex. It uses an elastic blend to provide a level of compression, over a powernet interior lining designed to keep you cool and comfortable. The outer layer is made from microfiber, for a soft and silky feel and maximum comfort.
You can also effectively go latex-free with your workout band, so you can get an effective workout without being uncomfortably wet from perspiration. Try the Highest Compression Workout Waist Trainer by TrueShapers 1063. This workout band uses unique 3 Plus D Structure fabric to offer the perfect balance of comfort and compression. Steel boning and Therma-Boost Technology make help you sweat more in target areas including your stomach, hips and back, while the stay-fresh inner lining wicks away moisture so you can keep moving comfortable.
If you want maximum slimming without the latex, we also highly recommend steel-boned corsets, which provide compression through with steel boning and tight laces rather than latex.
The Underbust Mesh Corset by Hourglass Angel HA206 is a steel-boned corset made from mesh—you really don't get more breathable than that! But don't worry, it still provides the maximum compression power you'd expect from a corset. This is for anyone serious about a corseting regimen no matter how hot it is.
Wear Heat-Friendly Clothing
The key to staying cool during the summer months, whether you're wearing a waist trainer or not, is to choose fabrics that keep your body cool in the heat. Here are a few favorites that you can wear over your waist trainer while staying comfortable and cool.
Cotton: This material is popular in all climates because it allows air to circulate easily through the fabric—plus it's super soft. The natural fibers are also effective at wicking away moisture.
Chambray: This material is made from cotton but it looks like denim, so you can get the style of denim without the weight. It also often comes in a high thread count, which means that there is more opportunity to breathe.
Rayon: This synthetic material works best in dry heat. So unless you're going to be in an air-conditioned facility, stay away from it if you're in a humid climate (unless you want to feel sticky). But the benefits are that it is a very thin thread that is delicate and drapes well.
Light colors: You probably know that dark colors absorb sunlight, making you feel warmer. Stick to pastels and creams to stay cool.
Linen: This is an ancient fabric that has kept people cool for centuries. It is a natural fiber of light color that naturally allows for breathability. If it gets wrinkled, spray your linen garment with water and smooth it with your hands.
Fabric blends: Just like blends can make breathable waist trainers, blends of materials like cotton, polyester, spandex, nylon and rayon can effectively wick moisture away. Garments of blended fabric usually keep their shape well and don't shrink. They are frequently used in athletic apparel.
Wear Fewer Layers
While everyone loves the versatility of layering in the non-summer months, no one wants to be draped in multiple layers when they're hot. There's an easy workaround with waist training.
The Underbust Waspie Mesh Corset by Hourglass Angel HA201, like the longer underbust mesh corset, is a very breathable layer underneath clothing. It can also be worn as a statement piece over the top of a light top, you can get slimming results along with bold style.
Likewise, workout bands can be worn as statement pieces so you don't have to mess with putting a layer over the top. The Petite Latex Waist Trainer by Hourglass Angel HA100 comes in several bright colors or leopard print, and is cut shorter so you have more room to move and breath.
If you prefer to go latex-free with your workout band, one of our favorites is the Ultra-High-Compression Workout Waist Trainer by TrueShapers 1032. This eye-popping design will have you gym ready or selfie-ready—you won't want to cover it up!
Take Short Breaks from Waist Training
From time to time you may want a break from wearing a waist trainer or corset. If you're committed to wearing your waist trainer for at least eight hours most days and want to take a break in the evenings, or even for a day hear and there, you can still get great shaping and coverage for your midsection.
Shaping camis are the perfect solution for anytime you want to look great but want a little more breathability and flexibility around your middle. Quality shaping camis will keep your midsection slim and smooth. You can wear one with an overbust design and built-in bra on its own as a sexy top. Or, you can wear an open bust design paired with your favorite bra, and wear it under a light fabric top or dress over the top.
However you want to dress this summer, there's a waist training option for you so you can stay looking slim but feel cool and comfortable.