Posted by Hourglass Angel on May 25th 2021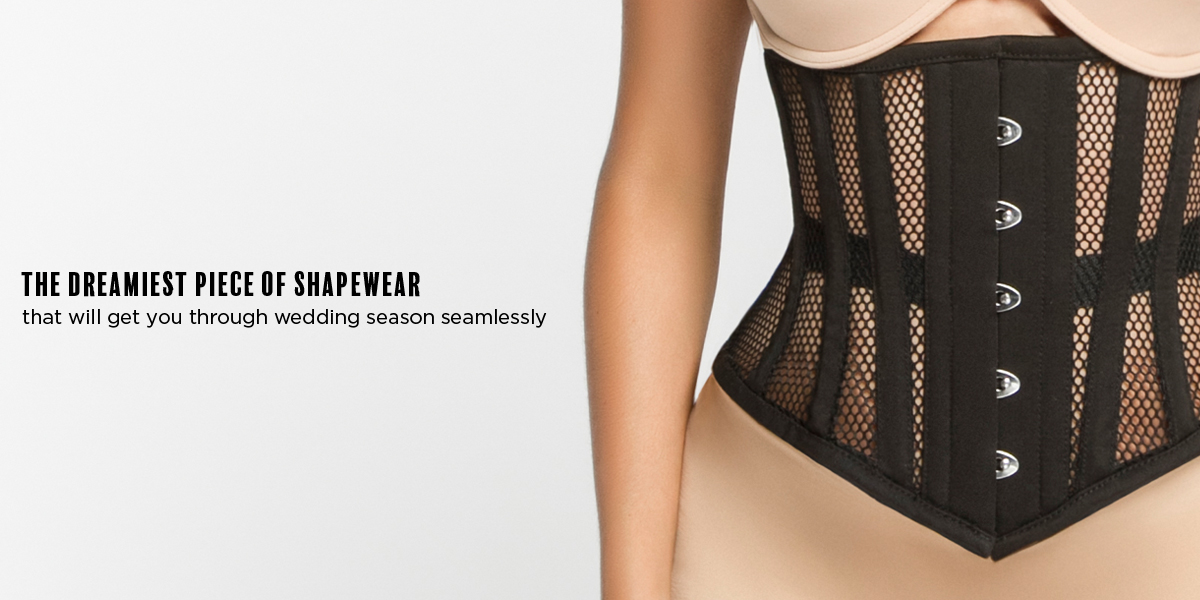 As we approach this year's wedding season, you might be wondering how to achieve the most flattering look for every event. Whether you're a bride, bridesmaid, or other guest, you'll be dressing to make an impression, which can be difficult to do, event after event.
While you probably won't be wearing the same dress to every event this season, you can be assured that the foundation you set under each dress is flawless every time.
Your secret weapon is a piece of shapewear that creates a stunning figure that makes any dress look good. We've got the dreamiest piece of shapewear that will get you through wedding season seamlessly.
What Is the Best Tummy Flattening Shapewear?
When it comes to looking your best in a gown or any dress, the feature almost everyone wants to adjust is their midsection. Even if you're in great shape, you can benefit from a waist-cinching shaper that maximizes your curves and makes your waistline stand out.
There are a few features to look for when choosing the best shapewear for flattening the tummy and minimizing the waist:
High compression: Whatever style of shapewear you choose, it should provide maximum compression at the waistline, giving you an hourglass cinch.
Customized fit: Choose a garment that can be adjusted to the exact size that you want so you're getting the best results for your unique figure.
Quality material: For multiple events that last through the evening, you'll want a garment that is built to hold its shape (and yours!). Qualities to look for include steel boning for reinforcement and a comfortable design that you can wear for hours at a time.
With these features, you can create an elegant hourglass shape that holds for hours and enhances most dress styles.
The Hourglass Angel Underbust Waspie Mesh Corset
Without any further ado, the dreamiest piece of shapewear that we recommend for wedding season is the Underbust Waspie Mesh Corset by Hourglass Angel HA201!
We love the see-through look of the mesh waspie corset, which is flirty on its own and makes some great lingerie if you want it to. But don't let its light look fool you; this garment is powerful when it comes to shaping and slimming.
This is a shorter corset, which means that it will fit anyone who has a shorter torso and is also versatile with a variety of styles. The short underbust design makes this corset ideal for creating a dramatic cinch at the natural waistline. This is flattering for every body type and can enhance the look of bridal gowns as well as other formal attire.
The corset can reduce your waist by several inches, depending on how tight you like to wear it. The waist tape keeps it in place, while 16 flat, flexible steel bones keep the shape firm and controlled. The sexy, see-through mesh provides enhanced breathability, making it one of the most comfortable maximum control shapewear options available. You'll love to have it on those hot summer nights when you want high performance shapewear without the sweat to go with it!
Not only does this corset flatten the tummy and reduce the midsection, but it also smooths out any trouble areas on your sides and back and lifts the bust. It's ideal for many styles of dresses, including strapless, and can be paired with the bra of your choice.
Like all our steel-boned corsets, this garment is tightened using laces in the back. Customize it to your ideal fit and watch your waist shrink instantly. You can also use this corset in a daily waist training regimen if you want to, for maximum slimming results (more on that below).
Our Waspie Mesh Corset Reviews
With nearly a 5-star customer rating , this is a top-rated corset and one of our most popular products. But don't take our word for it; here are some of the customer comments:
"Great corset—This is comfortable, easy to put on and I have found several outfits that allow me to wear it a full day." – Jamie S.
"I love it