Posted by Hourglass Angel on Jun 17th 2022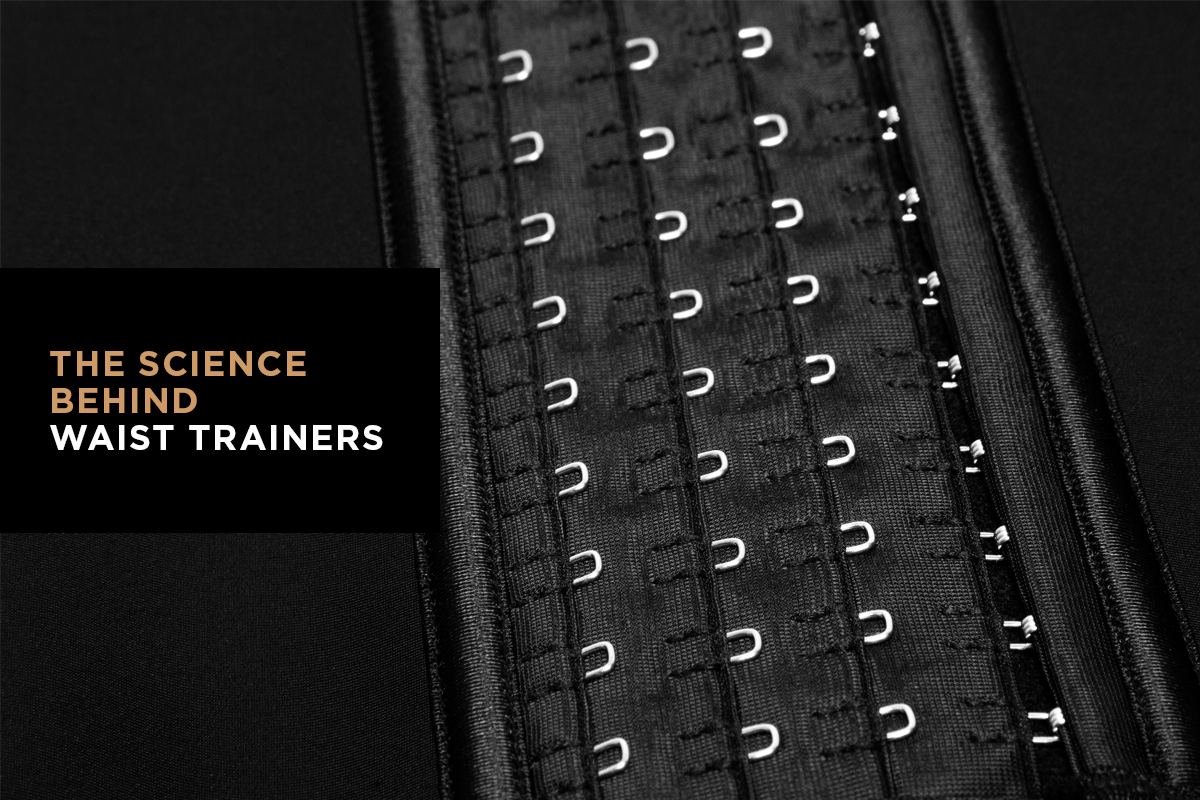 What to Know about the Materials, Design, Use, Effectiveness, Impact, and How to Incorporate Waist Trainers into Your Lifestyle
If you haven't tried waist training yet, you may be wondering what all the hype is about. How does it work? Can anyone do it? What are the benefits?
There's a lot of conflicting information out there, so we want to clear up some of the confusion and give you a better understanding of why waist training is so effective.
We've put together this guide to help you make an informed decision about waist training. We'll take you through the science behind waist trainers, what they are, how they work, and the impact they can have on your body. If waist training is a good fit for you, there are also some tips on how you can incorporate it into your lifestyle.
What Is Waist Training?
Waist training can be a daily regimen that's part of a healthy lifestyle with the goal of slimming the waist. It works in conjunction with a healthy diet and exercise, using a high compression waist training garment, such as a latex waist cincher or corset.
Approaches to waist training include wearing a waist trainer during workouts as well as throughout the day. For the best results, we recommend doing both: wearing a compression garment designed for workouts and another one when you go about your day. Most waist trainers can be worn under your clothes, so you can do it discreetly wherever you are.
The Science: How Waist Training Works
Wearing a high compression waist trainer has the immediate effect of decreasing your waist size by 1 to 3 inches, or possibly more with a maximum slimming garment like a corset. Just by wearing one, you may find that your clothes fit better—you may even drop a size.
The instant slimming allows anyone to achieve to a stunning hourglass figure, but the benefits actually go much further than that.
Waist trainers also help to stimulate heat and blood flow around your core. This in turn causes more perspiration, which can be especially effective when combined with a workout. You can feel the waist trainer working when you exercise and also throughout the day.
If you wear a waist trainer consistently over time, there are several ways it can contribute to waist slimming. First, you may find that your workouts are more effective, and you might even enjoy working out more. With the right exercises, including strength training and cardio with varying intensity, you can burn fat and build muscle.
Wearing a waist trainer every day can also help you stay motivated with your healthy lifestyle practices, including diet, exercise, stress management, hydration, and rest. The key to sustainable motivation is having a realistic, meaningful vision of where you want to go.
Seeing yourself in the mirror, looking your best and feeling good about yourself will help you stay on track with your goals. This is why we recommend tracking your progress by taking regular photos and measuring your waist size. By seeing your progress, you will be more likely to stay motivated and continue to work toward your goals.
Wearing a waist trainer can also help you maintain good posture and will help you look and feel better. Since it compresses the midsection, you'll also be more likely to eat smaller more frequent meals and snacks, which can contribute to a better diet and weight management.
The combination of these factors contributes to the results you can see when you commit to wearing a waist trainer every day.
What Material is Used for Waist Trainers and How They're Designed
Modern waist trainers are typically constructed in two ways: a waist cincher with a latex core and a traditional steel-boned corset. Both styles provide firm compression around the midsection from beneath the bust to the hips, with varying length.
Most waist cinchers provide compression with latex. Latex can be used to provide firm but comfortable compression and is often used in medical products such as surgical gloves. Latex waist cinchers are designed with hook-and-eye closures in the front of the garment, or sometimes with Velcro. They are often used for workouts and can also be worn all day. Most styles also use flexible plastic or steel boning for additional support.
Corsets are designed with or steel boning in the bodice, and tight lacing in the back. The laces can be tightened to produce the desired waist size. Results can be more dramatic and create a more defined hourglass shape. Several different types of fabric can be used to make corsets, including satin, cotton, or even mesh.
Both styles of waist trainers are effective, and many people who are serious about waist training enjoy the benefits of both.
How to Use a Waist Trainer
To get started with waist training, we recommend a gradual introduction. A latex waist trainer is usually the most comfortable way to begin.
Start by wearing your waist trainer for an hour or two each day, and then gradually increase the time to you wear it so that your body becomes accustomed to the way it feels. Wearing a waist trainer during workouts is a great way to start, and you'll start feeling its effects right away.
After a few weeks, if you stick to a daily regimen, you should feel comfortable wearing a waist trainer for 8 to 12 hours every day. You may find that you're ready to tighten the waist trainer to the next row of hook-and-eye closures for even firmer compression and ongoing results.
Once you're comfortable with the waist trainer, you may want to try other styles. If you use one waist trainer for workouts every day, you will want another one for wearing the rest of the time. Once you're ready for more dramatic results, you can also introduce a corset into your wardrobe.
How Effective Waist Trainers Are
What you will get out of waist training is what you put into it. The more consistent you are with wearing your garment every day, and the more dedicated you are to other healthy lifestyle practices, the faster you'll see results.
What results you'll see and how quickly you see them depends on several other factors:
Your waist slimming goals:If you want to lose a lot of weight or dramatically reshape your body, such as after a pregnancy, you're going to have a different slimming timeline than someone who is closer to their target figure.
Your change in lifestyle:The more you change your lifestyle along with your waist training regimen, the more quickly you'll see change, with more pronounced results.
Your genetics and natural body shape: Your curves are uniquely yours, and a waist trainer will enhance what you already have—it won't change you into something you're not.
The Impact of Waist Training: Customer Reviews
We love how waist training has made an impact on people of various size, shape and lifestyle. Here's what customers are saying:
"Worth money which isn't even outrageous to begin with! Love the material and thickness of the garment. Creates great back support. I wear it at night with no problems and it makes even a simple workout more challenging. I highly recommend it!" Teagan, Hourglass Effects Waist Trainer by Hourglass Angel HA 105
"I absolutely LOVE this waist trainer. A must to add for your work out routine. Once you put it on you automatically seem more SNATCHED. Love it. Very comfy. Doesn't roll down. Stays in place. Easy to put on. 100% recommend. You won't regret it. By far one of my favorite waist trainers." Nexy, Zipped Up and Snatched Workout Waist Trainer by Hourglass Angel HA108
"I'm in love with my waist trainer! It helped me lose inches and stay focused on my fitness goals. I will actually be repurchasing to a smaller waist trainer since the first one I got is now too big for me!" Becca T, Best Waist Trainer by Hourglass Angel HA102


How to Incorporate Waist Training into Your Lifestyle
Waist training can work for anyone, whether you're a working professional, a stay-at-home parent, a student, or anyone who wants an hourglass silhouette. The key for waist training to work for you is to incorporate this practice into your existing lifestyle.
Here are a few tips that can help no matter what stage of life you're in:
Create visual reminders to help you stick with your waist training habit, such as laying out your waist trainer the night before along with your workout clothes or outfit of the day.
Take weekly progress photos of your waist so you can see your results as you go (you might be surprised!).
Choose a waist trainer in a color and style that you love and that you will enjoy wearing.
Practice mindfulness as you wear your waist trainer: how is it helping you hold your posture? How is it reminding you to limit your portion size?
Reward yourself when you reach a slimming goal: that's a great time to order a new waist trainer or new clothes that can show off your curves!

Incorporating waist training into your lifestyle is a great way to add bold curves to your silhouette and add in a little extra confidence. The key to waist training success is to take the time to find what works for you, and then to practice consistent habit formation. That means choosing a style and material that will help you build a routine, and then incorporating it into your life. You can build a waist training wardrobe that is both functional and sexy, and that will help you feel and look your best.