Posted by Hourglass Angel on Oct 21st 2019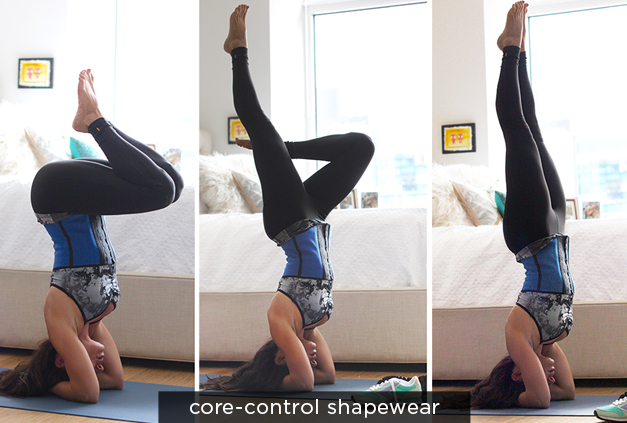 If you're looking for shapewear that sculpts your figure, chances are you're looking for a piece that provides slimming for your core area. Every body type can benefit from a flatter tummy and a tighter midsection, right?
We are frequently asked about the best options for waist slimming, so here are what features to look for in top-rated core control shapewear, along with our favorite product recommendations.
Core Control and Compression Level
One of the main features to look for in shapewear that controls the core is a high compression level. This will ensure that you get a firm hold around your trouble areas. The right garment will slim your midsection up to several inches.
While many types of shapewear use high compression, not all of them do. Some lightweight garments are better suited for smoothing rather than dramatic slimming. Just look at the product description to determine whether a garment is designed to provide powerful slimming compression or light figure smoothing.
Garment Cut and Style
The way a shapewear garment is cut will also make a difference in how effective it is at slimming the midsection. Choose a garment that targets your specific trouble areas so that you can get the most benefit.
For example, some waist-slimming garments are cut short and will provide a dramatic cinch at the waist. This can look stylish but might not be helpful for someone who wants more control of the lower abdomen. In that case, you'll want a longer garment that targets that area (often one with a built-in panty).
As another example, some people want coverage and control for their back and their front. In that case, you might prefer a vest-style shaper that covers the bra line in the back while leaving the bust open.
Some garments target primarily the waist areas, while others target the waist in combination with others. What is best for you will depend on your body type and styling needs.
Most Effective Slimming Materials
In general, to get the most shaping power from a slimming garment, you'll usually want latex. This is a powerful material that won't lose its shape and will hold your figure in place all day. It's even better when reinforced with flexible boning through the bodice, constructed from plastic or lightweight steel.
The most effective core control garments will us some form of a latex band or panel at the midsection, so look for that in the product description.
Having said that, there are alternatives to latex that are quite effective. Corsets constructed with steel-boning and a lace-up back are able to slim due to their design and structure. They can be tightened as much as you are comfortable to wear them and will maintain their shape.
You can also find non-latex slimming materials from brands like TrueShapers, which designed effective alternatives to latex waist trainers.
Most Effective Core Control Garments by Type
Now that you know the features to look for in powerful slimming garments, here are some of our top-rated products, organized by type. These include our customers' favorites as well as staff picks.
Waist Trainers
You really can't go wrong with core control when you're wearing a waist trainer. Waist training is the most effective way to get consistent slimming all day long, under almost any clothing style, from the gym to the office to lounging in your home.
Workout Waist Trainer by Ann Chery 2026
This product has been one of our most highly rated, best-selling waist trainers for years … for the simple reason that it works. It has over 1,000 reviews. The band is constructed from a latex core with a soft cotton exterior and interior lining. It sits at your waist, extending to the upper abdomen. Two columns of hook-and-eye closures allow you to size the garment down with you. Flexible plastic boning anchors the cincher and prevents migration.
Best Waist Trainer by Hourglass Angel HA102
Looking for a plus-size core control shaper? We designed this garment because we wanted a better option in sizes XL and up. Our customers have loved it. . It instantly shrinks your waistline by up to 3 inches, so you can look and feel your best. The steel boning works together with the latex to maintain your hourglass shape, while still allowing you to bend and move easily. Three rows of large hook-and-eye closures create a strong, secure fit.
Waist Trainer Corset Vest by Amia A103
If you want a vest-style waist trainer, this one gets the job done. The firm compression design is one of our most popular prescriptions for slimming and trimming while enhancing your bust. And when it comes to your back, the Amia vest has you covered with flexi-boning that gently supports your spine and lengthens your torso appearance while dramatically slimming your waist.
Latex Workout Band Curve Creator by Hourglass HA101
This is another garment that we designed ourselves based on our customers' needs. What customers love is the results; you can strap it on easily with the Velcro closure and get an effective workout that stimulates lots of sweat (you can feel it working!). With a 100% latex core, our Curve Creator workout band provides the same workout-enhancing benefits as our other waist trainers.
Corsets
We love recommending corsets to anyone who wants to take their waist slimming to the next level and achieve a stunning hourglass look. One fun feature of some corsets is that they can double as outwear! Fit one over a light top and discover a whole new look.
Underbust Mesh Corset by Hourglass Angel HA206
Want all the power of a waist trainer but with more breathability? This is a long corset that slims your whole midsection while offering a light, see-through design. The mesh lets your skin breath, so it keeps your body cool—especially if you're wearing other layers or you're committed to a serious corseting regimen. If you prefer something shorter, try this garment's sister, a waspie mesh corset.
Short Underbust Satin Corset by Hourglass Angel HA207
We also designed this gorgeous piece to give our customers more affordable, high quality corset options. You'll love how your clothes slip over the top of this silky-smooth underbust satin corset. It provides dramatic compression of your midsection in a comfortable, pliable satin design that's great for wearing underneath other garments. With a shorter cut, it's idea for women with petite figures.
Thigh Shapers and Panty Shapers
While you might not think of thigh shapers and bodysuits as effective core control garments, many of them are designed to provide firm shaping for multiple target areas. These are especially effective at tucking in the lower abdomen.
Strapless Slimming Shaper by Ann Chery
Get slimming and smoothing for your whole torso, along with a lift for your rear and smoothing out of the thighs. This light-wearing garment features a flat-belly latex panel to slim, trim and smooth your midsection. The middle latex lining increases the level of compression and an inner lining makes this item comfortable enough for everyday wear.
Gina Strapless Hip Hugger by Vedette 935
This shaping garment targets the whole torso while giving a lift to your butt. Its high waist design keeps your whole midsection slim and smooth, and it also keeps the lower abdomen tucked away.
Convertible Panty Shaper by Vedette 210
You can flatten your tummy and slim your waistline comfortably with this everyday panty. It uses to firm latex core to ensure results, yet it feels light. Fully adjustable, multi-way straps allow you to easily convert it so that it's perfect with almost all necklines and back designs.
Shaping Leggings
There is one pair of leggings that we love to recommend because it also does miracles to the midsection: Booty Leggings with Waist Trainer by Bon Bon Up 1071. Worn as a workout waist trainer, these leggings go hand-in-hand with your fitness regimen, ensuring you look your best at the gym and beyond. The built-in compression band provides extra slimming and control around your tummy.
Bodysuits
If you want all-over shaping that provides extra control at the core, look no further than these favorites.
Best Shapewear Mid-Thigh Bodysuit by Amia A107
This is an essential piece, shaping from the torso to the mid-thigh and lower abdomen. It will make your midsection look trim and firm, while also smoothing out your butt and thighs.
Compression Garment Bodysuit by Vedette 134
Designed with firm control for your tummy, waist and back, this shaping garment won't disappoint. This step-through strapless bodysuit is supported by its own compression and reinforced stitching.
These are just a few of our favorites from our curated collection of highly rated core control shapewear. Be sure to check out the rest of our waist-targeting options as well as recommendations from our stylists.
If you ever have any questions about the best shapewear for your needs, be sure contact our styling experts and we'll be glad to help. Share your transformations and follow along with others at @hourglassangel and #bethehourglass.