Posted by Hourglass Angel on Oct 19th 2018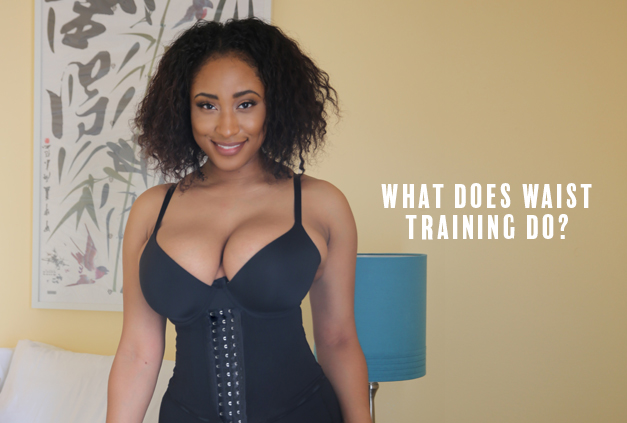 Waist training is one of the hottest fashion and fitness trends of the last decade, but if the idea is new to you, you may be wondering: What does waist training do?
Related: Do Waist Trainers Really Work?
There are a lot of ideas circulating online about what waist training does and doesn't do, and whether it is safe and effective. With all the misinformation out there, no wonder there's so much confusion! Our shapewear and waist training experts can answer your questions and set the record straight so that you can make informed decisions about slimming your figure.
Some benefits of waist training are well known and some are lesser known, so be sure you know the full picture!
Here are five things that waist training actually does:
1. Waist Training Provides Instant Figure Enhancement
One of the reasons that wearing a waist trainer is so popular is because it creates a slimmer waistline and a flat tummy the instant you put it on. You can drop up to several inches from your waistline while you wear the garment. This makes it an easy choice for everyday shapewear that you can wear underneath most clothing, including casual, professional and dressier styles. You'll look slimmer and sexier in your attire and possibly even drop a size or two while you wear the waist trainer.
What's more, you'll also eliminate common problem areas around the midsection, including muffin top and love handles, which will be firmly tucked away with firm compression. If you choose a vest-style waist trainer with a high back and straps, you'll also be able to conceal bra bulge and back fat.
Finally, using firm compression beneath the bust, waist trainers lift and enhance your breasts. You can pair them with your favorite bra for added support. If you have a larger bust, a vest-style waist trainer with shoulder straps can provide phenomenal all-day support.
2. Waist Training Supports Your Back
In an age when many of us spend our days hunched in front of a desk or slouched in a chair, it is difficult to have good posture. This is to our detriment because with poor posture, you can suffer from back pain, poor oxygen intake, bad blood circulation and diminished ability to concentrate.
Wearing a waist trainer will force you to sit and stand upright. Good posture facilitates better breathing and circulation and prevents back pain. People with correct posture also tend to feel more confident and energized.
Related: Top 5 Waist Trainers and Corsets for Posture Support
3. Waist Training Intensifies Your Workouts
One of our favorite ways to wear a waist trainer is during workouts. Not only will you look sexy when you sweat (especially with a variety of colors and patterns to choose from), but you'll actually be sweating harder, no matter what type of workout you're doing.
That's because workout bands are designed with maximum compression to stimulate heat in your core, which in turn causes you to perspire. So even if all you can fit in is a brisk walk for a few minutes, you'll know that you're getting a higher-intensity workout!
For this reason, women who are especially busy and don't have a lot of time for long workouts love using a waist trainer—you can sweat hard even when your workout is brief. You can wear a waist trainer in a variety of workouts including both cardio and strength training.
Related: Waist Training Exercises to Try at Home
4. Waist Training Complements Dieting and Fitness
Wearing a waist trainer for at least eight hours a day, every day, can be used to complement a weight loss or slim down plan. While we don't recommend relying solely on waist training to lose weight, there are some benefits to pairing it with regular exercise and a healthy diet.
Anyone can benefit from wearing a waist trainer, whether you're trying to slim down after a pregnancy or you're simply ready to embrace a healthier lifestyle.
As we already explained, wearing a waist trainer intensifies your workouts—and you may find that you're more likely to stick with your workout goals when you've got that extra boost to keep you going.
Wearing a waist trainer is also a great reminder that will keep you focused on eating well. For example, with firm compression around your midsection, you may be less likely to overeat, preferring 5–6 small meals a day rather than 3 large ones.
To get the most out a daily waist training regimen, we recommend following a realistic plan for a healthy lifestyle that you can keep up for the long term. Start wherever you're at and work towards your goals at a reasonable pace. One day at a time is what gets the job done.
Related: Do Waist Trainers Actually Help You Lose Weight?
5. Waist Training Boosts Confidence and Motivation
There's something magical about waist training that makes you feel sexy and confident whenever you put your waist trainer on. Not only does it instantly enhance your figure, but it can also help you get a realistic vision for your goals.
Wearing a waist trainer every day while you're working on long-term slimming and weight loss goals can give you that extra inspiration you need to stick with your plan. We especially recommend taking progress photos during your waist training journey so you can see what progress you're making.
Setting and reaching goals is a powerful motivator in any plan to slim down. "Sizing down" to the next row of hooks on a latex waist trainer, or even to a smaller garment, can be a very achievable goal that will keep you on track.
Learn more about how waist training is a powerful motivator in our Before and After Results.
If you've wondering, "What does waist training do?" we hope that thoroughly answered your question!
Need more guidance? Check out our Waist Training Guide for tips on getting started with waist training, or contact our expert stylists for help with styles, sizing and more.
Share your progress! We love seeing our customers' success on social media. #BeTheHourglass.