Posted by Hourglass Angel on Nov 6th 2019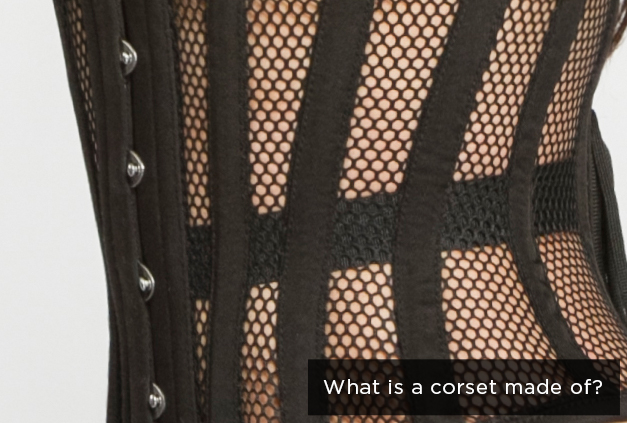 When shopping for a corset, it's important to consider what materials it is constructed from. Not all corsets are made alike, so if you want a quality product, you can be sure of what you're getting by inspecting the materials.
You may wonder, "What is a corset made of?" but the better question is, "What is a quality corset made of?" With that in mind, here's all you need to know about different kinds of corsets and their construction.
Traditional Corsets
When we refer to corsets, we usually mean the traditional variety. This style has existed in some form for centuries. While the materials have varied, they function in the same way: a lace-up back and a firm bodice that firmly slims the midsection.
High-quality modern corsets are typically constructed with steel boning to hold the garment's shape and provide compression around the midsection. This boning is slim and flexible so that it can mold to the shape of your torso. Laces in the back of the garment pull it tight and create that signature hourglass cinch at the natural waist. The garment is held together in the front with metal clasps, often of steel.
You can use a corset with an underbust or overbust design. We usually recommend an underbust corset for everyday use that can be worn under or over clothing.
The bodice of a steel-boned corset can be made of one of several materials. These include:
Satin: A satin corset is smooth and allows the fabric over it to drape smoothly. The Short Underbust Satin Corset by Hourglass Angel HA207, for example, provides dramatic compression of your midsection in a comfortable, pliable satin design that's great for wearing underneath other garments. The short length of this corset is ideal for women with shorter torsos.
Mesh: Mesh in a corset bodice allows more breathability and also creates a sexy look. The Underbust Mesh Corset by Hourglass Angel HA 206 lets your skin breath, so it keeps your body cool—especially if you're wearing other layers or you're committed to a serious corseting regimen. We also carry a shorter version of this mesh corset: the Underbust Waspie Mesh Corset by Hourglass Angel HA201. It enhances your figure with powerful slimming around your midsection, and is ideal for anyone with a shorter torso or who wants a more dramatic cinch at the waist.
Cotton: This style of corset feels cool and soft against the skin, making it a comfortable option. The Underbust Cotton Corset by Hourglass Angel is one of our top recommendations for anyone desiring to begin a corset regimen. This corset uses flexible steel boning for powerful compression, slimming your waistline into the coveted hourglass shape—no pain, pinching or discomfort. The cotton also makes the garment lightweight.
Latex "Corsets," a.k.a. Cinchers or Waist Trainers
Sometimes the word "corset" is used to describe other styles of waist-slimming garments. In particular, latex garments otherwise known as cinchers or waist trainers are sometimes referred to as corsets.
Cinchers have a similar figure-slimming effect as steel-boned corsets. Some styles are designed specifically for workouts and help stimulate heat around the core, while others are designed to be worn every day under clothes.
Instead of using a lace-up back to provide compression, cinchers usually use a powerful latex core to slim the midsection. There can be other materials in the garment, including a cotton lining and various other synthetic materials like spandex for the outside.
High-quality latex cinchers also use boning to provide firm shaping and compression. Most of them use flexible plastic boning to hold the garment's shape. Some, like traditional corsets, use the power of steel boning.
Most of the cinchers we sell use metal hook-and-eye closures at the front of the garment to hold the piece together. Others use Velcro, and some even us a zipper to reinforce the closure.
For people who have a sensitivity to or dislike of latex, there are some garments that use other materials that provide firm compression.
Here are some of our favorite styles of cinchers with different features:
The Latex Workout Band Curve Creator by Hourglass Angel HA101: This curve-creating workout band features a double Velcro closure, instead of hook-and-eyes. It's great for when you want to dive into your waist training workouts even faster. Just pull the sides together and go. There are two layers of thick Velcro to provide a strong, secure fit that's perfect for your body and stays snug, no matter how intense your workout.
The Waist Training Double Layer Waist Cincher by Vedette 940: The amazing slimming power is what we love about this double-layered latex waist cincher. The zip-up style over the top of the hook-and-eye closures keeps everything in place all day long, and the adjustable straps give additional bust support and back coverage for curvy figures.
Classic High-Compression Waist Cincher by Trueshapers 1041: this cincher is latex-free. It combines flexible internal steel boning with TrueShapers's 3 Structure D fabric for dependable waist-shrinking power and a soft, comfortable fit. Therma-Boost Technology stimulates heat in your belly, sides and back, so you sweat more in your target areas:
Best Waist Trainer by Hourglass Angel HA102: Customers told us they wanted a better waist trainer for their unique curves, so we created this amazing plus size waist trainer. We also designed this waist trainer with flexible steel boning for maximum effectiveness. Three rows of large hook-and-eye closures create a strong, secure fit.
Other Corset Styles
There are a few other styles of corsets you may find, particularly as costumes or lingerie. Costume corsets often are styled over the bust. They can create a flirty, sexy look, but they won't have the same shaping power as high-quality, underbust corsets.
Have any more questions about how corsets work and what styles are best for your needs? Check out other posts on our informative blog or contact one of our expert shapewear stylists. We look forward to helping you with all of your shaping and slimming needs.