Posted by Hourglass Angel on Aug 1st 2020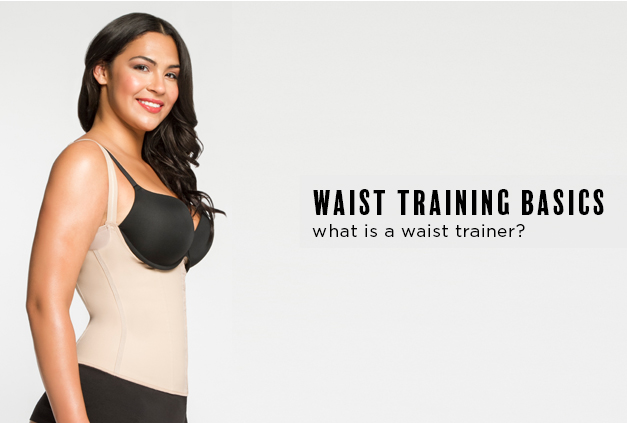 If you keep up with fitness and fashion trends, you may have come across a popular garment called a waist trainer, which looks like a cross between a corset and an athletic band.
So, what is a waist trainer? And what's it for? As leading experts in waist training, we have the answer to these and other frequently asked questions.
Let's start with the basics.
A waist trainer is figure-shaping, waist-slimming garment that wraps around the torso and sits beneath the bust. There are many styles and materials that waist trainers come in.
Some waist trainers are constructed with latex or other synthetic materials at the core, designed to provide firm compression. These are also called waist cinchers. They typically fasten at the front of the garment using hook-and-eye closures, Velcro, or sometimes zippers. Some are made as bands, while others are made as vests, complete with shoulder straps for addition support and coverage for the upper back.
Traditional underbust corsets can also be used as waist training garments. While they provide shaping and slimming for the midsection, corsets are constructed slightly differently. Instead of using latex to provide compression and slimming, they are tightened with laces in the back of the garment and are typically reinforced with steel boning. Steel-boned corsets give a more dramatic cinch at the waist than latex waist trainers.
What is the Purpose of a Waist Trainer?
There are several purposes to wearing a waist trainer, and different styles of waist trainers deliver different benefits and results.
One of the most popular ways to use a waist trainer, especially if you're just starting, is during workouts. A workout waist trainer stimulates heat and perspiration in your core, which amplifies your workout's intensity. It can be worn during nearly any type of exercise, from a brisk walk to a HIIT (high-intensity interval training) or strength training workout.
Wearing a waist trainer (whether a workout band or everyday waist cincher) provides significant waist slimming, so you can feel more confident and sexy at the gym or wherever you go.
Another way to use a waist trainer is to supplement other healthy lifestyle changes that you're using to slim down your waist. By wearing a waist trainer every day, especially while incorporating a balanced diet and regular exercise, you can start on a better path to your figure-slimming goals. For the best results in this kind of regimen, we recommend wearing a waist trainer 8–12 hours a day. There are everyday waist trainers designed to be worn comfortably and invisibly under many wardrobe styles.
You can also simply wear a waist trainer as shapewear whenever you want to enhance your figure, even if you don't follow a daily waist training regimen. You'll instantly drop several inches from your waistline while the garment is on. Waist trainers can be worn under casual attire, business attire and also formalwear.
Does Waist Training Flatten Your Stomach?
Waist training can flatten your stomach, but it's important to clarify the ways in which that works.
You'll immediately see results when you put a waist trainer on, as long as it fits properly and covers your trouble areas. If you want slimming on your lower abdomen, be sure to use a waist training garment that is long enough. Some are designed with a shorter cut. However, your stomach obviously won't stay flat when you take your waist trainer off.
Having said that, as we discussed above, wearing a waist trainer every day can be an effective way to supplement your other weight loss and figure-slimming efforts. The best results are always paired with lifestyle changes that include balanced nutrition and exercise. There are several ways this works.
Some people find that wearing a waist trainer gives them a vision for their goals. When you see a slimmer version of yourself when you put your waist trainer on, you also see the potential reward if you stay with your health goals. Tracking your progress (taking photos and waist measurements every week) can also help you stay motivated and on track.
Wearing a waist trainer during workouts can also help. Not only will you love the way you look, but you'll get more effective workouts in the same amount of time. Once you wear a waist trainer during a workout, you'll definitely feel it working in the extra heat and perspiration. For the best results in flattening your stomach, be sure to include strength training exercises that work your core and high-intensity cardio exercises that burn calories and fat.
Wearing a waist trainer all day can also remind you to eat in smaller portions. Since your midsection will be restricted, large meals will be uncomfortable. You'll get better weight loss results by eating several small meals and snacks each day instead of large ones.
How Long Do You Have to Wear a Waist Trainer to See Results?
This is one question all beginners want to know! When you see results from waist training depends on several factors, but here's generally what you can expect.
First, it depends what approach you're using for waist training. If you're just wearing a garment as desired for slimming under your outfits without any lifestyle change, you're not going to see any noticeable difference when you take the waist trainer off, even though you'll still get up to several inches of slimming as long as the garment is on.
If you wear a waist trainer during workouts, the kind of results you'll see will largely depend on your workouts, lifestyle and weight loss goals. If you go from a sedentary lifestyle to an active one, and if you have a lot of weight to lose around your middle, then you're going to see much faster results than if you are adding a waist trainer to an established routine and don't have as much weight to lose.
A daily waist training regimen will most likely provide the most dramatic results in the shortest amount of time, especially if you also work out with a waist trainer. Note that it does take some time to get into a waist training routine. We recommend that you start by wearing your waist trainer for just an hour or two a day to begin, and then slowly add more time each day until you're up to at least 8 hours.
Genetics, lifestyle, body type, weight loss goals and your approach to waist training are all factors that influence how long it will take for you to see waist training results. If you have a high commitment and ambitious goals, you can start seeing results in just a few weeks. Check out our waist training before and after gallery to see the experience women of all shapes and sizes have had.
The Best Waist Trainers for Beginners
If you're looking to get started with waist training, here are our top recommendations from our curated collection:
Best Waist Trainer by Hourglass Angel HA102: This one truly lives up to its name. It instantly shrinks your waistline by up to 3 inches, so you can look and feel your best in your most stunning outfits. You can wear this waist trainer comfortably underneath clothes or during workouts. We also designed it with flexible steel boning, which works together with the latex core to maintain your hourglass shape while still allowing you to bend and move easily. Three rows of large hook-and-eye closures create a strong, secure fit while allowing space to size down with you.
Curve Creator Workout Band by Hourglass Angel HA101: This curve-creating workout band features a double Velcro closure, instead of hook-and-eye closures. It's great for when you want to dive into your waist training workouts quickly and easily. Two layers provide secure fit that's perfect for your body and stays snug, no matter how intense your workout.
Workout Waist Trainer by Ann Chery 20206: One of our all-time customer favorites, this waist trainer is from a leading shapewear brand. It's perfect for slimming your waist instantly and providing the firm compression you need for effective daily waist training. Columns of hook-and-eye closures pull the latex tight and allow you to size the garment down with you. Flexible plastic boning inside the garment prevent it from migrating. You can wear this garment at the gym or under your everyday attire.
Latex Waist Trainer Vest by Hourglass Angel HA103: If you want more support for your breast and coverage for your back, try this vest-style waist trainer. Designed by our waist training experts, it instantly sculpts your midsection, the vest-style design helps you to stand taller and straighter for a more confident posture. You can wear it comfortably and discreetly every day.
Get Started with Waist Training Today
If you're interested in waist training, you've come to the right place! Browse our shop, which features an exclusive collection of high-quality waist trainers for all shapes and sizes. Still have questions? Check out our waist training and shapewear blog, or contact one of our expert stylists. We're help you to find the right size and the right style, no matter what your goals are.