Posted by Hourglass Angel on Jan 15th 2020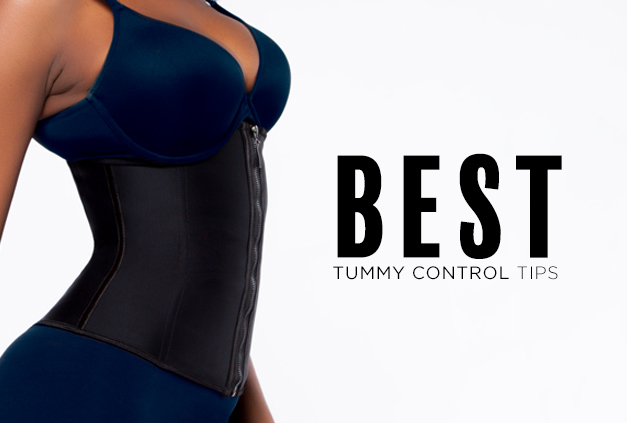 One of the primary concerns you might have when shopping for shapewear or selecting your wardrobe is how flattering your outfit will be to your midsection. With so many figure-slimming options out there, what is best for tummy control?
Because no matter what your body type, everyone can benefit from a slimmer, flatter tummy.
We can help you take the guesswork out of building a wardrobe that creates a slim silhouette and an hourglass shape no matter what you're wearing. We've compiled six of the most popular and effective options for tummy control, for any shape, any occasion—so you can take the stress out of getting dressed!
1. The Classic Waist Trainer
There's a reason waist trainers continue to be the most popular shapewear options in 2020—because they work! A quality waist trainer distributes firm compression around the midsection and uses latex paneling to flatten your tummy and drop your waist measurement. You can instantly fit into a size or two smaller.
The Hourgless-Effects Waist Trainer by Hourglass Angel HA105 is a great tummy-flattening option for newbies and those experienced with waist training alike. It'll instantly sculpt up to three inches from your waistline while supporting your back and posture (making you look slimmer and more confident). It enhances your natural curves by supporting your bust while eliminating bulges around your belly and sides.
This powerful waist trainer is also a great option for workouts and will intensify your training by increasing your body's natural heat. Flexible steel boning keeps it in place, while 3 rows of large hook-and-eye closures make it easy to put on and customize to your unique shape.
2. The Waist Training Vest
If you like the idea of a latex band but want even more torso-slimming coverage, you'll love the style of a waist training vest. You'll get all the tummy-flattening benefits of a waist training band, with the added support of straps and coverage for the upper back and under the arms.
The Ann Chery Latex Waist Shaper Vest 2027 is a favorite vest-style waist training option because of its sleek look and effective slimming power. You'll get dramatic slimming at the waist as well as full back coverage and support. We especially recommend this garment for special occasions, although it can also be used every day.
This style of waist trainer is also useful for its length, which you might prefer if you have a longer torso. It compresses not only the tummy and midsection but also provides excellent coverage for the low abdomen and the upper torso (including around your bra), so you won't have any surprise bulges peeking out where they don't belong.
3. The Corselette Body Shaper
If you've never heard of a corselette style shaper, you're in for a shapewear treat. One of the best-kept style secrets, this style of garment targets the tummy and midsection while also providing support for the bust, rear, lower abdomen and hips. But it is in a light package, making it so easy to wear.
The Mia Corselette Body Shaper by Vedette 136 does not disappoint when it comes to tummy control (and everything else). This sexy little body shaper slims your waist up to three sizes while giving your other curves a substantial lift. And it's trimmed with lace, making it look more like lingerie than your typical shapewear.
It works so well because it has a latex core that firmly keeps your tummy and lower abdomen in place. But it is also comfortable because it is lightweight and lined with fabric so your skin can breathe. This all-in-one shaper also uses an open bust design with adjustable straps so you can pair it with your favorite bra and get a perfectly customized fit.
4. The Shaping Tank
If there's a must-have for any wardrobe, it has to be a shaping tank. This is an essential piece for any layered look, whether you're going casual or dressing up. For the best figure-enhancing results, we highly recommend an open-bust tank that you can pair with a bra that best suits your figure. In this way you can create more dramatic hourglass curves with maximum waist-slimming, without minimizing your bust.
The Thermal Control Tank by Diane 2205 provides more powerful slimming than most shaping tanks. While other styles are designed to provide light slimming, this particular tank uses a latex tummy panel to keep your middle firmly in place. Its seamless design makes it versatile, so you can wear it invisibly under most tops. It also effectively prevents visible love handles, muffin top and bra bulge, with superb coverage from the upper back to the hips.
This figure-shaping tank is so versatile (and affordable!) that we bet you'll want more than one. Get one in black and one in nude (or more in each color!), and you'll have a perfect foundation for multiple days of the week.
5. The Torsette
This style of shaping garment is similar to a cami, but it fits more like a glove than most shaping garments. It features wide straps and an open bust, so you can pair it with your ideal bra and get extra lift and support (like having an extra underwire). It also provides smooth coverage for your upper back and prevents "bra bulge." And of course, it slims your waist, so you get a smooth silhouette under your most form-fitting outfits.
The Naomi & Nicole Unbelievable Comfort Torsette 711 is a barely-there shaper that powerful eliminates your torso's trouble areas. It appears seamless under your clothes and stays in place, with its patented silicone bands (no riding or rolling here!). Wide, padded straps ensure comfortable, no-dig support for your bust and coverage for your upper back.
Since this garment firmly stays in place and is light to wear, we recommend tucking it into your jeans for a perfected flat tummy look. You'll love wearing this garment everywhere from the grocery store to your night out—it will not disappoint.
6. The Steel-Boned Corset
We saved the most dramatic and powerful tummy-tucking options for last. Nothing does it quite the way a classic steel-boned corset does. This hourglass curve-creating garment uses tight laces and firm steel boning to get a tight cinch at the waist. Once your corset is broken in, you'll immediately get several inches taken off your waist, for a head-turning effect.
The Short Underbust Cotton Corset by Hourglass Angel HA200 creates dramatic hourglass curves in a beautiful little package. Women with shorter torsos will love this garment with its cotton design that feels soft and light on the skin (but doesn't sacrifice slimming power!). The flexible steel boning inside the garment slims your figure without pinching, pulling or feeling unnatural. And since it's lightweight, it's easy to conceal under most outfits.
This corset is for those who are serious about their waist training regimen and want to step up the tummy-slimming power in their shapewear. It can be worn every day if you want to see dramatic results. It's also a great option for anyone wanting dramatic curves for a special occasion or even a bold piece to wear as outerwear. You've got many options, which is why this garment is one of our favorites.
How to Choose Your Ideal Shapewear for Tummy Control
Now that you know your options, here are a few words of advice for choosing the best shapewear. Which option is right for you is going to depend on several factors including:
What you'll be wearing on top: Does your outfit cling to your body and reveal seams that might be poking out underneath? If so, be sure to choose shapewear that is designed to be "seamless" so it won't show through.
Your target areas: You want to target your tummy area, but are there any other trouble spots you'll want to address as well? Some of these waist-slimmers have the added benefit of bust support and enhancement, back coverage, and additional shaping for the lower abdomen, hips and butt. Pick the one that best suits your overall needs.
Compression level: Not all shapewear is made alike when it comes to shaping power. High compression materials like latex and steel boning will provide a more dramatic slimming effect, while other materials will be more flexible and breathable. Pick your compression level depending on how much sculpting you want versus flexibility.
Once you've narrowed down your options, be sure to take measurements and follow your garment's sizing chart. Remember that shapewear sizes aren't the same as pant and dress sizes and can even vary from brand to brand. If in doubt, always go a size up for the best results (shapewear that is too small is uncomfortable and unflattering!)
And remember, you'll probably be most satisfied if you have multiple shapewear options that you can rotate through your wardrobe. That way you'll always have a fresh, effective shaping option to pull from your closet no matter what the occasion.