Posted by Hourglass Angel on Nov 10th 2020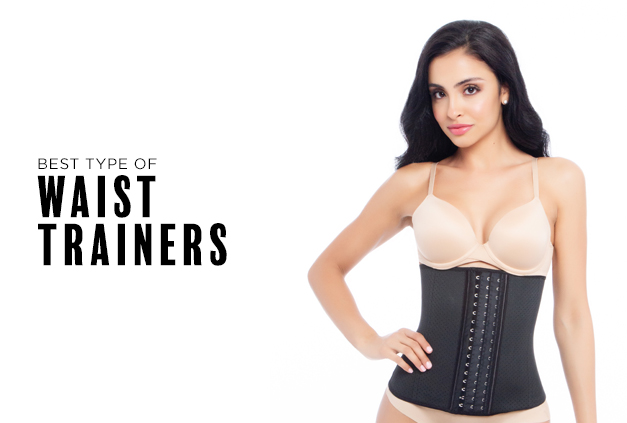 When you're looking for the ideal waist trainer, a question you'll naturally have is, "What type of waist trainer is best?" After all, if you're going to be wearing something every day and have some ambitious slimming goals, then you'll want something that you feel good in and that works.
Waist trainers come in a variety of styles and materials, and many of them vary in quality and type of results you'll get.
While we only carry high quality garments in our carefully curated collection of the best waist trainers, they do vary in what they're used for, what they feel like and the types of results you'll get. When answering the question what is the best type of waist trainer, it depends on what you want to get out of it.
Some factors to consider include:
Desired goals/results
Material preferences
Preferred style
Workout waist trainers, for example, can be used exclusively during workouts to boost body heat and perspiration, to amplify your training. In fact, we recommend using a workout band as part of your everyday waist training efforts, in addition to wearing a waist trainer underneath your everyday clothes.
You can also wear a waist trainer as shapewear under your clothes. Just by putting on one, you can slim your waistline instantly up to several inches while creating a smooth hourglass foundation.
When it comes to how well waist trainers work, consider what your goals are. Do you want to support a healthy lifestyle and supplement a slim-down plan? Then wear a waist trainer daily and track your results over a couple of months. Do you want to intensify your workouts (and look great at the same time)? Then incorporate a workout band into your exercise routine. Do you want to create a slimmer, smoother foundation under your clothes? Then use a waist trainer as everyday shapewear.
When assessing which waist trainer is best for you, keep these ideas in mind.
What is the Best Material for a Waist Trainer?
You have a few options when it comes to materials that make up waist trainers.
If you want to get the most powerful slimming results, you'll want to consider the compression level that your waist trainer is providing. For synthetic waist trainers, latex is the go-to material that provides firm, all-day compression. Make sure that the core is constructed of latex. The lining and external layers can be alternative materials like cotton or spandex.
If you want an alternative to latex, you might prefer a steel-boned corset. A corset relies on laces that are tightened in the back to get the compression level you want, with steel boning in the bodice to keep the garment and your midsection firmly in place.
Which is Better: A Waist Trainer or Corset?
Both latex waist trainers and corsets are effective ways to practice waist training. Which is best depends on what you're going for.
If you're a beginner and want to see results with your waist training but aren't accustomed to wearing one yet, a latex waist trainer is your best option for starting out. Start by wearing one for just an hour or two per day and then slowly work your way up until you feel comfortable wearing it all day (this typically takes a few weeks).
Workout bands are designed specifically for exercise. Do not try to do your workouts in everyday waist trainers and corsets that are not designed to endure rigorous movement. Some workout bands are also designed with bright colors, so you can wear them as part of your exercise attire.
If you're more experienced with waist training, or if you want to get a more dramatic cinch at your waist, a corset may be the best option for you. Since you can pull the laces to your desired compression level, you may find that you get more powerful slimming.
Corsets can also double as outerwear, so if you like the style, you may enjoy having one in your closet that you can wear under or over your clothes.
Note that all waist training garments take some time to adjust to, especially if you're new to daily waist training. A corset needs to be seasoned for about two weeks before you can fully tighten the laces, similar to the way you need to break in a new pair of shoes. A new latex waist trainer also needs some breaking in; and in both cases, your body will need time to adjust to the way your garment feels.
If you're serious about a waist training regimen, you may find that you want a latex waist trainer as well as a steel-boned corset to rotate through your wardrobe, and a workout band for exercise (or several of each!). They all have their benefits.
Our Top Waist Trainers
If you know what you're looking for, here are some of our most popular waist trainers.
Hourglass Effects Waist Trainer by Hourglass Angel HA105: With this garment you'll create a sporty look that makes you look even slimmer. The core is made from high-compression latex, lined with soft cotton-spandex. Nine columns of flexible steel boning keep your hourglass shape in check, while also resulting in a straighter, more confident posture. You can wear this waist trainer under your everyday clothes, or use it at the gym.
Customer Teagan M. wrote: "Love the material and thickness of the garment. Creates great back support. I wear it at night with no problems and it makes even a simple workout more challenging. I highly recommend it!"
Best Waist Trainer by Hourglass Angel HA102: This high-compression latex waist trainer instantly shrinks your waistline by up to 3 inches, so you can look and feel your best no matter what you're wearing. The steel boning works together with the latex to maintain your hourglass shape, while still allowing you to bend and move easily.
Customer Becca T. wrote: "I'm in love with my waist trainer! It helped me lose inches and stay focused on my fitness goals. I will actually be repurchasing to a smaller waist trainer since the first one I got is now too big for me!"
Curve Creator Workout band by Hourglass Angel HA101: This curve-creating workout band features a double Velcro closure. Just pull the sides together and you're ready for your workout. It provides secure fit that's perfect for your body and stays snug, no matter how intensely you exercise.
Customer Ashley R. wrote: "I wear this during my daily workouts and I am 6 weeks postpartum but you'd never be able to tell thanks to this waist trainer!"
Underbust Cotton Corset by Hourglass Angel HA202: We set out to design a steel-boned corset that is more comfortable and natural. This underbust cotton corset provides a natural feel to your skin as it sculpts your midsection. Using flexible steel boning for powerful compression, this garment slims your waistline into a beautiful hourglass shape.
Customer Gigi wrote: "I truly love this corset, I have been wearing it for the past few weeks and I am going to have to move to the next size lower now. I also love that its cotton so it's easy to wash and it's very sturdy."
Workout Waist Trainer by Ann Chery 2026: You can wear this customer favorite waist trainer any time you want to be active. The band will provide ongoing compression around your core, which stimulates thermal activity and ramps up perspiration. It is constructed from a latex core with a soft cotton exterior and interior lining. It sits at your waist, extending to the upper abdomen. Two columns of hook-and-eye closures allow you to size the garment down with you.
Customer Shelli C. wrote, "I've only been using this trainer for 2 weeks and I'm already small enough to move to the next smaller size! I love this trainer, its comfortable enough to wear practically all day and night, which I do!"
Find the Best Waist Trainer for Your Slimming Needs
Whether you have dramatic slimming goals or just want to create a smoother foundation for your figure, there's a waist trainer that's ideal for your needs. Check out the rest of our collection as well as our waist trainer blog for more waist training tips and advice.
Need sizing help or other advice? Our team of experts is eager to answer your questions and help you find the perfect waist trainer.