Posted by hourglass angel on Aug 18th 2017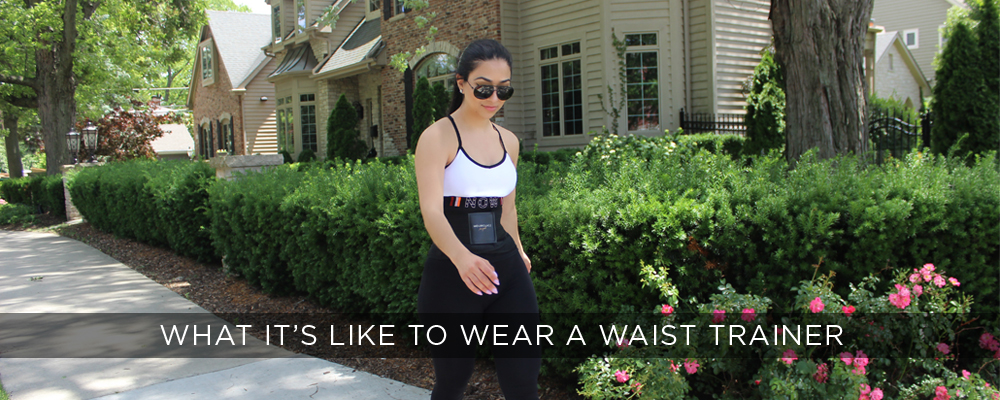 Wearing a waist trainer is a different than any other type of clothing. If you've never done it before, you might be surprised by several aspects of the experience
We thought it would be helpful to put together a post that sets the right expectations, so you won't have any surprises! With the right waist trainer and the proper fit, you can have a waist training experience that is comfortable and effective, no matter what your goals.
Waist trainers can be a challenge to put on the first time.
One of the most frequent comments we hear from new waist training customers is how it was a little tricky to put on their waist trainer for the very first time. Some have even questioned whether it was too small because of how tight it was.
If you have taken correct measurements and followed the garment's size chart, it shouldn't be too small. In fact, you want it to fit tightly because that's how you'll know that it is doing its job!
The trick to putting on a waist trainer with hook and eye closures is to start at the bottom and work your way up. Pull the lowest hook and eye on the garment together around the narrowest part of your waist and start fastening up. You can pull the garment down as you go. You should not have to yank or pull hard in order to make it fit. If you feel any pain, pinching or trouble breathing, take off the waist trainer right away—it may be too small. Waist trainers should feel tight, but they shouldn't hurt!
If you happen to have a steel-boned corset as your waist trainer of choice, the process is completely different. Step into your body shaper corset with the steel busks in front. You're then going to fasten the laces in the back from the top and bottom towards the middle, similar to the way you might tighten shoelaces. For the first few times you will probably need help with this, or at least a mirror. Tie off the corset in the middle of the back. However, don't tighten your corset all the way the first time you wear it. It should hug your torso gently. You should wear it loosely like this for about an hour or two a day for at least a week in order to season it, or break it in. Otherwise you risk warping the corset. Once it's seasoned, you can pull the laces as tight as you like.
It will take time to get used to it.
Firm compression around your torso can feel a little strange—you may sweat more, and it may feel different holding your back so straight.
For this reason we highly recommend that you ease your way into waist training, especially if you plan on doing it every day. Start out wearing it for just one hour, and then incrementally add half an hour to an hour each day. If you do this consistently, you should feel comfortable wearing your waist trainer all day after a few weeks. If you're planning on wearing a corset, you'll want to do this anyway while you're seasoning it.
Even if you don't plan on wearing a waist trainer every day as part of an ongoing regimen, you'll still want to give your body as well as the garment itself an adjustment period. If you're planning on wearing it for a special event like a wedding, work your way up to it. Otherwise you might be pretty uncomfortable on the big day, especially if it's an all-day event.
You will perspire and feel warm.
One of the reasons waist training is effective is because it stimulates heat around your core and helps you sweat. This is particularly effective during workouts, as it will increase the intensity.
For this reason, some women prefer to wear a light tank top underneath their waist trainer, to absorb the extra perspiration. You will also want to keep your waist trainer clean and dry, especially after hard workouts when you sweat a lot. If you plan on daily wear, we recommend having at least a couple of waist trainers to rotate. Many people like one for working out in and one for casual or professional wear. Spot clean or gently handwash the waist trainer you are not wearing and hang to dry.
If you want to wear a waist trainer in a warmer climate, you might prefer a lighter constructed with cotton.
You may eventually need to size down. (That's a good thing!)
One of the benefits of wearing a waist trainer daily is that it can supplement you're other long-term slimming goals. If you are committed to daily wear and a healthy lifestyle, you may find that you will need to tighten your waist trainer or corset after a few weeks or months.
Eventually you might even find that you need a smaller size garment, which is a reason to celebrate! If you plan on losing a lot of weight during your waist training journey, you might prefer a waist trainer with three rows of hooks or a steel-boned corset, both of which have more room for adjustment if you size down your waist by several inches.
Note that over time with regular use, the latex in a waist trainer can start to lose its elasticity. This is another reason to size down eventually, as well as keep two waist trainers rotating through your wardrobe.
Not all are the same.
Beautiful women come in a variety of shapes and sizes, and so do waist trainers. That's why we strive to keep a wide selection, to meet as many needs as possible. You may even find that what works well in one stage of your waist training experience isn't as effective in other stages.
Results with waist training can also vary quite a bit. Some women see dramatic results with regular waist training after just a few weeks, while for others it can take a long time before they see substantial changes. Having said this, anyone who tries on a waist trainer that fits and is well suited for their body type will see results of a flatter tummy and a reduced waistline of 1–3 inches with the garment on—instantly!
If you're wondering which options are right for you, here are a few to consider, no matter what stage you're in during your personal waist training journey:
You will look amazing—and people will notice.
Time and again, we hear from our customers how their waist training transformations have caught the attention of their friends and family. You don't even have to lose weight in order to achieve an hourglass waistline and a flat tummy, free of love handles and muffin top. In fact, that is how a lot of people get started with waist training; they see the results of someone they know.
That's why we highly encourage you to share your results—whether on Instagram or your other favorite social media platforms, or even just among your closest friends and family. Take progress photos and waist measurements and prepare for everyone to be amazed at the changes in your figure. You never know who you might inspire!
We hope this gives you a little vision about what it's like to wear a waist trainer. Ready to get started? Check out this guide along with the other resources we have on our website. You're going to love your new curves!