Posted by Hourglass Angel on Oct 9th 2019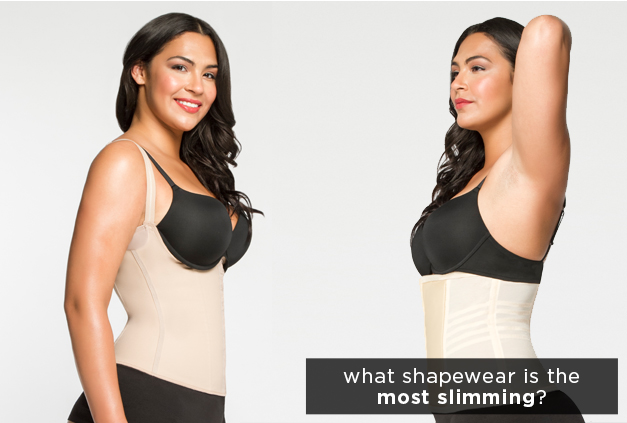 Shapewear is useful for helping just about any shaping goal. You can use it to lift, enhance, create curves and smooth your silhouette.
But what many people are looking for in the shapewear is to create a slimmer figure.
Wondering which shapewear is the best for slimming? Since not all of it is made alike, it's important to know what to look for to get the best results out of your shaping garments.
Here are the features to look for in the best slimming shapewear, followed by our most effective styles.
Compression Level
If you want dramatic slimming results from your shapewear, the number one feature to look for is compression level. High compression garments are going to give you the most sculpting power to slim your target areas.
You can find maximum compression in almost any style of shaper, but it is most common in waist trainers, corsets and all-over shapers, which are designed to dramatically sculpt and reshape your figure. Garments that typically have less shaping power include shaping camis, shaping panties and anything that is lightweight.
Material
Closely related to compression is the type of material used in the shapewear. The materials that have the strongest compression will also create the most slimming power.
One of the most common materials used for slimming is latex. This is a synthetic material that creates a firm hold. On some garments it will slim up to several inches. For the most slimming power, look for garments that feature latex panels or girdles around the desired target areas.
Another feature to look for in a maximum slimming garment is flexible boning in the bodice. Corsets and some styles of cinchers use steel or plastic boning to keep the garment in place and create a dramatic cinching effect. Steel boning is the most durable option, and it is featured in the classic steel-boned corset. But you will also find it in some styles of latex waist trainers, particularly in the Hourglass Angel brand.
Not everyone likes latex or boning, so you can also find alternative options for firm compression with synthetic materials like polyamide and elastane. Check the garment's description to determine if the material blend is designed to give firm hold or lighter slimming.
Target Area
If you want to get the best slimming results from your shapewear, you'll also want to be sure that you're selecting a garment that is designed for your target area. While many garments target the waist, others are designed to minimize other trouble spots like the thighs, rear and hips.
Some people like garments that provide all-over shaping so you can get all the slimming power you need in just one shaper. Others like to piece together their shapewear depending on the outfit they are wearing or to better customize the fit.
Now that we've explored some of the mechanics of what makes a powerful slimming shaper, here are some different styles you can look for based on your needs.
Waist Trainers
This is one of our most popular styles of slimming garments and also one of our most effective. Use a waist trainer if you want to slim your waist 1–3 inches and achieve an hourglass shape at the waist.
Waist trainers usually slim with the power of latex, sometimes reinforced with flexible boning. Most styles fasten with hook-and-eye closures, although some utilize Velcro or zippers as well.
To get the best slimming results out of a waist trainer, we recommend wearing one every day (this is a practice called "waist training"). Since waist trainers are high compression garments, it can take time to grow accustomed to the way they feel. For this reason, it's important to start out by wearing your waist trainer for an hour or two at first, and then gradually add more time as you grow comfortable.
Waist trainers are popular for slimming because they are so versatile. You can wear them under work clothes, casual attire and evening wear to create an hourglass foundation for any occasion. Working out with a waist trainer is also a great way to look and feel great during your exercise routine. You'll sweat harder and get more intensity in whatever workout you do.
One of our most recommended waist trainers is the Best Waist Trainer by Hourglass Angel HA102. We designed this waist trainer with flexible steel boning for maximum effectiveness. It works together with latex to maintain your hourglass shape, while still allowing you to bend and move easily. Three rows of large hook-and-eye closures create a strong, secure fit while allowing room for progress over time – simply move to the next row as your body changes.
If you want to incorporate waist training into your workouts, you might also try the powerful Latex Workout Band Curve Creator by Hourglass Angel HA101. This curve-creating workout band features a double Velcro closure, instead of hook-and-eyes. It's great for when you want to dive into your waist training workouts even faster. Just pull the sides together and go. There are two layers of thick Velcro to provide a strong, secure fit that's perfect for your body and stays snug, no matter how intense your workout.
Steel-Boned Corsets
If you want to take waist-slimming to the next level, steel-boned corsets are for you. These high compression garments are similar to latex waist trainers, but they utilize a lace-up bodice reinforced with steel boning to minimize the size of your waist. Only a corset will give you a signature hourglass cinch that shrinks your waist multiple inches.
You can actually practice waist training with a corset—it is sometimes the next-level option for people who have been waist training with a latex garment and want even more dramatic curves. Just as with a latex garment, you will get the best results from a corset if you wear it regularly (after you have broken it in, or seasoned, your garment, and have grown accustomed to the way waist training feels).
We highly recommend the Underbust Cotton Corset by Hourglass Angel HA202. We designed this underbust corset with cotton fabrication—so it feels soft against your skin, and stays comfortable for as long as you wear it. The corset uses flexible steel boning for powerful compression, slimming your waistline into the coveted hourglass shape, while the cotton makes it lightweight and breathable.
Thigh Slimmers
Anyone can benefit from waist slimming, but did you know you can also dramatically slim your hips and thighs with the right shaping garment?
Thigh slimming shapers are designed to give you firmer, thinner thighs and hips while allowing freedom of movement and comfort.
Thigh and hip slimmers come in a variety of styles and compression levels, so you can choose the one best suited to your needs. They can provide coverage from just below the hip, to mid-thigh, full thigh and full leg. You can choose a garment that minimizes the rear or enhances it, with padding or an open-bottom lift. You may want to try a different garment depending on what outfit you are wearing.
Shaping leggings are also effective at slimming your thighs and optimizing your workouts so you can look and feel great. (Want to really get excited about your workout wardrobe? Try pairing your compression shaping leggings with a waist trainer!)
One must-have thigh slimmer is the High Waist Firm Control Thigh Shaper by Va Bien 3757. It uses satin control panels to smooth your trouble areas. This high-waist thigh shaper targets the thighs, hips, tummy and butt, while the control waistband and flexible boning at the tummy keep this garment from sliding down.
Full Body Slimmers & Body Suits
On some occasions, you just want a garment that gets the full job done and that's where full-body shapers come in. They use maximum slimming and shaping power on common target areas including the midsection, butt, hips and thighs, creating an hourglass shape and a perfect foundation.
Since full body shapers use maximum compression, they are most often used as a foundation for special occasions like weddings, parties or other big events. They are particularly well-suited for use beneath gowns, dresses and pantsuits.
One of our most popular all-over shapers is the Best Body Shaper by Vedette 104. This body shaper smoothens and controls the abdomen, mid thighs, and back, reducing the waistline by up to several inches and slimming by up to two dress sizes. The step-through garment rises up to the underbust with adjustable and removable straps, allowing you to pair the bra of your choice.
Find Your Perfect Slimming Shapewear
There are so many options when it comes to slimming your problem areas. Hopefully we've given you some fresh ideas; if you need more, be sure to browse the different garment styles to suit your needs.
Still not sure which is best? Check out the customer reviews, or contact our expert stylists to help you pick out the garment that will help you create the perfect silhouette.