Posted by hourglass angel on Dec 12th 2014
Q&A About Fashion and Shapewear
So you've got questions about shapewear. There are hundreds of pieces to choose from; where do you begin? What shapers, bras and panties are ideal for different types of outfits? What will show through and what won't? What's the most flattering choice for your figure?
At Hourglass Angel we get a lot of these types of questions, and we have the answers! Here are some of the most frequent questions we get, followed by our recommendations: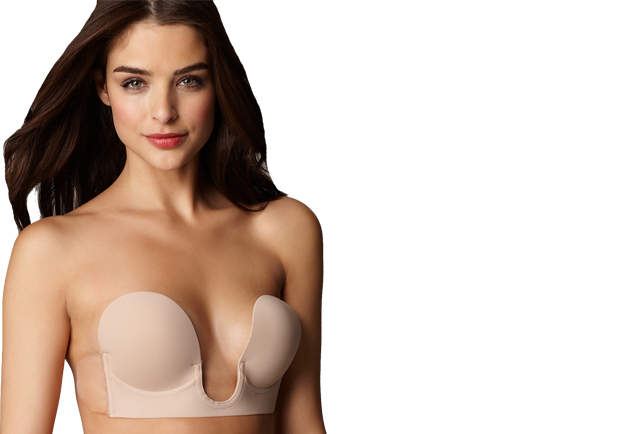 Q. What type of bra can I wear with a low-cut dress?
A. A deep plunge bra.
This type of bra, designed for your sexiest styles, will provide the lift and support you need in your bust without revealing any part of the bra's cups on your lowest necklines. The Secret Boost Deep Plunge Bra by Fashion Forms features a U-plunge underwire and it is also backless – no one will ever know it's there.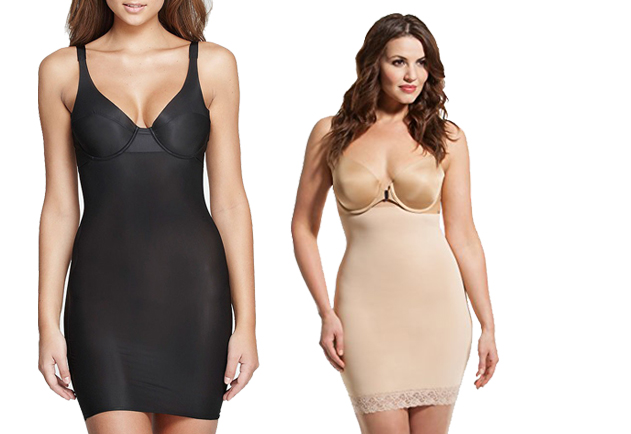 Q. What type of shapewear should I use with a sweater dress or jersey knit dress?
A. A shaping slip.
With clingy dresses you'll want an all-over smoothing effect, and nothing does that better than a shaping slip. One of our favorite options is the Sleek Curves Shaping Slip by Hooked Up, which has a unique hooking system design to work with any bra so you won't have to fuss with it slipping or pinching above the waistline. Another option is the Smooth Silhouette Shaping Slip by Yummie by Heather Thomson, which has a built-in bra.
Q. What can I wear under a short dress?
A. A corselette
Short dresses can be tricky with certain girdles because you don't want anything to poke out underneath. A lingerie style corselette like the Corselette by Amia provides powerful shaping and smoothing for your hips and your midsection while looking like sexy boycut shorts on the bottom.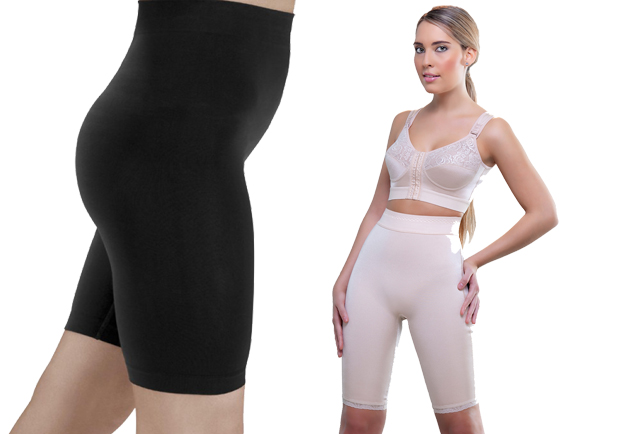 Q. What shapewear can I wear under pants without showing any lines?
A. Mid-thigh shaping shorts.
You don't want to give a visible panty line a second thought if you're wearing tight pants or light fabrics, so choose a shaper that sculpts through your thighs. The Second Skin ActivWear Bike Shorts by Shape and Slim firm up your waistline, hips and thighs. If you want a style that lifts your butt while slimming your waist and thighs, try the Amie Mid Thigh High Waist Open Bottom Enhancer by Vedette.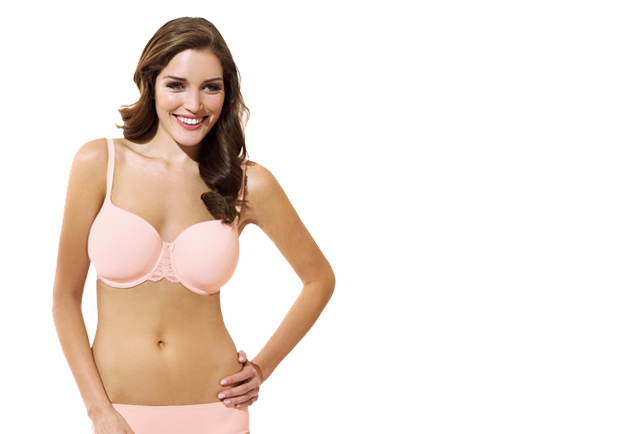 Q. What type of bra should I wear under form-fitting shirts and sweaters?
A. A t-shirt bra.
There's a type of bra designed just for this purpose: to provide a curvy, smooth, seamless look under t-shirts and light sweaters. The Porcelain Lace Molded Seamless Underwire T-shirt Bra by Panache is one of our favorite solutions for full-figured women, as the cups won't spread apart and you'll see nothing but smooth through your favorite tops.
These are just a few of the questions we receive. If you're looking for shapewear for your unique fashion needs refer to our FAQ page or contact our customer service for personalized support.