Posted by Hourglass Angel on Jan 1st 2021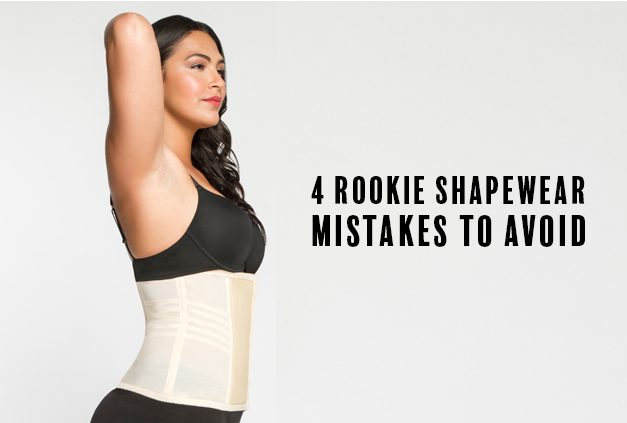 Just imagine: looking fabulous and sexy whether you're in office clothes, at the gym or in a cocktail dress. No matter what your body type and size, it's possible with one secret weapon: shapewear.
Wearing shapewear is an integral part of any style-conscious women's wardrobe, from Hollywood's biggest stars to everyday moms, professionals, students and more. It can be exciting when you first discover the possibilities with shapewear, but be sure to do your homework before going all in. If you're just getting started with wearing it regularly, you'll want to be sure you're making the most of your options and avoiding these rookie shapewear mistakes.
1. Getting the Wrong Size
Fit is key when it comes to getting the most out of a shaping garment. If you've ever had an bad-fitting bra and then switched to a better one, then you know what a huge difference it can make, even when the size changes only slightly.
Most shapewear garments are constructed to provide compression in key areas in order to maximize curves in the right places and slim and sculpt in others. If your piece doesn't fit correctly, it's going to put compression on all the wrong areas.
While it can be tempting to go down a size in an effort to look slimmer, this approach can actually have the opposite effect and exaggerate trouble zones. If you've ever tried to squeeze into clothes that were too tight and seen the "spillover" effect, then you can imagine what it's like with figure-hugging shapewear.
In our curated collection of high-quality shapewear, we've tested every garment and posted custom sizing charts for them. Even if you think you know what your size is, it's important to take measurements each and every time you order something new.
There are three measurements to consider for most garments: bust, waist and hips. For each measurement, use soft vinyl or cloth measuring tape. It should lie flat against your figure but not be so tight that you can't slip a figure underneath. Also make sure it is level with the ground all the way around (use a mirror or a friend to help).
Bust: measure around the fullest part of your chest.
Waist: measure at the slimmest part of your waist, typically about two inches above the belly button, where there is a natural bend when you lean to one side.
Hips: measure around the fullest part of your hips (butt included).
Once you have your measurements, consult the sizing chart for the garment you want. If your proportions don't line up exactly with one size, go with the largest measurement in order to ensure the proper fit. Trust us; many garments can be tightened if they're too loose, but if they're too tight in certain areas, they won't produce a flattering result.
If you have a body type with proportions that are significantly different than average (i.e. a small waist and full hips), you'll want to consider styles of garments that are most helpful for your target areas and body type.
Related: How to Find the Right Size When Buying Shapewear Online
2. The Wrong Fit for Your Body Type
This leads us to the second rookie mistake: not optimizing your shapewear for your unique body type. While one garment might look great on one person, it could be the wrong style for someone else. For example, someone with a rectangle-like shape would benefit greatly from a butt-enhancing garment, but someone with a pear shape and full rear would look better in a butt-minimizing piece.
Most women know their "trouble spots"—so if you want to have a slimmer waist, smoother thighs or a fuller butt, start there. But don't stop there. Sometimes you don't know what shapewear you need until you try several options.
You can try different garment types as well as different brands to determine the ideal shapewear for your body type. This can take some trial and error, just like the rest of your wardrobe. But don't give up! Once you find a garment that is just right fit, you'll wonder what you ever did without it!
If you're worried about how to try different garments when ordering online, don't be. Just be careful when you try on your shaping garments at home; don't force them, and wear undergarments underneath. Our return and exchange policy ensures that you can send back what doesn't work out as long as it is unworn, unused and still has tags attached.
Related: How to Get Your Shapewear Order Right Online
3. Only Wearing One Garment
Once you've found the perfect shapewear style, don't make the rookie mistake of using that garment only! You might be missing out on a whole world of style choices that will enhance different outfits on different occasions. What's more, having several shapers with help them last longer and ensure that you'll always have a piece that is clean and ready to wear.
To get the most out of your shapewear, you'll want to rotate several pieces throughout your wardrobe. It can take some time to create your collection, but once you have a few pieces you like, you'll love how they transform your whole look.
Here are a few shapewear options that you can rotate throughout the week as needed:
Waist slimmers:The waist and midsection is one of the most common trouble spots for women, so wearing a waist-slimming shaper is an easy way to enhance your figure in an instant. Choose from body shapers that include a thong or panty bottom, or from waist cinchers (a.k.a waist trainers) that fasten around the midsection.
Thigh shapers:Whether you're wearing a figure-hugging dress or just want to have a smoother foundation under your everyday pants and skirts, thigh slimmers provide compression around the upper legs, eliminating the appearance of cellulite and other trouble spots.
Thigh slimmers come in different lengths, so you can target from the upper thighs down to the knees if desired. Most styles are also designed to slim the waist, so you can address two target areas at once. When choosing a garment, you'll want to keep in mind whether it minimizes the butt or enhances it.
Butt lifters:Some shapers as well as jeans and leggings are designed specifically to enhance the butt, either naturally with the cut and compression of the material, or with padding. Choose the style based on your outfit and how you want to enhance your figure. Most butt-lifting shapers also slim the waist, and some are combined with thigh slimming as well.
Activewear:Forget baggy workout clothes; with shape-enhancing compression activewear you can look your best as well as enhance your performance.
There are several other shapewear options that target different areas including bra bulge, bust, posture support and even all-over shaping.
4. Not Caring for Your Shapewear
Latex shapewear should be hand-washed, or spot-cleaned when needed. Submerge it in a bucket of warm water, using a mild shampoo such as a baby shampoo. Rinse it well and hang to dry—most can be draped over a clothing line or hanger. Once the garment is dry, store it in a dry, dark area to prevent damage from moisture and sunlight.
Non-latex garments can be machine washed on the gentle or handwash cycle in cold water. Put them in a netted lingerie bag to protect them during the wash and be sure to add them with a full load to prevent excessive agitation. Lingerie detergent works best; do not use detergents that contain dyes, fragrances, alcohol, softeners or bleach. Air dry your shapers flat or hanging.
Get Started with the Right Shapewear
Ready to find your perfect shapewear and have a look you can get excited about each and every day? Be sure to browse our curated and tested collection of high-quality shapewear made for every shape and size. We also have a blog with comprehensive information about different types of shapewear and how to get the most out of them. And our shapwear guide includes before and after stories, reviews, sizing help, waist training tips and more.
Still need help finding your ideal garment? Contact us and our expert stylists will be glad to answer any questions and help you find what you need based on your size, body type, and dress style.