Posted by Hourglass Angel on Dec 6th 2022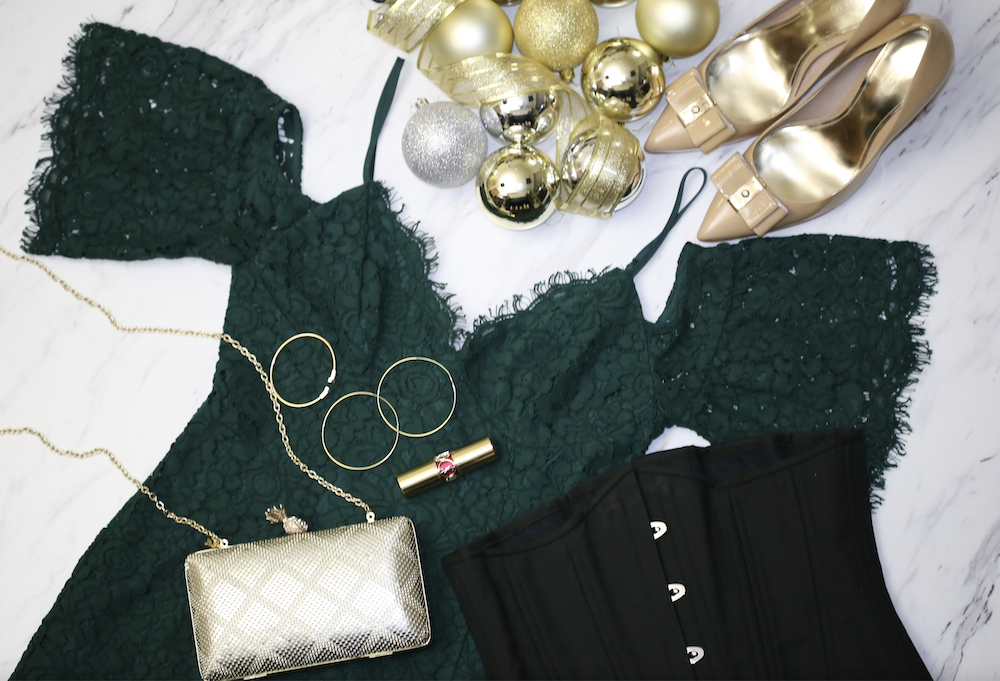 The holidays are upon us, which means it's time to start thinking about your outfits for all the upcoming holiday gatherings.
Whether you're dressing up for the office holiday party or you want to look your best for family get-togethers, you might be eager to shop for new dresses, cardigans and other styles. But those "outer" garments are only half of the equation!
If you're looking for ways to step up your holiday looks, shapewear is a quick, easy, and effective way to do just that. It can help you smooth out your silhouette, and give you the confidence you need to rock any holiday outfit throughout the season.
Here are four ways to use shapewear to take your holiday looks to the next level, along with some of our favorite shapewear recommendations.
1. Snatch Your Waist
Okay, we're all guilty of indulging in too many tasty holiday goodies at this time of year. But that doesn't mean you can't look slim and sexy—in any outfit. A waist-slimming garment like a waist cincher is the perfect accessory for any holiday event.
A waist cincher is a garment that helps you control your waist by pulling your belly in. It can also help improve your posture while you're wearing it. You can use one for special occasions, or you can wear one daily as part of a slimming regimen that complements a healthy diet and exercise.
Waist cinchers are flattering for every body type and can be worn under pretty much anything. They are especially popular for people who want to create more curves or who are trying to slim down and smooth out their whole look. Get a more pronounced hourglass shape with a snatched waist and gorgeous curves above and below your garment.
What we recommend
Designed by the experts, the Best Waist Trainer by Hourglass Angel HA102 is a high-compression latex waist trainer that instantly shrinks your waistline by up to 3 inches. With this trainer, you can look and feel your best in your most gorgeous outfits. We've also designed this hourglass waist trainer with flexible steel boning for maximum effectiveness. The steel boning works together with the latex to maintain your hourglass shape, while still allowing you to bend and move easily. Finally, three rows of large hook-and-eye closures create a strong, secure fit. It's an ideal accessory to wear underneath anything from sweaters to the little black dress.
For even more coverage and control, try a vest-style waist trainer like the Waist Cincher Miracle Vest by Squeem 26MV. This maximum-strength, vest-style waist cincher slims the waist 1–4 inches while you're wearing it while providing coverage for the upper back and an extra lift for the bust. With firm compression, the power latex core sculpts and firms your midsection, and the flexi-boning supports your spine, gently lifting and lengthening the torso. This is a great option under any attire and is especially helpful for eliminating bra bulge.
If you want to go a different route besides a waist trainer to snatch your waist, the Mia Corselette Body Shaper by Vedette 136 not only slims your waist up to three sizes but also enhances your bust and rear. It firms and flattens the midsection, eliminates muffin top, shapes the hips, and supports your back. With its lacy finish, you would never guess it was shapewear! We love this garment for your dressiest holiday attire.
The Convertible Thong Body Shaper by Vedette 211 is another favorite shaping option that provides coverage through the lower abdomen and yet stays invisible beneath clothing with a thong panty. This garment features three powerful slimming layers that invisibly smooth, sculpt and show off your slim but curvy silhouette. Pair it with your favorite bra with its underbust design, which lifts and supports the bust. To finish it off, it also includes adjustable, convertible, removable straps. This is an idea garment to wear under anything that clings, and no one will know your secret!
2. Get a Lift with Butt-Lifting Shapewear
Want more attention on your backside? Butt-enhancing shapers are an awesome way to create the curves you want (or enhance the ones you already have).
We have butt-lifting shapers that use compression to tighten the appearance of the rear, round your bottom with padding, or create a lift. And of course, many of the garments also shape your midsection to give you that hourglass figure.
What we recommend
To enhance your holiday wardrobe, the Perfect Butt Thermal Pant by Curveez 1478 is light, versatile, and effective. This shaper is stretchy and comfortable, slimming without adding weight or making you too hot. Inside the lightweight fabric, the natural latex tummy panel provides extra slimming, while the open bottom design of this item creates a lifting effect that rounds the rear into a perfectly round shape.
To make dressing for the holidays even simpler, try butt-enhancing apparel like Bold Curves Black Butt-Lifting Jeans by Bon Bon Up 5707. They're specially designed with stretch denim and an innovative seaming process that lifts and rounds your butt while also slimming your hips and thighs. These high-waisted, butt-lifting jeans in a deep black color are versatile and easy to style. The button closures provide great control and the tapered legs look good with any footwear. They're a must-have for your holiday wardrobe.
And to add some shape and style to your favorite chunky sweaters or flowing tops, pair them with leggings that create the wow factor. Butt-Lifting Leggings by Bon Bon Up 1012 are the perfect way to shape your waist, hips, butt, and thighs. They use comfortable compression and advanced seaming to give you the look and feel you desire. Never worry about a bad angle again, you'll love the way you look from every direction.
3. Slim Your Thighs
We love the versatility that thigh shapers have when it comes to holiday looks. These shapers provide firm and smooth coverage from beneath the bust to the mid-thigh, so you can say goodbye to saddlebags and get a smooth foundation. The fabric compresses and clings to your legs, so you won't have to worry about rolling or riding up. Thigh shapers can be especially helpful for those who are curvier on the bottom. A thigh shaper provides just the right amount of shaping and control, without taking away from your natural curves.
What we recommend
The Best Body Shaper by Vedette 104 targets the thigh and provides a smooth foundation for all of your holiday outfits. It smooths and controls your abdomen, mid thighs, and back. It can reduce your waistline by up to several inches and slim you down by up to two dress sizes. The step-through garment rises up to the underbust and has adjustable and removable straps, so you can choose what bra to wear with it.
4. Enhance Your Curves All Over
Sometimes you just need to pull out all the stops when you want to make an impression. All-over shapers are amazing because they can give you the full-body transformation you're looking for. They provide firm control and can help to slim and shape all your curves.
All-over shapers come in a variety of compression levels, coverage options, and styles, so choose the one that is going to help you make a statement based on the outfit you want to show off!
What we recommend
The Leonisa Celebrity Style Body Shaper 018674 is a full-body sculpting shaper that provides one solution to all of your problem areas. It tames your waist, butt and thighs, providing you with a red-carpet celebrity look. This minimizer bodysuit is unique in its construction--it provides great control and reshaping from the underbust to the mid-thigh, while also allowing airflow to the body.
If you're looking for a light slip to wear under your holiday cocktail dress, the Slenderizer Lites Bra with Underwire by Body Wrap 47200 is a great option. This hosiery weight bra provides moderate control and shaping from the underbust to the top of the thigh, while also being breathable and comfortable. This slip is perfect for reducing back bulge and muffin top.
For a full-body transformation, try the Moderate Control Full Body Shaper by Leonisa 012727. This lightweight shaper extends below the calf and won't show through if you have a sheer dress, shirt or slacks on. It has flat-laying seams and a wide underbust band that won't dig in. The adjustable straps are also convertible and may be removed. This shaper will smooth and slim your entire silhouette from your midsection to your legs. The lifting bands woven into the back of this garment are a nice touch. They flatter your backside rather than flattening it, and create a beautiful, round shape using the open bottom design. You'll want to wear this garment every chance you get.
Enjoy Your Holidays with Shapewear for Every Occasion!
Shapewear is the perfect way to take your holiday look to the next level. With the right garment, you can slim your thighs, enhance your curves, and get a smooth foundation for all your holiday looks. Choose a garment that provides the level of control and shaping you need to feel your best. With shapewear, you'll be ready for anything the holiday season throws your way!