Posted by Hourglass Angel on Oct 17th 2022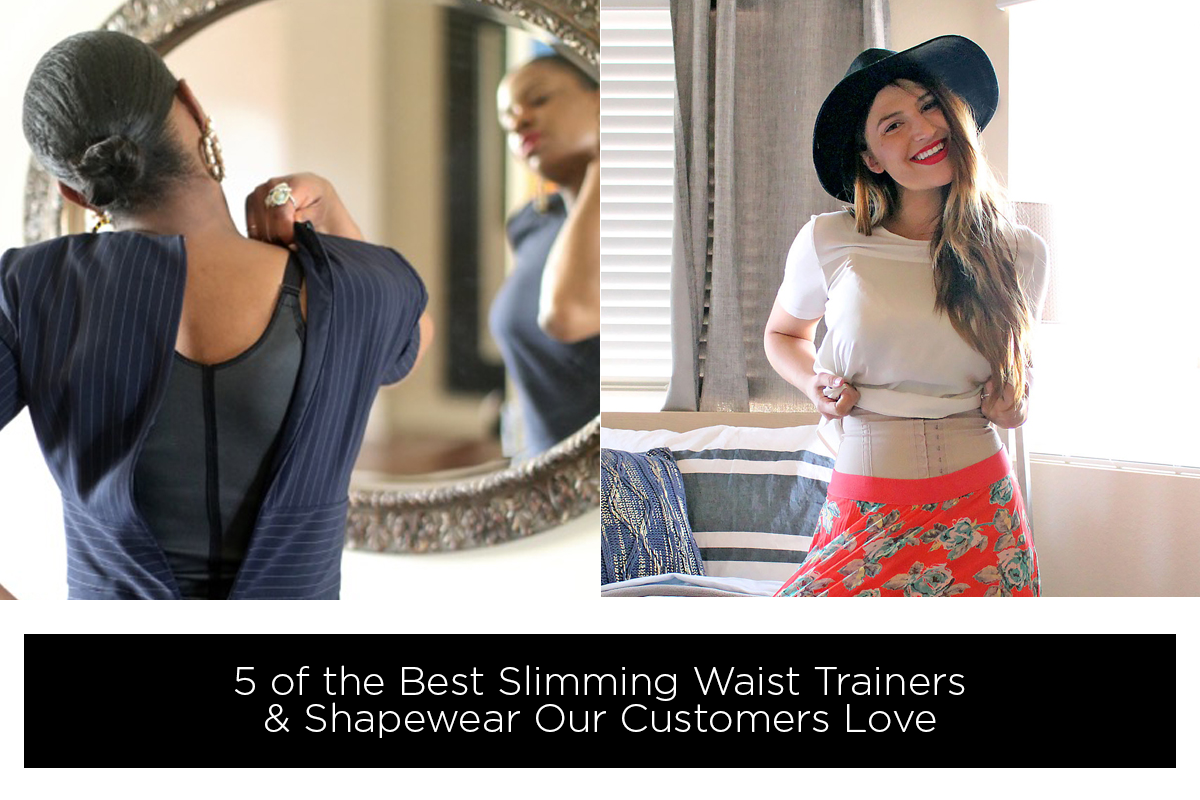 When it comes to waist trainers and shapewear, quality is a must if you want results. At Hourglass Angel, we carry the highest quality waist trainers and shapewear on the market. Each one has been carefully curated or designed in-house (and tested rigorously), so you can be sure you're getting the best products possible.
Within our extensive collection, there are many different waist trainers, corsets and shapers to fit each customer's unique needs, goals and body type. But there are a few favorites that we recommend to people who want to maximize their waist slimming while staying comfortable and stylish. Here are 5 of the styles we recommend most and that our customers rate highly.
Looking for a waist trainer that does more than just slim your waistline? This garment is sporty and stylish, with a design that will make you look even slimmer.
Made from high-compression latex and lined with soft cotton-spandex, this waist trainer will help you slim up to 3 inches from your waistline instantly. It also features nine columns of flexible steel boning for a straighter, more confident posture. Here's what our customers love about it:
BEST QUALITY EVER
I have been wearing my waist trainer 10 hours a day for the past month, and I have lost 15 pounds and 2 inches off my natural waist without the trainer on! My waist trainer is already getting looser, and next month I will be purchasing a Small! You have changed my life and my confidence. Thanks Hourglass Angel! I'll never choose anyone else!
-Alyssa R.
WORKS LIKE A CHARM!!!
I got the medium and it fit great on the last clasp, a month into wearing my waist trainer daily postpartum and my post pregnancy pooch was down and I was able to reach the smallest clasp setting by 2 months! Worth the money, feels great, improves my posture! I'm saving up to buy the small! I have a diastasis recti and this has helped in my rehabilitation! Thank you hourglass angel!!!
-Ciara M.
Get the hourglass figure you've always wanted with our high-compression latex waist trainer. It instantly shrinks your waistline by up to 3 inches and stimulates heat around your midsection to make you sweat harder during any exercise.
We also designed this hourglass waist trainer with flexible steel boning for maximum effectiveness. It works together with the latex to maintain your hourglass shape, while still allowing you to bend and move easily. Three rows of large hook-and-eye closures create a strong, secure fit while allowing room for progress over time—simply move to the next row as your body changes.
These customers raved about this all-star waist trainer:
IT REALLY IS THE BEST
This waist trainer really is the best. I've tried 2 other brands, but none have been as great as this one. One brand had a rib break through the seam, and the other one, let's not even start. I've been wearing this style under my gym clothes during HIIT classes and it's been fantastic. I have had zero issues with the girdle or my ability to perform as well as my classmates. I wear it for the abdominal support and I feel much more confident in everything from planks to kettlebell swings. I started in a size large (5'4", 170 lbs, size 14 pants, large shirts) and worked down to a small (5'4" 129 lbs, size 6~ pants, small shirts), and the sizing has fit perfectly in large, medium, and now small.
-Aimee M.
THIS IS AN EXCELLENT PRODUCT!
This is an excellent product! It fits according to the size guide and is comfortable to wear. It provides a lot of support without feeling too tight. It is like getting a big hug while you are wearing it. My clothes look better when I am wearing this waist trainer and I am already on the 2nd row of hooks after 2 weeks. I have a figure again!
Donna C.
This underbust corset, designed by our experts here at Hourglass Angel, is made with cotton fabric to provide a soft, gentle feel against your skin. The flexible steel boning provides powerful compression to slim your waistline into an hourglass shape, without any discomfort or pain. Plus, it's lightweight and available in multiple colors, making it easy to wear beneath your clothing.
Simply fasten it in front, lace up the back, and pair with your favorite bra. Shrinking your midsection has never been easier!
But don't take our word for it; here's what customers are saying about this corset:
GREAT! I LOVE IT!
I have gotten my first waist trainer 5 years ago and it was part of my journey losing 15 pounds. I have gotten the corset steel bone and I love it took me 3 weeks and already I am ordering a smaller size , I love to work out in my waist trainer as well! I will always recommend hourglass angel! The fit is perfect! Never disappointed with it. The quality is what brings me back to order more!
-Yannette A.
ABSOLUTELY LOVE!
I first got interested in purchasing a corset about a month ago. I found these and originally wanted the mesh material one but didn't come in my size so I settled with this one. I measured my waist and I was at 32 inches when I first ordered. Since that was the minimum for size 28 i decided to go with 26. It was all around perfect! It gives me that hourglass figure for sure! and brings my bust up too! I also always had a hunch and as mindful as I tried to be about sitting up straight I wasn't always able to keep that up, but with the corset on it kept me on check! I wear it as much as 16 hours a day for the past 3 weeks, it just feels odd now without it. I've gone down 2 inches on my waist and my little belly pouch has gone down as well. I absolutely love this and will continue to purchase!
-Stephanie M.
Sculpt your figure with our high-compression latex waist training vest. This vest-style trainer provides support to your bust and back, while instantly sculpting your midsection. It features steel boning for maximum effectiveness, and three rows of hook-and-eye closures for a secure fit.
Here's what customers love about it:
MY NEW 'VEST FRIEND'
I got this one because I had originally started with the black one size M. I kid you not I started the medium with a waist size 32" and I'm down to a 27.5 now been wearing this small for a few weeks now. It's tighter than the black one I had in medium and it has more hooks. I definitely can see it working in the long run. Quick tip, get some caffeine tightening cream to use with it!
-Taisha M.
POSTURE HELPER
This product is almost perfect for my needs. I bought it because it has a strap that goes around from front to back. This holds my back posture perfectly. It doesn't allow me not to stand up straight.
-Gloria S.
If you're looking for a body shaper that will give you a sexy, curvaceous figure, you'll love the Mia Corselette. This body shaper will slim your waist up to three sizes while enhancing your bust and rear. With its lacy finish, you can hardly even tell it's shapewear!
This beautiful garment is made of tri-layer lining, latex core and the comfort of cotton. It's fully adjustable and has an easy bathroom opening, making it the perfect all-in-one corselette for an evening of sexy style, class and comfort.
Here's what customers love about it:
MY GO-TO TRAINER
Sexy and slimming. I love the full coverage. Cinches waist and controls my mommy pooch without causing spill over/out. Comfortable enough to wear to work all day, and stays put. I work 50 hour weeks, 75% on my feet, 25% at a desk. 5'10 and 160lbs with a small frame and straight body, I ordered a medium. I carry my weight in the middle, and this gives my body the waist I aesthetically desire. This was my 3rd purchase of the same style. Highly recommend.
-Makala M.
AMAZING SUPPORT
Seriously sucked me in and gave me the waist I needed for my sexy holiday dress. As a mom who has had two C-sections I was worried about my lower stomach pooch the most, but this worked perfectly! Love it!
-Brooke D.
Discover the perfect shaper for you
These are five of the best slimming waist trainer and shapewear that our customers love, but keep in mind there are many other styles and solutions available to fit your specific needs. Whether you're looking for something to wear during your workouts or to provide everyday slimming, we can point you in the right direction.
Browse our current selection to find your perfect shaper or reach out if you need any guidance from our experts!