Posted by Hourglass Angel on Apr 9th 2021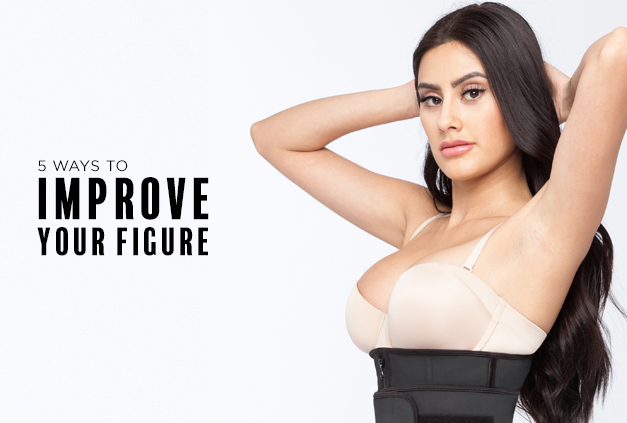 Do you have an event coming up where you want to look your best? Or are you finally ready to feel great in your own skin? Whatever the case, there's no time better than the present to start looking and feeling fitter, healthier and more confident.
While real change takes time, you can start making a difference today. In fact, here are five things you can do right now to improve your figure immediately and in the long term.
1. Dress for Your Body Type
One common mistake people make when they're unhappy with their size or shape is to try and hide it with big, baggy clothes. This actually makes your figure look worse. The key is to know your body type and to dress in a way that enhances your best features while minimizing your problem areas.
Women can be categorized into five main body types:
Apple: You tend to carry your weight around your waist and bust and have slim hips.
Pear: You tend to carry your weight in your thighs and rear, with a smaller bust and slimmer waist.
Rectangle: Your figure is relatively straight and you would benefit from more definition in the rear and bust.
Inverted triangle: Your shoulders and bust are wider than your hips.
Hourglass: Your bust and hips are similar in size, and you have a narrower waist.
Note that you can fit into any of these categories at any size, whether you're a size 2 or a size 22. There are several principles that can enhance all body types:
Slimming and defining the waistline
Creating curves where they lack
Drawing attention away from problem areas
Enhancing your most flattering features
For example, if you're a rectangle shape, you'll want to wear clothing that has more detail and can draw attention to your bust and hips: necklines, detailed sleeves and collars, and prints. For apple figures, wear tops that draw attention to the shoulders and neckline while concealing the waist and drawing attention to your slim legs. See 4 Tips for Creating and Hourglass Figure.
To improve your figure starting today, go through your closet and pull out all of your outfits that are baggy, don't fit or don't flatter your body type. Then create a shopping list for the styles that help you look your best.
2. Use Shapewear to Enhance Your Curves
Waist trainers and corsets:Get dramatic curve creation around the waist while eliminating common problems like love handles and muffin tops. This style of shaper features maximum compression for maximum slimming. Watch several inches come off your waistline.
Thigh shapers: A must have for pear body types, thigh shapers provide compression around the hips and thighs for a smooth, slim foundation. Most thigh shapers also serve as waist slimmers.
Butt-lifting shapewear:Enhance your natural curves with open-bottom or padded shapewear that creates a firmer, rounder butt. This type of shapewear is ideal under form-fitting bottoms and dresses.
All-over shaping: Sometimes you just need a boost all over. An all-over shaper creates a slimmer, smoother foundation, ideal for special occasions.
Start building your shapewear wardrobe and watch your figure transform! By having several pieces that you can rotate, you are assured to look good for work, home or a night out.
3. Start a Waist Training Regimen
If you want to really focus on improving your waistline, it's hard to beat a daily practice of waist training. By wearing a waist training garment 8–10 hours a day, you'll boost thermal activity and perspiration in your core. This practice pairs well with a smart diet and exercise plan and can help you stay on track with your weight loss or waist slimming goals.
The Size Me Down Adjustable Waist Trainer by Hourglass Angel HA113 is an ideal garment for a waist training beginner. It features four rows of large hook-and-eye closures so that you achieve the perfect fit, which can size down with you as you get slimmer. It's constructed with a latex core and reinforced with flexible steel boning, ensuring you get maximum compression for maximum results.
You can also amplify your waist training routine with a garment designed to enhance your workouts like the Zipped Up and Snatched Workout Waist Trainer by Hourglass Angel HA108. Using the double Velcro closure, pull it on easily and enjoy a more intense workout.
If you are ready for the next level of waist training, try a steel-boned corset like the Underbust Cotton Corset by Hourglass Angel HA202 for more dramatic results.
To get started with a new waist training routine, choose a waist trainer according to your current waist measurement and shaping goals. If you've never tried waist training before, start out slowly and gradually wear the garment more each day. After a few weeks you should be comfortable wearing your waist trainer all day. Track the results as you improve your figure.
4. Do the Right Kind of Exercise
Whole body strength training: This helps you burn fat while creating muscle definition. If you want more definition and slimming in your target areas, be sure to do strength training exercises for your whole body 2–3 times a week.
Cardio of varying intensity: Get your heart rate up and experience a plethora of benefits including burning more calories and improving your health and your mood. We love the benefits of high intensity interval training (HIIT), which can easily be paired with strength exercises for maximum results. Try to fit some cardio into your routine 4–5 days a week.
Balance and stretching exercises: These types of exercises prevent injury, improve recovery time and help you use good form during higher intensity training.
You don't need fancy equipment or a gym membership to get started with a good exercise routine. Check out the Most Effective Waist Training Workout.
5. Create a Sustainable Meal Plan
While it can be tempting to start a restrictive diet in order to get quick improvements to your figure, you may have difficulty keeping it up in the long run. The result is yo-yo weight loss, which isn't healthy and can make it more difficult to keep off weight you use in the future.
Instead, create a nutrition plan that makes you feel good and that is sustainable. Primarily eat plant-based foods along with lean proteins and healthy fats. Avoid processed foods, added sugars and drinks with empty calories. Eat 4–5 smaller meals a day instead of large portions to keep your metabolism steady. Do you what you can to plan your meals in advance and keep junk foods out of the house. Allow yourself to indulge every once in a while, and then go back to your plan.
It's also important to stay hydrated. This will help you feel full and avoid drinks that add a contain empty calories. Aim to drink at least half an ounce of water per pound of body weight per day—and more if you exercise or wear a waist trainer, so that you can replenish what you lose through perspiration.
There are many meal planning services out there along with coaches and certified nutritionists who can help you craft the perfect meal plan based on your unique dietary needs. These are services worth investing in if you're serious about improving your figure and your health. Contact someone today!
How Can I Improve My Figure? Summing It Up
You don't have to wait for a particular calendar date or life event in order to start improving your figure. You can start right now by doing a few simple things:
Create a wardrobe that is flattering for your body type.
Utilize shapewear to enhance your look.
Start a daily waist training regimen.
Do the right kinds of exercise.
Create a sustainable meal plan.
Be sure to check out our curated collection of shapewear and waist trainers if you want to achieve the best results. If you need help selecting the right garments for your needs, check out our blog or contact our team of expert stylists. We can't wait to see your results!