Posted by by hourglass angel on Apr 11th 2018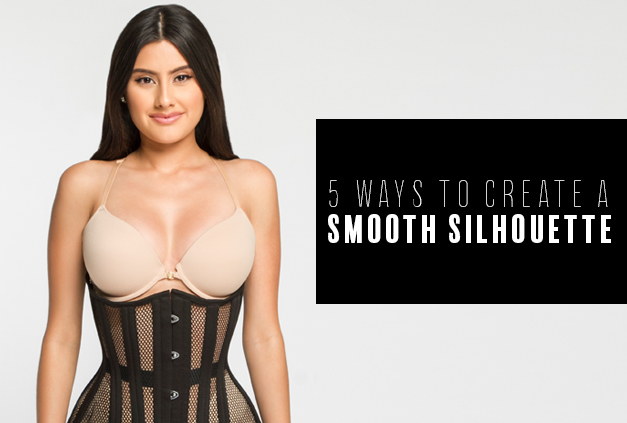 Looking your best, whether dressing for a formal event, for work or for casual attire, starts at the foundation. With the right shapewear you can create a smooth silhouette, which makes your clothes fit better and flatters your figure.
Here's why: most clothing looks best on a flat, smooth surface like a mannequin, but few women are actually built this way! A silhouette perfected by shapewear is such an important piece to your look. No matter what your body type, when your clothes are lying over a smooth foundation they will fall in the right places and highlight your curves.
Which shapewear is best for you depends on several factors including your trouble spots and the occasion you're dressing for. Here are five different ways you can get the effect of a smooth silhouette by using shapewear.
All-In-One Shapewear
All-over body shapers are the best way to create a smooth silhouette from top to bottom. They combat a number of trouble areas in one simple piece, including taming the tummy and lower abdomen. They smooth the whole midsection, lift the bust and control the hips. Some bodysuits slim the thighs as well, depending on how long the cut is in the legs.
Slips are another style of all-in-shapewear that provide uniform coverage and smoothing for the torso and hips.
All-in-one shapewear is an ideal choice for formal attire because gowns and dresses fit and flow better. All-over shapers also stay in place and can usually be adjusted for the best fit. Some women also prefer this style of shaper under professional office attire for the same reasons. Suits, trousers, pants and skirts all fit well and look good over top of a smooth shapewear foundation.
Some different options for all-over shapers include overbust and underbust, removable or adjustable straps, open bottom, slips and varying degrees of thigh coverage. You will also find that they come with different levels of compression. High compression garments create the most dramatic shaping and slimming results, while garments with less compression provide all-over smoothing and are typically a bit lighter and more breathable.
While we love all-over shapers for many occasions, there are a few downsides (which is why it's important to have other styles of shapers in your closet, which we'll talk about below). They are not easy to get on and off, which makes getting dressed take longer. Some styles can also be quite warm, which isn't ideal in warmer climates—although there are some lightweight options. And depending on the compression level, some garments might restrict your movement, which is not ideal when you're working out or on the move.
For those occasions when you want simple shaping solutions that are less restrictive and a bit more breathable, you may want to consider some alternative options for a smooth silhouette.
Panty Shapers
You're going to be wearing panties anyway, so it only makes sense to wear a panty that doubles as shapewear. Shaping panties tame the tummy and lower abdomen, prevent muffin top and can also enhance your rear. They are ideal for everyday use and create a smooth foundation whether you're wearing jeans and a t-shirt or are dressed up.
There are several types of shaping panties that can work for you depending on your needs and the occasion. Here are some of our favorites:
Waist Trainers
We'd be remiss not to mention our customer favorite waist trainers as essential parts of creating a smooth silhouette! These garments pack a powerful punch and can help you drop several inches from your waistline. They also lift the bust and eliminate muffin top, so you can easily achieve that hourglass waistline. Here are some of our favorites:
Corsets
You can kick the slimming power up a notch with one of our corsets for sale, which are designed to provide maximum sculpting for your whole midsection. While they are similar to latex waist trainers in the effects, steel-boned corsets use laces and steel boning to provide a customized fit and dramatic slimming of up to several inches. We carry corsets that are comfortable and sexy:
Thigh Slimmers
If you want to slim and control your thighs and hips while also tucking in your tummy and smoothing your waistline, these everyday thigh slimmers are the way to go. You'll get many of the same effects you'll find in an all-over bodysuit in comfortable, breathable material that you can incorporate into your everyday wardrobe, including casual, dressy and professional styles.
Between all of these options you can find the best shaper for pretty much any occasion. If you really want to have a versatile wardrobe, we recommend that you have several shaping garments that you can rotate through your wardrobe. With proper care, they will last a long time, and you will feel confident and beautiful every time you get dressed for the day.
Need help to select the perfect shapewear for your body type or a particular occasion? That flawless silhouette is just a click or call away! Our team of expert stylists would love to help you find the best style and size based on your unique shaping needs.