Posted by by hourglass angel on Jul 17th 2018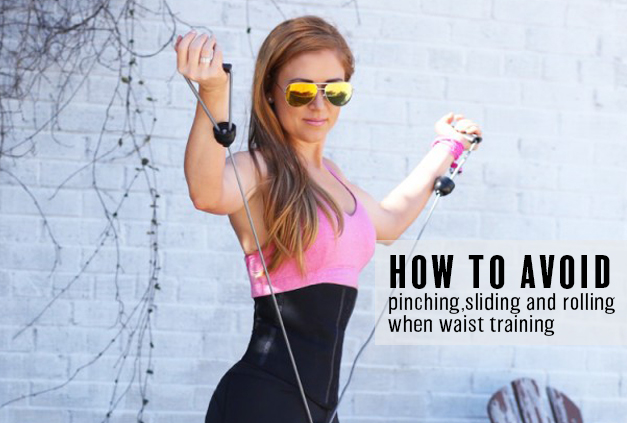 When you're wearing a waist trainer, the goal is to have a slimmer, smoother midsection and a flat tummy. You want your garment to stay in place all day without pinching, sliding or rolling.
However, we do occasionally get questions from customers whose waist trainers are doing just what they're not supposed to do, which can be frustrating! If your garment isn't staying in place, it's an indication that it's not fitting you correctly.
In order to get the most out your waist training experience, you'll want to have the absolute best fit. Here are some ways you can make sure that you're getting your ideal garment.
Sizing
Poor sizing is probably the most common reason why a waist trainer doesn't fit correctly or stay in place. If it is too big, it can shift. If it is too small, it can be extremely uncomfortable, pinch and even start rolling.
We can't emphasize enough how important it is to get your size right!
To ensure you're getting the best size, take your waist measurement any time you order a new waist trainer. Use vinyl or fabric measuring tape, and take the measurement at the narrowest part of your waist, about two inches above your belly button. Make sure that the tape is level and that you're not stretching it tight or letting it hang loose.
Once you've taken your measurement, consult the size chart for the garment you want very carefully. Not all brands measure the same, and we've customized our charts. When in between sizes, always go a size bigger, NOT smaller.
It's also important to try on your garment at home before you start wearing it. Step into it gently and fasten it. A waist trainer that fits well will feel very snug, but it should not pinch or hurt in any way, which would indicate that it is too small.
Style
There are many different body types, which is why we like to offer many styles of waist trainers. Sometimes you may not be getting the most flattering results because you're not getting a style that suits your unique dimensions.
Here are some features to look for that can benefit different body types:
Two rows versus three rows of hooks: If you are a petite or straight figure, you're probably going to fit better into a waist trainer that has two rows of fastening hooks. If you plan on dropping several inches over the course of your waist training journey, you may prefer three rows so you have more room to size down. The Best Latex Waist Trainer by Hourglass Angel HA102 offers powerful slimming on three rows of hooks from XS to size 5XL.
Vest style: This style of waist trainer with shoulder straps is ideal if you have a larger bust or want more compression coverage for your back. If you have a high bust-to-waist ratio, you may want to choose garments that have adjustable straps; otherwise the top may feel too tight and the waist too loose.
Steel-boned corset vs. cincher: Most people who are new to waist training start with a latex cincher that is secured with hook-and-eye closures, but if you want an even tighter precision fit with dramatic slimming effects, a lace-up corset may be for you. A corset is a good option for someone who is plateauing with their waist training. If you want to step up your game, we recommend the sexy and light Underbust Waspie Mesh Corset By Hourglass Angel HA201.
Workout band vs. everyday waist trainer: Workout bands are constructed more durably and a bit shorter than everyday waist trainers, while everyday waist trainers are easier to conceal under attire and can be worn for longer periods. Try using both styles for different purposes, and you'll probably be more comfortable while achieving better results. The Faja Reductora 3 Hook Workout Waist Trainer By Ann Chery 2023 is an example of a beautiful workout trainer that is selfie-worthy.
Compression Level
Compression level can affect the way a waist trainer fits as well. Steel-boned corsets are going to give you the tightest fit because they can be tightened as much as you want and are reinforced with steel. When properly fitted they should not budge. Workout bands and everyday waist trainers have firm compression, but over time they may start to wear out or feel loose when you size down.
The Hourglass-Effects Waist Trainer By Hourglass Angel HA105 and our other signature waist trainers combine the best of cinchers and corsets with a high compression latex core, reinforced with flexible steel boning, for the maximum compression you can get from a latex cincher.
If your waist trainer isn't fitting quite right, consider the strength of its compression. A high compression garment that hasn't worn out will give you the most flattering fit and results without pinching, rolling or slipping around.
Length
Since women's torsos are different lengths, waist trainers also come in different lengths. Workout bands and short style corsets can be great options for petite women, as they won't pinch at the hips. The Petite Latex Waist Trainer by Hourglass Angel HA100 is a great option that comes with a short cut up to size 5XL.
However, if you're tall or have a long torso, you'll probably prefer a longer garment that provides full coverage from beneath the bust all the way over the lower abdomen.
Styling Tips
If your waist trainer still doesn't feel quite right even if it is a good fit, you may find that it is more comfortable if you wear a cami underneath. This will help absorb the sweat around your midsection and will also protect your waist trainer from your skin's natural oils. You may also find it more comfortable and less likely to shift or pinch when there is a thin layer underneath.
It can take a bit of research, trial and error to get the fitting of your waist trainer just right, but stick with it and you'll love the results.