Posted by Hourglass Angel on May 1st 2019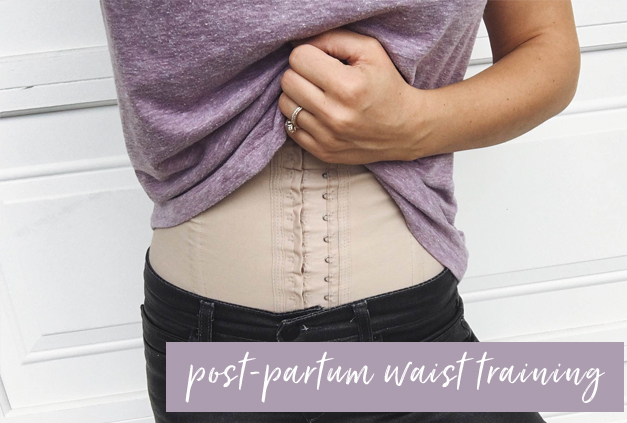 Binding your belly after childbirth is a time-tested technique to support your abdomen that has been practiced around the world for centuries. Today, since waist training has grown so popular, it's natural to ask, how long after pregnancy can you wear a waist trainer?
To answer that question, it's important to understand what waist training is and how it might affect your body in the postpartum period.
Once you're ready to try it yourself, be sure to get the OK from your healthcare provider before you proceed with any of the tips below.
Benefits of Compression after Childbirth
The body undergoes substantial changes for about six months postpartum, especially in the beginning. It takes about six weeks for your uterus to shrink back to its normal size, and it takes about a month to flush out the extra fluid that your body was carrying during the pregnancy. Hormones that help the muscles and ligaments in your abdomen stretch, such as progesterone and estrogen, remain elevated in the body for several months.
Wearing a compression garment like a waist trainer has several benefits during this period. It provides support to the back and abdomen as they regain their strength and shape, which can lessen the strain on your back and joints and help you feel more comfortable. It also keeps your stretched-out muscles in alignment as they return to their normal places. And by stimulating heat and perspiration in your core, it assists your body as it flushes out excess fluid.
When to Start Wearing Waist Trainers
You can start wearing a waist training garment after a couple of days of giving birth, but be mindful of the amount of compression that you use. In the early stages especially, you'll want gentle compression that provides support as you heal. Listen to your body and take note about how it feels—the goal in the first six weeks is not to lose weight but to heal your body and care for your child.
You can use a special garment in the early postpartum period designed with lighter compression, or you can use a waist training garment that is large enough to accommodate for your swelling midsection comfortably. You can try using a high compression waist trainer a size up or on the loosest setting.
Once you've passed the six-week mark, if you have healed and have the go-ahead to exercise from your healthcare provider, you can start using a higher compression waist trainer or tighten the one you have. Most latex waist trainers have 2-3 rows of hooks that allow you to tighten them as you size down. Many women prefer waist trainers with the 3 rows of fasteners so that they will have more space to size down using the same garment.
How to Get Started with Waist Training After Pregnancy
While everyone is a little bit different, here's what you can expect in the postpartum period if you want to start waist training to support your abdomen and back as you heal.
Weeks 0–6: Once you're home from the hospital, you can start wearing a garment that provides gentle compression and support for your abdomen like the First Stage Marena Suit with Suspenders and No Leg by Comfortwear FBA. The compression of the garment helps keep swelling down while promoting tissue healing during your recovery process.
Also use this time to get a lot of rest, hydration, and nutritious food, while bonding with your newborn. Wear your waist trainer as long as it is comfortable, but take it off if you prefer to relax. You don't need to wear it all the time.
Week 6: You can start wearing your waist trainer tighter and for longer periods. Wear a high compression waist trainer for just and hour or two at first per day, and then gradually add more time as you feel comfortable.
An excellent garment for this stage is the Second Stage Marena Support Girdle with No Legs by Comfortwear LGA2. This is a stage 2 compression garment, which means that it has a little more compression and, is sized slightly smaller than a stage one garment.
Now is also the time, if your healthcare provider gives the go-ahead, to start a gentle exercise regimen. Go for a walk with a stroller and establish a good routine. Even if you're only wearing a waist trainer for a short period each day, your time exercising will be well spent.
Week 12:By now, you can expect to have normalized your new routine. If you're practicing a daily waist training regimen, by now you should feel comfortable wearing your waist trainer for at least 8 hours a day. You can rotate between an everyday waist trainer for when you're working or at home, and a workout band for when you're exercising. We recommend the Best Waist Trainer by Hourglass Angel HA102, which has three rows of hooks and gives you ample room to size down over the following weeks and months.
Remember, regaining your body after pregnancy takes time, so be patient. Hormones that relax your muscles and ligaments will be in your system for up to 6 months after the birth; what's more, it took 9 months to stretch out your body to begin with!
Waist training works best in combination with adequate exercise and a sensible diet. Focus on drinking lots of water and eating whole foods while avoiding sugar and refined carbs. Not only will your body thank you, but you'll feel more energized as you respond to the needs of your child.
While you should start out with a gentle exercise routine, especially since your muscles and ligaments will be more relaxed, gradually introduce higher intensity workouts with a mixture of strength training and cardio exercises. Ideally you'll want to work out almost every day.
A gym that includes childcare as part of your membership is a great way to get a break and take care of yourself while you work on your fitness goals. Or, you can try to do workouts with a jogging stroller, or even at home while your little one is sleeping. When you don't have time for a full workout, going for short walks or choosing to take more steps—like going up stairs when possible, or parking farther away from your destination—can contribute to your health and body composition (not to mention generate endorphins and boost your mood!).
Choosing a Postpartum Waist Trainer
Which waist trainer you use will depend on what makes you most comfortable in the postpartum stage you are in. Go gentle immediately after the birth, and try firmer compression the longer it has been.
Be sure to check out our collection of postpartum waist trainers and find the best solution for your needs.