Posted by Hourglass Angel on Jan 23rd 2019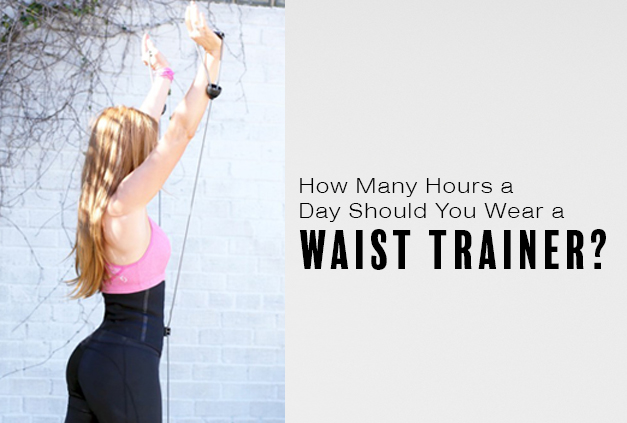 You can wear a waist trainer in a number of ways. Some people just like to wear them during workouts. Others wear them for special occasions or when they really want to dress to impress.
But those who are most serious about getting the best results from waist training wear a waist trainer every day.
So the question is, in order to get the best results, how many hours a day do you wear a waist trainer?
The answer, of course, depends on your goals with waist training. If you're not sure, here are some best practices to help you wear your waist trainer for the right amount of time, whether on a daily or occasional basis.
What Is Waist Training?
Before jumping into best practices, it's important to explain what we mean by "waist training," as it doesn't always mean the same thing.
When we use the term "waist training" for the remainder of this article, we're referring to the practice of wearing a waist trainer every day, as a part of a healthy lifestyle plan. When worn daily, a waist trainer—along with proper diet and exercise—can be an integral part of your waist slimming journey, helping you stay motivated and confident along the way.
Related: The Ultimate Guide to Waist Training
In contrast, you can wear a waist trainer for workouts or special occasions, but if it's not part of a consistent, it's not waist training.
Getting Started with a Waist Training Regimen
When you first start out wearing a waist trainer daily, you'll want to ease your way into the practice. In other words, don't jump into your brand new waist trainer and keep it on all day! Your body needs time to adjust to the feeling of high compression, and your garment also needs some time to break in—just like a new pair of shoes.
First, make sure your new waist trainer fits properly. If you're using a style with hook-and-eye closures, fasten the lowest closure first in front of your waist and work your way up the garment. We recommend fastening the hooks at the narrowest part of your waist and then pulling the garment down as you move along.
If the garment fits well, it should feel very snug once the hooks are all secure. While it may be tricky to put on, you shouldn't have to yank or pull the garment hard to get it to fasten. This indicates that it is too small, and if you force it too much, you risk damaging it.
This is why it is important to make sure you order a garment that fits correctly and is best suited for your body type. Be sure to follow the sizing chart on the garment you order and to take accurate measurements.
Related: Waist Trainer Sizing Tips: Everything You Need to Know
If your waist trainer fits well, wear it for a maximum of 2 hours on the first day.
Your torso will not be used to the feeling of sitting or standing so straight and will need time to adjust.
From there, you'll want to gradually wear your waist trainer for a little longer each day. Add time in 1-2 hour increments. If you find that you want a break but haven't met your daily goal, you might want to split your time into two blocks (e.g. two hours in the morning and two hours later in the afternoon). You can also take a break for a day or even ease up after a longer day.
Here's an example of a waist training schedule for a beginner:
Day 1: 2 hours
Day 2: 4 hours
Day 3: 4 hours, split into 2 sessions
Day 4: 6 hours
Day 5: 5 hours, split into 2 sessions
Day 6: 7 hours
Day 7: break
Day 8: 6 hours, split into 2 sessions
Day 9: 8 hours
Day 10: 4 hours, split into 3 sessions
Day 11: 9 hours
Day 12: rest
Day 13: 4 hours
Day 14: 4 hours, split into 2 sessions
Day 15: 6 hours
Day 16: 5 hours, split into 2 sessions
Day 17: 7 hours
Day 18: 8 hours
Day 19: 9 hours
Day 20: 10 hours
Day 21: 11 hours
See the full plan: Full-Figure Sculpting Challenge
After about three weeks, you should feel comfortable with wearing a waist trainer for at least 8 hours on most days. You can chose to wear it for a maximum of 12 hours so that your body has time to rest, and your waist trainer can retain its shape.
We also highly recommend that you incorporate a well-rounded fitness routine with your waist training regimen for the best results. In this way you'll be burning fat and building strength while the waist trainer does it work. We've got several workout waist training plans if you want more inspiration getting started:
14-Day Guide to Waist Training
45-Day Waist Training & Posture Challenge for the Career Woman
30-Day Waist-Trimming Challenge
Notes if You're Waist Training with a Steel-Boned Corset
While many people prefer waist training with a cincher style band with hook-and-eye closures (typically constructed with latex), wearing a steel-boned corset with a lace-up back is another waist training alternative.
You may prefer a corset if you want dramatic results from your waist trainer or have grown accustomed to wearing a cincher and want to take it to the next level. Since they are constructed with steel, corsets are durable and will not lose compression power over time. They can also be tightened to a custom fit whenever you wear them. And since they are latex-free, they are a good alternative if you have a sensitivity to latex.
Before you jump into your corseting regimen, be sure you know how to season your corset. This style of garment requires more time to break in and mold to your figure than a latex cincher does. If you tighten your corset too quickly, you risk warping it.
To season your corset, you'll need to wear it loosely for an hour or two a day for about two weeks. Pull the laces tight enough so that the garments stays on, but not tight enough to provide significant compression. After two weeks of daily wear (this is something you can do in the early morning or late evening hours at home), the garment should be molded to your figure. You should be able to tighten the laces fully, which will slim your figure by several inches.
Related: How to Season a Corset
Once the corset is seasoned, you can start using it in an everyday waist training regimen, similar to how you would with a latex cincher. You can gradually add more wear time each day until you're comfortable wearing it 8–12 hours a day.
Wearing a Waist Trainer During Workouts
Certain waist trainers are designed to enhance your workouts. While we highly recommend including waist trainer workouts as part of a daily waist training regimen, most workout waist trainers are not designed for all-day wear. What's more, you'll get quite sweaty in a workout waist trainer and will want it to dry out.
This is why we recommend using a workout waist trainer in addition to an everyday waist trainer. You can count your workout time towards your total time wearing a waist trainer.
So, you might wear a workout band for about an hour in the morning during a workout and other parts of your morning routine, like breakfast. After you shower, you could change into an everyday waist trainer or steel-boned corset to enhance your work outfit. After work, you could relax and take off your waist trainer so that it can regain its shape overnight.
Or, if you're not interested in all-day waist training, simply wear a waist trainer during your workout and dress as you otherwise would for the rest of the day.
Waist Trainers for Special Occasions
If you are interested in wearing a waist trainer for a special occasion like a wedding, be sure to give yourself adequate time to adjust before the big day. Just as you would break in a new pair of shoes, we recommend wearing the waist trainer for at least a couple of hours a day for two weeks leading up to the event.
While it's not strictly necessary to wear a waist trainer every day before an event, you'll be a lot more comfortable, especially if the special event is for more than a few hours. (And don't forget, be sure to have your garment fitted with your waist trainer for the best fit during the big day.)
And even if you don't want to practice daily waist training for the long-term, some brides and even bridal party groups like to practice waist training as a way to slim down for the event. Be sure to check out the Bride's Ultimate Waist Training Timeline for tips on how to approach waist training in the weeks leading up to a special occasion.
Did we answer your questions about how long to wear a waist trainer? If not, our team of expert stylists is happy to help.