Posted by by hourglass angel on Jul 18th 2017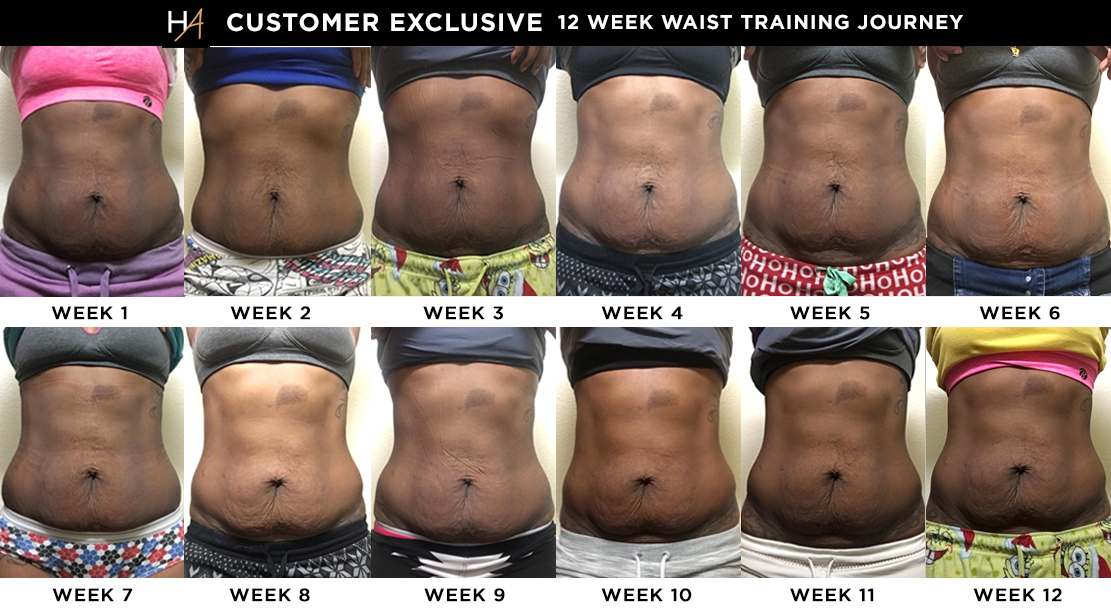 Denice is a mother of three, a medical-office receptionist and a full-time student who is studying to become a Medical Assistant. Back in 2014, Denice was pregnant with her first son and had gained 80 pounds. Like many new moms, she struggled to get pre-baby figure back after childbirth. Additionally, she began having issues with self-confidence, which created even more roadblocks.
It wasn't until she tried waist training that things started to turn around. The immediate slimming effect gave her the confidence she needed to pursue her weight-loss goals and amp up her workouts. She has tried a few garments over the last several months, as well as waist training gel, and she's seeing the results of these long-term efforts. Today, everyone is noticing Denice's transformation, including her husband, who told her, "I didn't think that waist training thing was going to work, but you look amazing!"
Denice's story is an inspiration for anyone who has started out waist training with big goals. Her perseverance shows that even when life circumstances make it difficult, waist training will pay off in the long run. In this inspiring interview, Denice reveals how she did it—plus check out our tips after the interview about how to overcome your own obstacles and get into an effective groove.
Tell us a little about yourself.
I am a Receptionist for the Consulting Nurse Service for Kaiser Permanente of Washington. I am also a full-time student, currently studying to get my AAS (Associates of Applied Sciences) as a Medical Assistant. I also have three little boys at home. Two biologically and one foster child, it can be tough at times but my husband and I make it work.
Why did you decide to try waist training?
When I became pregnant with my first son I weighed 131 pounds. Fast forward 9 months, I was 210 pounds. This was my first pregnancy and I gained 80 pounds! I thought that once I had him all the weight would just fall off. Boy was I wrong because it did not, my son was 8 months old and I still weighed 195 pounds! I couldn't believe it! I did not know how big I was until I saw a graduation picture of me after I completed my CNA course; this was unacceptable for me as I have never been a big person.
I knew I needed to change. I had heard of corseting but I did not think I was ready for that so I decided to give waist training a try. I searched and searched for a reputable website to purchase from and I found Hourglass Angel. It was even more awesome when I saw they carried the Ann Chery brand everyone raved about so I thought "Why not give them a chance." My goal was to get my waist from 33 inches back down to the 25-26 inches it used to be, while losing weight and trying to burn off this "mommy pouch."
I also decided to give waist training a try because I developed diastasis recti after having my second son. Diastasis Recti is when your abdominal muscles separate during the gestational period and stay separated postpartum. I had a four-finger gap with a hernia, it hurt tremendously not to have something supporting my stomach and a waist trainer was a cute way for me to do that! I had no clue at that time it would help me close the diastasis recti gap.
What garments did you use, and why?
I have used a few garments, most being Ann Chery. The first I used was the Animal Instincts because it was big enough for me at the time and was cute! :)
The other garments I purchased were the Ann Chery Latex 3 row hook-and-eye closure and the Amia Workout Cincher in pink. I purchased both of those because I realized quickly with the Animal Instincts that I needed one I could workout in and another one to wear all day. I used these because I have a medium length torso and they fit me well enough not to dig into my hip bones when I sat down or leave my bottom belly fat out. The hook-and-eye closure was also built sturdy so I wasn't afraid I would pop them at all.
Then I tried the Amia Vest which I actually LOVE mostly because it covers the back fat and has a tight hold. It did make me nervous to put it on because of the hook-and-eye closure. The hook-and-eye is sewn in cloth and I'm used to it being in the latex so it made me nervous to put on and to my surprise it never popped or lost a stitch and it shrunk my waist by over an inch.
Most recently I tried the Hourglass Angel brand, Core Slim Latex Waist Trainer with Zipper and the AMP Your Curves Waist Training Gel. I was asked by Hourglass Angel if I would be willing to try both and of course I said YES! Especially to the gel, I needed something to help my sagging and I hoped the AMP Your Curves gel would.
What were your first impressions?
My first time putting on a waist trainer I thought, "Oh no! I ordered the wrong size" and measured my waist another two times just to make sure I did it correctly. I took me a good minute but I got it on. At first I felt like I thought, "There is no way I am going to be able to wear this ALL day!" So I wore it for a few hours at home on my day off. Once I finally got it on I could not help but notice how gorgeous and curvy I looked! I was no longer embarrassed to be 190 pounds; I was happy. I started to love myself again and that made me go even harder when it came to waist training and getting results.
What was your waist training routine?
When I first received my first garment I could only muster 2 to 4 hours in it. I did that for about 3-4 days. After that time I was able to wear it anywhere from 4 to 6 hours. And at this time I was able to work out while I wore it. After about two weeks I was able to increase my wear up to 8 hours a day. Eventually I wore my garments up to 12 hours a day, never less than 10 hours a day. I purchased a separate trainer for working out as you sweat a lot in the abdominal area while working out and I don't like to put the damp trainer back on.
Most recently I have not been able to work out or be active, as I had foot surgery prior to wearing the garment so the entire time I was using crutches to get around or just sitting. I tried to wear the Hourglass Angel brand garment every day but I did miss a few. My goal was to wear the garment at least 10 hours a day. In the beginning, I could only wear it about 4 hours and gradually it increased to 8 hours, I never got to the 10 hours I hoped to reach but there is still time.
Did the garment meet your goals and expectations? How so?
My first waist training garments exceeded my goals. I expected to lose maybe an inch off my waist, nothing more. But this garment has shrunk my waist over an inch after a few weeks.
With my most recent experience with the Core Slim waist trainer, in terms of the look and feel I think the garment exceeded my expectations. Its soft on the outside and the zipper gave me the extra confidence I needed in the garment. Sometimes I wonder if the hook-and-eye closures will hold for me, having the zipper gave me that extra security. The gel went ABOVE and BEYOUND all I could have imagined! I had sagging on the right side of my belly, much more than the left side. After 1 week of using the gel every day while waist training I could see an enormous difference. I am still amazed with how well the gel works with consistency.
What were your diet and fitness habits during your waist training journey?
I am a terrible eater. I cook almost all of my meals so I am not the type to eat out a lot, but I did not stop eating my lumpia, adobo, teriyaki chicken or rice. I did use coconut oil to fry any foods that required frying. I did however incorporate more fruits into my diet.
When I first started waist training, my goal was to workout at least 5 days a week, but I only managed to get a one hour workout in 3 times a week steadily, at times I would do more but never less than 3 times a week. I wore it around the house while cleaning and playing with my boys as well.
Most recently, my diet has been basic. Because I am not able to work out like I want to I try to stick with eating healthy but it doesn't always work. Even with all that I was able to maintain my waist measurement at 26" AND I managed to gain a pound or two. Lol
In the past, have you faced any challenges with weight-loss or fitness?In the past I have never had any weight issues, I was always a small girl. After my first son in 2014 I suffered from insecurity due to the weight I gained and never lost. Purchasing a waist trainer made me feel beautiful again. It gave me the confidence I once had and showed me no matter what size I am, I am still the same beautiful woman I was before the weight. It motivated me to lose the weight because of what I thought about me, not anyone else's opinion. Today I am still on that journey and I am WINNING!
When did you start seeing results?
Once I put my first garment on I immediately say a 2-inch decrease in my waist measurement. My curves were more pronounced and no longer hidden. Through taking photos in the long-term I can most definitely see results, my waist is noticeably smaller, I feel sexier. Also when I don't wear the garment for a couple days the results are still there and noticeable! J
Has anyone else noticed your results?
My husband has noticed my results and he loves them. He actually said "I didn't think that waist training thing was going to work, but you look amazing!" My mommy friends and sisters-in-law always ask what I've been doing. As a matter of fact one of my in-laws asked if I got lipo! I laughed and lifted my shirt to show my "mommy pouch" and told her it's my waist training routine!
What would you say to others who are thinking about trying waist training?
If you are thinking about waist training go ahead and try it! It can change your life like it has positively changed mine. Some trainers are a little pricey but it is worth it to invest in yourself, you get what you pay for and they hold up FOREVER! Keep in mind everyone is different and it takes time but with hard work and dedication you will see the benefits. Oh, and take pictures! I cannot stress this enough, a lot of the time I don't see changes and it is discouraging for me, makes me think why am I doing all this?! Then I go back to my pictures and do a side by side from the beginning until now, and let me tell you, you can see the magic! Most importantly do this for YOU because you want to better YOU!