Posted by hourglass angel on Jul 1st 2017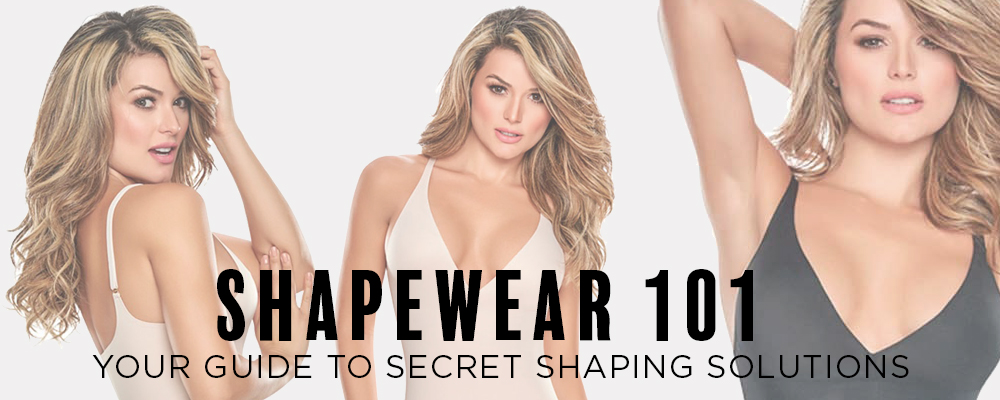 At Hourglass Angel we're proud to be known for our waist trainers, but what you may not know is that we have a whole lot more. Waist-slimming cinchers and corsets are just one type of a broader selection of items every woman needs to have in her wardrobe: shapewear.
Shapewear isn't just for special occasions. When you know how to use it, it can be an essential part of your wardrobe, each and every day, no matter what your age, your personal style preferences, your size, or your body type. Celebrities aren't ashamed to use shapewear, and neither should you be!
Shapewear is useful anytime, anywhere, because it enhances your figure's silhouette in all the right places. Every woman deserves to feel confident about her body. With the right shaping pieces you can build a foundation for any outfit. Your clothes will fit better and you won't have to worry about whatever tends to make you self-conscious. You can discreetly hide, slim or enhance pretty much whatever target area you want.
There is so much to know about making shapewear work for your wardrobe, and that's why we put together this guide. When it comes to body shaping, there's something for everyone.
Waist-Slimming Solutions
No matter what your body type, anyone can benefit from a slimmer, smoother waistline and flatter tummy. You may already know about our waist trainers, which are best sellers for good reason. We talk a lot about how to make cinchers and corsets work for your style and your shaping goals. Be sure to check out our latest guide.
But wearing a waist trainer isn't the only way to slim down your waistline. Here are a few other ways that you can enhance any outfit using shapewear:
Shaping panties: One of the most common styling issues that women face is preventing muffin tops and love handles. High waist shaping panties are a no-brainer, comfortable way to control your waist. They provide firm hold from your lower abdomen up to below the bust. You might even wonder why you ever wore anything else.
Bodysuits: Whether you're dressing up for a special event or you just need some extra slimming power for your everyday attire, all-in-one bodysuits typically emphasize slimming the waist while providing additional shaping power for the target areas of your choice.
Jeans and leggings: High waist cuts are in style right now, and they can be very flattering for anyone wanting to emphasize a thinner midsection. Some leggings provide slimming compression up to right beneath the bust, while some just provide extra control for the lower abdomen, in essence eliminating muffin top.
Shaping camis: These are more no-brainer solutions every woman should have in her wardrobe, because they work with so many different styles, especially in layers. You can choose one with a built-in bra for convenience or with an open bust to pair with your favorite bra for optimal shaping and support.
Thigh-Slimming Solutions
We love curves, and we know how to enhance and control your hips and thighs exactly where you want to. You can find many thigh shapers that also slim the waist. These styles can be worn for dressing up or for everyday apparel. Here are a few of the options you should know:
Long leg: These shapers provide slimming and control from the waist down to your calves.
Mid thigh: These easy-to-wear shapers are popular for their versatility. They're short enough to wear under dresses without revealing your secret, while providing powerful contouring for slimmer, smoother thigh and hips.
Full thigh: These options are slightly longer than the mid thigh styles, perfect if you want coverage and control down to the knee.
You can also get thigh control from a variety of shapewear bodysuits and slips, depending on what kind of coverage you want.
Butt-Enhancing Solutions
Believe it: you can have the perfect butt, no matter what your natural body type is. The key to making it work is to enhance what you've got and draw attention to the right parts. Our butt lifter shapewear and shaping apparel can help you do just that. Here are the options:
Padded enhancement: There's no shame in having a padded bra, so neither is there any shame in having padded panties and shapers. These options will help you get balance in your figure if you lack curves on your backside.
Butt-lifting shapers: Another way to enhance your butt is with an open-bottom or butt-lifting option that takes your natural curves and makes them rounder and fuller.
Butt-lifting leggings and jeans: Sometimes it just takes the right bottoms to show off the perfect butt. Shaping jeans and leggings are specially cut and constructed to create a lifted, fuller look for your backside.
Back Coverage and Support
No one likes to talk about "bra bulge" but it can be a very common issue. In addition to having a sexy bra that fits, there are a few back control shapewear options that can smooth out your upper back and even support better posture.
Vest style waist trainers: These offer all the benefits of waist training bands with the additional support of shoulder straps. They cover your bra line so no need to worry about what's showing.
Strapped bodysuits and slips: These shapers slim and sculpt wherever your target areas are with the added benefit of back coverage over the bra line.
Other Target Areas
The above categories literally cover most shaping needs, but there are a few remaining options that might be important to you:
Lower ab control: This can be a very stubborn target area that not every waist-slimming shaper will cover. If this is a concern of yours, choose a shaper designed to cover well below the waistline.
Bust enhancement and support: Filling out and supporting your breasts starts with a great bra, but there are other ways to support them further. Many waist trainers and body shapers provide the added benefit of more lift and control.
All-over shaping: Hopefully by now it's obvious that there are many shaping solutions that enhance all over! Note that the stronger the compression, the more dramatic results.
Workout Shapewear
Don't hide behind baggy pants and t-shirts when you're at the gym or out on a run! We have a wide selection of workout shapewear that is designed to make you look hot while working out, plus compression apparel that helps you sweat harder for a more effective workout.
Workout bands: This style of waist trainer is fun to show off and can be an effective part of an ongoing waist training regimen.
Compression leggings and shorts: These workout bottoms will effectively slim your hips, waist and thighs whit intensifying your workouts.
Compression tops: You can sweat hard while feeling cool and looking great in supportive, waist-slimming tanks.
Shapewear for Special Occasions
Whether you're dressing up for a wedding, dance or some other formal event, you can perfect your formal look by setting your gown's foundation in shapewear. If you're getting custom alterations (such as for bridal attire), you'll actually want to wear your shapewear when you're doing your final fitting.
Which shaper is ideal depends on your dress as well as what you want to conceal or enhance. Here are a few go-to items for everyone in a bridal party:
Bustiers and longline bras: These are classic garments for strapless gowns that provide a firm lift for the bust while whittling in the waist.
Corsets and cinchers: A slim waist is flattering on everyone. Use a corset or cincher to accentuate an hourglass waist, perfect for A-line dresses and other styles that bring in the waist.
Seamless bodysuits: These are ideal for creating a smooth foundation for sheath dresses and other clingy styles. You can choose from styles that lift or minimize the rear, including thong back options.
Shaping slips: Get an all-over smoothing effect with slips that either have a built-in bra or can pair with the bra of your choice.
Backless support: Yep, you can get figure shaping and bust support even in a low-back or backless top or dress.
Check out The Best Shapewear for Wedding Dresses for even more tips.
As you can see, the options are pretty much limitless when it comes to shaping and sculpting your figure, so you can feel confident in your own skin. Whether you like dressing up to impress or you'd just like to feel more comfortable and sexy when you're in casualwear, rotating several pieces of shapewear through your wardrobe can have a transformative effect.
Here at Hourglass Angel, our team loves helping women of all shapes and sizes discover the perfect look—and to get it right when ordering online. After you've browsed our selection and taken a peek at the advice we've posted on the website, you can also contact our expert stylists to answer any further questions and find exactly what you want.
No matter what your natural size and body type, we believe that everyone can #BeTheHourglass and feel great about the way they look.