Posted by Hourglass Angel on Dec 18th 2019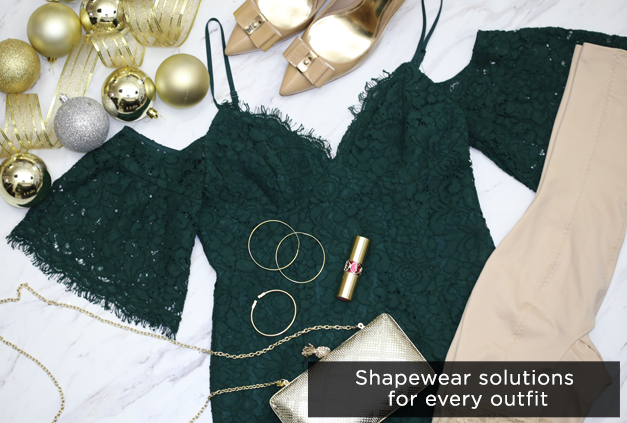 Is shapewear just for special occasions, or is it better suited for everyday apparel? The answer is—both! Shapewear comes in many styles and can enhance any body shape for any occasion, so you can feel confident and sexy whether you're relaxing at home, working at the office or showing off at a special event. Choose your ideal shapewear based on your target areas and the occasion you're dressing for.
If you need inspiration, check out these shapewear solutions for your wardrobe and discover the perfect shapers for every outfit. You'll never have to wonder what to wear again!
Best Shapewear for Jeans + Casual Tops
Who doesn't love relaxing in their favorite pair of jeans and a t-shirt or flirty top. This is a look that you can wear at home but also dresses up easily with a pair of heels and some flashy accessories.
There are a few ways to use shapewear for a stunning look in your casual attire:
Waist trainers: create a flattering figure with one simple garment that creates powerful slimming. The Best Waist Trainer by Hourglass Angel HA102 is one of our favorites. This cincher takes up to 3 inches off your waist measurements instantly and will tuck comfortably beneath your jeans.
Shaping panties: eliminate muffin top, flatten your stomach and create a smooth midsection. You're going to be wearing panties anyway, so why not wear some that enhance your figure? The Mid-Waist Butt-Lifting Control Panties by TrueShapers 1275 fit just as comfortably as your favorite pair of underwear (if not more so), with the added benefit of enhancing your rear and lower belly area.
Shaping camis: create a smooth foundation for any layered look. The Control Camisole by Amia A108 it fits like your favorite tank, but provides incredible midsection slimming thanks to a hidden, built-in control panel. The underbust design allows you to pair it with your favorite bra.
Butt-lifting jeans: did you know that you don't even need shapewear with the right shaping garments? Butt-lifting jeans are Brazilian-style stretch denim pants that control your waistline and enhance your natural curves. The Fashionista Butt-Lifting Jeans by Bon Bon Up naturally enhance your backside with curve-enhancing seams and stitching that draws attention to your best features. They further enhance your butt with a high waist that flattens the tummy and conceals love handles.
Best Shapewear for Workouts
Going to the gym is a lot more fun (not to mention you feel more motivated) when you're wearing figure-flattering gym clothes. Workout shapewear not only makes you look sexy, but enhances your workout too.
Workout bands: these types of waist trainers are designed to withstand rigorous movement and enhance your workout. The Latex Workout Band Curve Creator by Hourglass Angel HA101 focuses heat on your core and ramps up perspiration, giving you a more effective workout while slimming your midsection up to several inches.
Workout shaping leggings: achieve a firmer butt and control your thighs and hips with workout leggings that will give you the shape and compression support you need. Designed to shape your waist, hips, butt and thighs, Butt Lifting Leggings by Bon Bon Up 1012 use comfortable compression, advanced seaming and thermal reduction to transform the look and feel of your body.
Best Shapewear for Dresses
Whether you're sporting a light tank dress, a flirty cocktail dress or a formal gown, there are several shapewear options that will help you perfect your look.
Shaping slips: use a form-hugging slip to smooth out your figure with one shaping piece. This is an ideal shaper for mid-thigh dresses. The Naomi and Nicole Panty Slip with Built-In Bra 7777 does it all; it is a shaping strapless bra slip that trims the tummy and waist, lifts the rear, and sculpts the thighs.
Strapless bra corsets: otherwise known as longline bras or bustiers, these bust-lifting, tummy-slimming shapers are ideal for strapless and A-line formal gowns and bridalwear. The Torsolette Satin & Lace by Dominique 8949 creates moderate midsection control and posture support, lengthens the torso and creates a slender silhouette.
Bodysuits: get the most powerful slimming with all-in-one shapers that sculpt an hourglass shape and target your trouble areas. The Strapless Body Shaper by Vedette 123 eliminates muffin top and love handles while lifting the butt and trimming the hips, creating a smooth foundation for many styles of dresses.
Best Shapewear for Skirts
When wearing a skirt, you'll want to have slim and smooth thighs and a firm round butt to achieve the most flattering look. There are a couple of styles of shapewear that can help you do that, whether you have a figure-hugging pencil skirt or a long and flowing midi or maxi skirt.
Thigh shapers: eliminate the appearance of bulk with shapers that target your thighs with firm but flexible compression. Most thigh shapers have the added benefit of slimming your waistline as well. High Waist Spandex Shorts by Spanx 2745 smooth your entire midsection down to your thighs. The lightweight, flexible fabric offers a gradual release to maintain comfort and control while also allowing free movement.
Butt enhancers: get an extra lift for your backside with shapewear that creates curves out of your natural features. The open bottom design of the Perfect Butt Thermal Pant by Co'Coon 1478 creates a lifting effect that rounds the rear into a perfect shape.
Thong back shapers: enhance and control your figure without worrying about visible panty lines. The Cassandra Thong Back Waist Cincher targets your the midsection and lower abdomen while also flaunting your best assets.
Best Shapewear for Suits
Get ready to turn heads in your favorite power suit. Whether you're sporting pants or a skirt with your favorite blazer, you can use shapewear to create a flawless finish.
Corsets: slim your midsection and lift your bust to create a perfect hourglass shape with a classic corset. The Underbust Waspie Mesh Corset by Hourglass Angel HA201 is sexy and comfortable enough to wear all day, and creates an enviable cinch at the waist.
Vest style waist cinchers: get all the benefits of waist training with added bust lift and back coverage. The Waist Trainer Corset Vest by Amia A103 creates a stunning shape and eliminates bra bulge at the back, plus encourages good posture for long hours at the office.
Thigh shapers: this versatile style comes in handy again. The Amazing Shape Open-Bust Mid-Thigh Compression Bodysuit by Leonisa 018688 is the all torso to thigh shaper that balances comfort and control.
Best Shapewear for Revealing Styles
Want to show off your bust or your back? Don't skip out on the shapewear! Specialty styles give the support you need.
Our favorite is the Deep Plunge Backless Strapless Bra by Braza 3510 Large wings support the base of the bra, which are backed by a stay-put adhesive strip. The cups stay firmly in place with their own silicone adhesive. You can use this garment up to 50 times while maintaining the adhesive's strength.
Best All-Around Shapewear for Any Occasion
Some shapewear is so good that it works for almost any occasion! Pick your shapewear depending on the area you are targeting and wear it under any outfit, whether for work, play or dress-up.
Corsets and waist trainers: we've already mentioned how effective these shapers are under professional, workout and casual attire. They flatter every body type (who doesn't want a slimmer waist and a flat belly?). For the best results, we recommend wearing this style of garment every day! Latex waist trainers are versatile and fun and are perfect for waist training beginners as well as for workouts. If you want to get a more dramatic shape, step up your waist training regimen with a steel-boned corset.
Shaping panties: as mentioned above, you're going to be wearing panties anyone, so why not wear some that are working to enhance your shape? Most shaping panties are designed to slim and smooth the waistline and control the lower abdomen, effectively preventing muffin top and eliminating love handles. They can be worn with pants, dresses or skirts. Some also provide hip and upper thigh control and butt enhancement, so you have an all-over win!
All-over shapers: with the right shapewear you can target all of your problem areas without feeling stiff or encumbered. Choose a flexible body shaper like the Best Shapewear Mid-thigh Bodysuit by Amia A107, which targets the midsection and thighs and features removable straps so you can customize it by the amount of support you need and the style you are wearing.
No matter what occasion you're dressing for and what your body type is, there's a shaping solution that can meet your needs. We recommend that you carry a variety of shapers in your wardrobe so you'll be prepared to look your best in any outfit.
Be sure to check out our blog as well as our Instagram account more tips and inspiration about shapewear. Have questions? Our expert shapewear stylists are here to help you choose the perfect shapewear, so just ask!