Posted by Hourglass Angel on Aug 16th 2021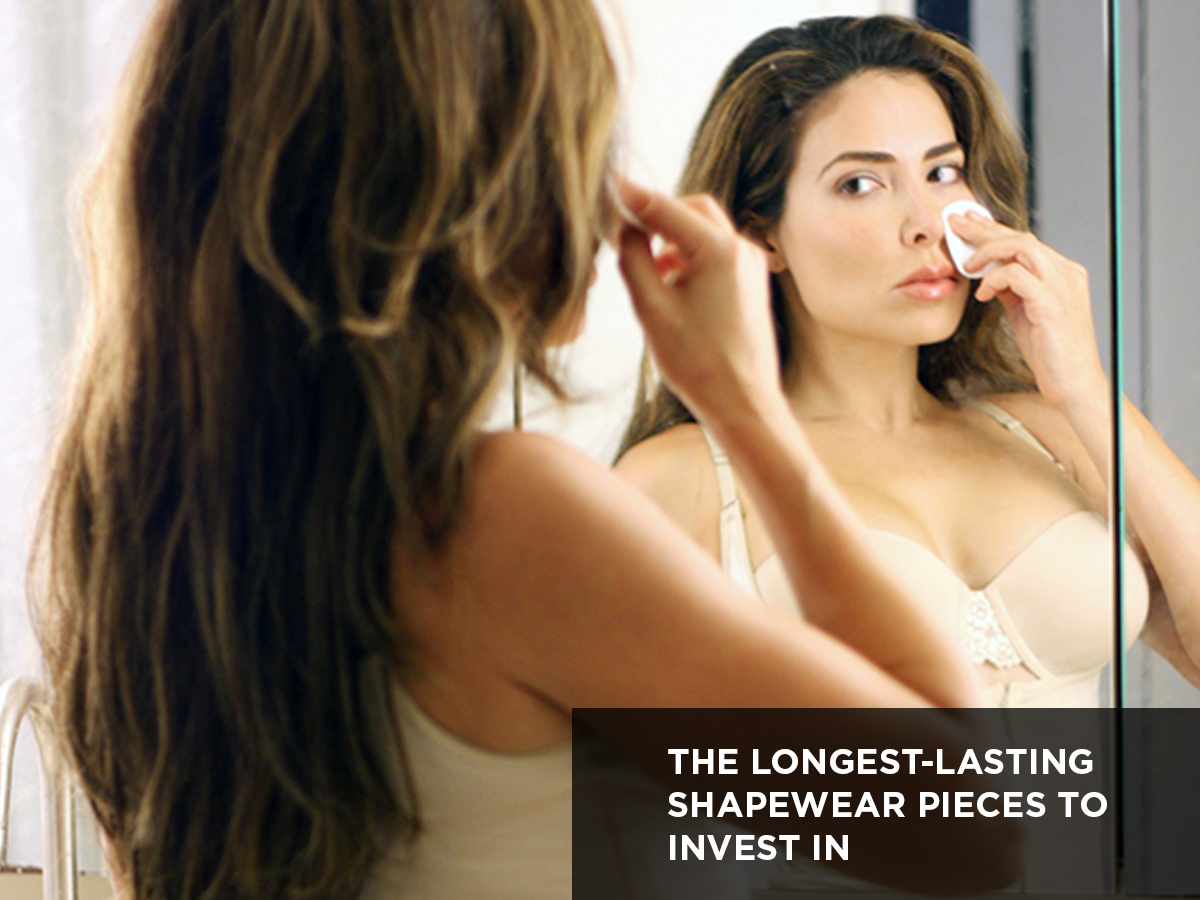 The Longest-Lasting Shapewear Pieces to Invest In
Want to know a secret about women who have stunning hourglass figures?
Whenever you see an especially beautiful woman with an elegant, graceful silhouette — whether in a movie, on television, in a magazine or walking down the street — there's a nearly 100% chance … that she's wearing shapewear.
For many of us who have dieted and exercised ourselves into oblivion in order to look great in our clothes, this secret can be both eye-opening and enlightening. For years, you may have thought you were just one of the "unlucky ones" with inconveniently-located tummy rolls or ill-fated thighs. But the truth is, there is no such thing as the "perfect" body – we all have different shapes and each one is equally beautiful. But that doesn't mean we can't all have those hourglass curves!
That's where shapewear can have a powerful role. But the question is …
What is the best shapewear on the market?
Which shaper do you need? And which ones last longest and deliver the best results?
A quick search on Google will turn up thousands of product results — some that cinch, others that bind. Some that smooth, others that lift.
But what will look good on you? What will work? And equally important: What will last?
After all, committing to buying even two or three pieces of shapewear is no small investment. You want products that work and are versatile, but you also need them to last.
Below, we've provided a guide that will walk you through the basics of essential shapewear. We've included seven main categories of garments, including how each type of shapewear works, who they're for and why they're essential. By the end of this guide, you should have a basic understanding of at least two or three shapewear pieces you could benefit from for either your daily wardrobe, a special event or both!
Let's begin!
What Type of Shapewear Should You Own?
Here are seven types of shapewear that every woman should consider owning. While certain garments will work better for certain body shapes and lifestyles, all of these pieces could make essential staples in your wardrobe!
Corsets
Corsets have been worn by women for centuries. They are primarily used to cinch and support the waist, sometimes elongating the entire upper body itself and definitely adding a more contoured silhouette overall.
Corsets come in a range of styles. Some include a covering for the breasts while others sit right below the bustline. Our Underbust Cotton Corset (by Hourglass Angel), for example, sits below the bustline and thus, gives a slight lift to the breasts. The cotton fabric sits well under a variety of apparel materials and feels silky soft against the skin.
Alternatively, we have the Underbust Waspie Mesh Corset. This piece also sits below the bustline but is made of a more breathable mesh fabric, perfect for hot days and better air circulation.
Note that corsets tend to change over time — in a good way. The more you wear them, the better the boning and fabric will grow accustomed to your shape and size. For this reason, you'll want to practice wearing your corset for at least a few days before taking it "out on the town."
Waist Trainers
Waist trainers are strong and tight-fitting corset-like garments that fit around the waist and cinch it in.
Like corsets, waist trainers are worn around the midsection. They can be worn as corsets are — beneath other clothing. Or, they can be worn at home and in private to supplement your other slim-down efforts, like diet and exercise. Many waist trainers use latex, which helps to increase thermal activity in your core. This increases your perspiration during physical activity, so you can get more results from the same effort.
Our Unbelievable Curves Maximum Compression Waist Trainer features 25 strips of steel boning that will slowly conform to your body shape. Wear it regularly, and you'll notice you can begin to tighten it with time. Likewise, our Best Waist Trainer provides instant slimming results when you wear it, in addition to the heat-stimulating latex core.
Finally, some women prefer a waist trainer with straps, like our Latex Waist Trainer Vest. Get more lift for your bust and support for your back while you develop the ideal waist and an hourglass silhouette.
Bodysuits
Bodysuits offer fuller coverage in terms of shaping. You'll find that bodysuits cover not only the abdomen and bust area, but also the buttocks, hips, thighs and legs. For this reason, they're meant to be worn beneath longer garments — for example, with pants or a midi- or maxi-dress or skirt.
The Amazing Shape Open-Bust Mid-Thigh Compression Bodysuit by Leonisa offers maximum compression and tummy control. The top portion of the bodysuit adds support and a slight lift to the breasts while shaping the abs, buttocks, hips and thighs below. This creates a long slender silhouette beneath your outfit. Finally, this bodysuit also has a simple-to-access, softly lined front zipper for easy on and off.
Body Shapers
Body shapers are abdominal pieces that focus on slimming and tightening the center of the body — the tummy. They do include panties (unlike control camis) and often feature thin shoulder straps to keep them up. Still, they typically do not cover the breasts.
Instead, they sit directly below the bustline, providing some support and lift. To support the bust, you'll want to wear the bra of your choice beneath your shaper. This arrangement actually offers you more versatility because you'll be able to choose your bra based on what garment you'll be wearing.
The Firm Control Body Shaper by Ann Chery is the perfect shaper for discreet contouring. It features three slimming layers with a seamless construction and optimal support and comfort. The Mia Corselette Body Shaper by Vedette takes things even further with the ability to slim your waist up to three sizes. It even features rear- and bust-enhancing capabilities.
Lastly, we also offer the Peachy Soft Shapewear Brief by Be Wicked. Unlike many of our other shapers, this piece does not feature shoulder straps and instead maintains tight control on the abdomen through the use of firm compression and a high waist. If you're concerned about excessive bra strap lines, this might be the shaper for you.
Workout Bands
Workout bands are a variation of the typical waist trainer. Unlike regular trainers, however, these are meant to be worn during your workout. As a result, they're made of more durable materials that can withstand intense physical activity and serious sweating. In fact, one of the goals of workout bands is to help you sweat more, maximizing your results and slimming your waist in the process.
Like other waist trainers, workout bands wrap tightly around your mid-section. Over time, they will conform to your unique shape. Our Workout Waist Trainer by Ann Chery offers maximum compression for a game-changing workout and serious waist slimming results. Inside the soft cotton exterior is a latex core — highly durable and flexible. Flexi-boning also helps keep your trainer from moving and shifting uncomfortably during your workout.
Apparel
For pieces that actually incorporate shaping elements within the garments themselves, try shapewear apparel. The most typical types of shapewear apparel include shaping camis and shaping leggings. For example, our Butt Lifting Leggings from Bon Bon Up slim and shape the waist, hips and legs in addition to lifting your backside.
Shaping apparel items can be worn visibly. In other words, they aren't meant to be hidden beneath your outfit, out of sight. If you're tired of camisoles and leggings that are so thin and delicate that they easily show rolls and other unwanted trouble areas, shaping apparel might be just what you're looking for.
Camis
Lastly, control camisoles are ideal for shaping your tummy and upper body silhouette. Unlike apparel versions of shapewear camis, these camis are generally meant to be worn beneath clothing. They tend to be more heavy-duty, or they may be somewhat see-through.
Control camis are especially great options for women with apple-shaped bodies. They're also good for outfits that include a fitted top with a flouncy skirt or relaxed pants, as they don't come with panties or attempt to shape the buttocks, hips or thighs.
Some control camis come with a built-in bra while others are just one layer meant to smooth the entire upper body. Built-in bras can be particularly useful with camis as you'll have fewer straps and hooks to worry about. Choose a cami with a plunge, push-up or slimming neckline/bra to match your outfit.
How Long Does Shapewear Last?
Wondering how long the average piece of shapewear will last?
The first thing to know is that quality matters. The better-quality the fabric and construction of a shapewear garment, the longer it can go without succumbing to rips, tears and loss of elasticity.
With that said, no piece of shapewear will last forever. The very nature of these garments requires that they be both delicate enough to hide beneath apparel and sturdy and strong enough to cinch and lift in all the right places. Naturally, something's going to give after a while. And of course, it will give much faster when you wear your shapewear pieces every day, as many people do.
For this reason, it's important to take good care of your shapewear pieces, because proper care will go a long way toward ensuring your pieces remain intact and effective. Here are some tips:
Be gentle, and don't just toss your shapewear in the wash.
You won't need to wash your shapewear after every wearing (unless the garment includes panties or has a stain or odor). But after a few wears, it'll be time to assess a piece's cleanliness.
First, always read the washing instructions on your shapewear labels before doing anything. If you have questions, contact the retailer. Many shapewear pieces can be machine washed (using special detergent meant for delicates). But always use a gentle cycle, and hang or lay flat to dry.
For other delicate garment (especially those that feature latex), you'll want to hand-wash each piece in warm water with a very mild shampoo such as baby shampoo. Rinse and hang to dry (out of direct sunlight), but do not wring to expel excess water.
Store your shapewear carefully.
It's best to store shapewear with care. Allowing it to crumple in a drawer or hanging pieces that may get hanger bumps can damage your shapewear beyond repair (ironing is a no-go for most shapewear because of the synthetic fabrics that are used).
As a result, it's best to lay your shapewear pieces flat in a drawer and out of direct sunlight. If hanger bumps or stretched-out elastic won't result, you can also hang certain items.
When it comes to dressing your best, everything starts with knowing what essential shapewear pieces your wardrobe needs, how to care for each garment and when it's time to replace aging pieces. We hope we've answered some of the fundamental questions you've had in this regard and given you some ideas for pursuing your own shapewear wardrobe!
If you are interested in reading more about how to properly use and wear shapewear, including appropriate care and maintenance for your pieces, see more great tips on our blog!