Posted by Hourglass Angel on Dec 4th 2019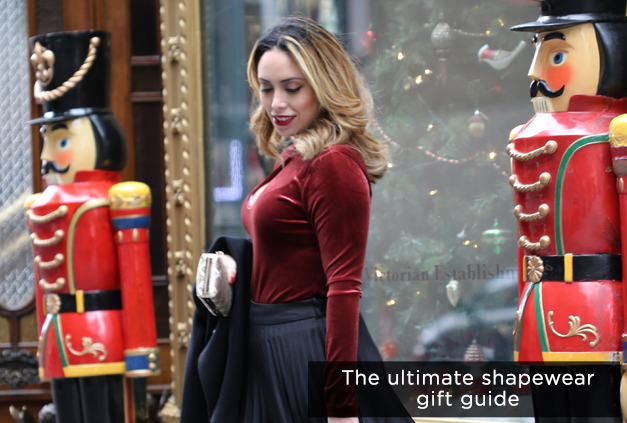 Want to give the gift of sexy confidence to the special woman in your life (or perhaps to yourself)? Look no further than this shapewear gift guide for every woman on your list!
There are several styles of shapewear that every style-conscious woman will want in her wardrobe, no matter what her natural shape and size. Consider body shape, target area and style preferences to find her the perfect gift this year. These are some of the most popular styles of the best shapewear in our online shop.
Waist Trainers
Every size and body type can benefit from this corset-style garment that slims the waist, flattens the belly and enhances almost any outfit. Many women like using them for workouts, but you can also use them under everyday and professional attire.
Best Waist Trainer by Hourglass Angel HA102: We designed this waist trainer exclusively for Hourglass Angel customers after we got feedback about what you want in a waist trainer. This cincher takes up to 3 inches off your waist measurements instantly and comes in sizes to XS to 5XL. It's the perfect gift for plus sizes.
Wear this waist trainer comfortably underneath clothes or during workouts. The latex core stimulates heat around your midsection and increases your perspiration. So you sweat harder during any exercise, whether it's a gentle walk or high-intensity physical activity.
Latex Workout Band Curve Creator by Hourglass Angel: We wanted to make workouts a cinch, so we designed this waist trainer with the busy woman in mind. It uses ultra-strong Velcro closures, instead of hook-and-eyes, so you can create your hourglass curves even faster. Great for waist training at home or the gym. Just pull the sides together and go.
This workout band is designed with a latex core, so it provides the slimming power of the best waist trainers. It stimulates heat in your core, enhancing your workouts so you can get an intense sweat and more bang for your buck during an exercise routine.
Classic Waist Cincher by Amia A102: You can't go wrong with the classic basics. We love this waist trainer because it instantly slims your waist by 1–4 inches. You'll love how it accentuates your waist with maximum compression. Trust us, it provides an instant wow factor for any occasion, any day of the week.
This garment is ideal for everyday use and enhances your look under most styles. It features two rows of hooks for serious waist trainers, so that you can size down the garment as you size down your waistline!
Full Body Shapers
For a flawless look, especially for special occasions, full-body shapewear is the way to go. You can slim and shape all major target areas with just one garment; slim the waist and thighs with firming and sculpting the backside. Most garments come with an open bust so you can pair them with the bra of your choice. Choose the cut based on the garment you plan to wear over it.
Leonisa Celebrity Style Body Shaper 018674: Look just like a Kardashian or your fashionista of choice in this shaper that is designed for red carpet style. It tames all of your problem areas in one shot, including the waist, butt and thighs.
One of the most convenient features of this celebrity body shaper is the easy zipper with internal hooks on the front of the garment, eliminating the need for both tugging and multiple closures. Simply unzip the shaper and step in. Adjustable, convertible elastic straps are included. A high back eliminates unwanted bulge.
Best Body Shaper by Vedette 104: This sleek shaper smooths common target areas including the waist, back and thighs. It also lifts and enhances the butt. The wearer experiences instant slimming and smoothing from beneath the bust to just above the knee, making it ideal under gowns, dresses and suits.
The braless body shaper has an underbust design that creates a lift, matching the push-up features that enhance your rear. Lace trim adds a feminine accent.
Butt Enhancers
Get rear enhancement instantly with shapewear that lifts, firms and sculpts your backside into its ideal shape. Choose from shapewear and shaping apparel that enhances your natural curves.
New Dawn Lift & Sculpt Jeans by Amia A201: These Brazilian-style jeans make a great gift because they benefit pretty much anyone's figure! Without padding, they gently lift the butt for a fuller, firmer appearance. Whether you already have curves or need a little boost in back, these bum-lifting jeans help by making your rear appear rounder and more shapely.
This particular style is one of our customer favorites, as the wash is versatile enough to wear casually or for dressier occasions. The skinny leg makes it stylish and sexy, while the stretch denim is soft and comfortable.
Want a darker wash with the same shaping benefits? Try Midnight Lift & Sculpt Jeans by Amia A202. Or get both!
Amie Mid Thigh High Waist Open Bottom Enhancer by Vedette 911: Get a fuller, firmer butt without any padding, with this light-weight garment that enhances your natural curves. Its open bottom design lifts and rounds your rear into a perfect full shape, accentuating your figure.
It also slims the waist and thighs. The high-waist design eliminates muffin top, while the mid-thigh coverage smooths your thighs and hips and also prevents visible panty lines.
Corsets
Take a waist training regimen up a notch with a steel-boned corset. Unlike latex waist trainers, a corset uses tight laces to achieve the most dramatic hourglass curves at the waist. A corset can be worn underneath clothing or over the top of it for a bold look.
Underbust Waspie Mesh Corset by Hourglass Angel HA201: We love the look of this curve-creating corset made with mesh. More than just sexy, this corset is comfortable. In addition to simply revealing your skin, the mesh design provides better breathability, helping to keep your body cool underneath other layers.
But don't let the light and breezy look fool you; this corset packs a powerful punch when it comes to slimming power. Waistline tape keeps it in place, laces pull it tight and steel boning create that classic hourglass cinch at the waistline.
Underbust Cotton Corset by Hourglass Angel HA202: With this steel-boned corset you'll get maximum slimming power with the cool comfort of cotton lining. It feels soft against the skin and stays comfortable for as long as you wear it. The corset uses flexible steel boning for powerful compression, slimming the waistline into a beautiful hourglass shape. The cotton also makes the garment lightweight.
Simply fasten it with the secure closures in front, lace up the back and pair this corset with the bra of choice. Choose from three great colors to match any outfit: black, white or nude.
Specialty Shapewear Gifts for All Shapes and Sizes

Not everyone is built the same, which is why we carry shapewear specially designed for gorgeous women of all shapes and sizes. This shapewear gift guide wouldn't be complete without some items designed to enhance petite, tall or plus size figures.
Petite Latex Waist Trainer by Hourglass Angel HA100: Women with petite figures will especially love this waist trainer. It's got the same curve-creating power as our other cinchers, but it's cut short for petite women.
Get firm control at the midsection that doesn't pinch your ribs and hips. You can use this waist trainer at the gym or as everyday wear. We've incorporated flexible steel boning into the design to ensure you're getting the most results from the smaller garment while being comfortable.
Clasica Latex Waist Cincher by Ann Chery 2025: This sleek waist trainer is cut a bit longer than average, making it an ideal waist-slimming garment for taller women with long torsos. It will provide full torso coverage, for women who are about 5'8" or taller.
The waist cincher immediately creates a beautiful curvy shape and sculpts several inches off of the midsection through the power of firm compression. It is supported with two reinforced columns of hook-and-eye closures down the center of the abdomen.
Hourglass Effects Waist Trainer by Hourglass Angel HA105: This is another waist trainer we designed with the plus-sized woman in mind. It instantly sculpts and dramatically slims your midsection by up to three inches and enhances natural curves. Brightly-colored panels are arranged in an hourglass design, creating a sporty, slimming look.
The core is made from high-compression latex, lined with soft cotton-spandex for comfort. Nine columns of flexible steel boning keep your hourglass shape in check, while also resulting in a straighter, more confident posture.
There's something for everyone in this shapewear gift guide! Snatch up what your sweetie, sister or friend will love, or put it on your wishlist for yourself! Remember to take measurements to get the correct sizing so that your shapewear fits like a glove when it's tried on.
Still not sure what you're looking for? Talk to our expert stylists about sizing or styling questions, and we'll be glad to assist.