Posted by Hourglass Angel on Mar 13th 2019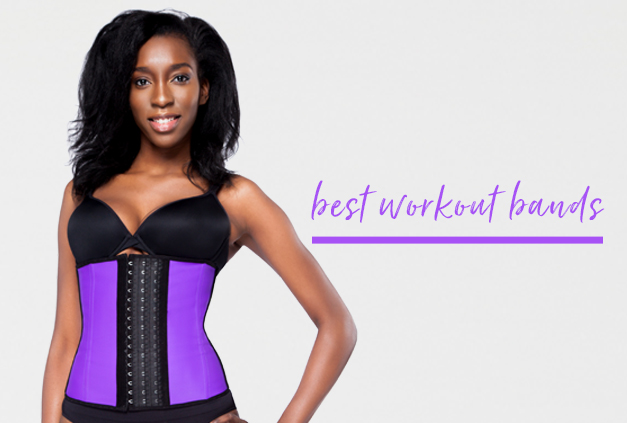 When you're starting a slim-down journey, a workout band a must-have piece for your workout attire.
Since waist training during workouts has exploded in popularity in recent years thanks to celebrities like the Kardashians, there are a lot of different styles out there. But do they all get the job done? Not necessarily – you have to choose your brands carefully.
Rest assured, every workout band you find here at Hourglass Angel has been hand-curated and tested by our experts for quality and performance.
But if you want the absolute best results out of your workouts, you are undoubtedly asking yourself "What are the best workout bands?"
Here's what to look for, as well as our top-rated products.
What to Look for in a High Quality Workout Band
Workout bands enhance exercise in several ways, which you'll want to keep in mind when you're selecting the best waist trainer.
First, wearing a workout band during physical activity stimulates heat in your core, which in turn ramps up perspiration. This in effect gives you a more intense workout without necessarily pushing yourself any harder. You'll feel it working as you start sweating in places you didn't even know you could!
Workout bands are also very supportive for your core, back and bust. They help you keep your belly flat and your back straight, which can be beneficial in a variety of exercises including running, strength training and even holding planks.
Finally, wearing a workout band can be a great confidence booster and motivator. You'll instantly drop several inches from your waistline, flatten your belly and eliminate problem areas like muffin top and love handles. Feeling great about the way you look during your workouts and getting a vision for what you can look like if you stick to your health goals can go a long way in motivating you to keep up with your exercise plan as well as a healthy diet.
With all of this in mind, there are a few factors you want to look for in a high quality workout band:
Maximum compression: the best workout bands achieve this with a reinforced latex core. The compression level should last many months, even if you work out every day.
Durable construction: you won't want your waist trainer to roll down, slide around or lose its slimming power over time. The best waist trainers are built to last.
Capability to size down: your workout band should be able to adjust when you size down (which you will if you stick with your exercise program!). This can be done with 2–3 rows of hooks or a Velcro closure.
Cut to fit: workout bands are usually shorter than everyday waist trainers and allow you more freedom of movement so you can get the most out of your workouts.
Support where you need it: some workout bands are designed in a vest style with shoulder straps so you can get extra support for your bust and coverage for your upper back.
Beautiful design: While technically the look of your waist trainer won't directly affect your workout performance, it's nonetheless important to love the way you look. Looking sexy in your workout attire can be a big motivator to follow through with your exercise plans, so get a workout band in a bright color or pattern that you'll love to show off.
Our Best Workout Bands
With that in mind, here our most popular, highly rated waist trainers from the Hourglass Angel shop:
Workout Waist Cincher by Ann Chery 2026
We've carried this style for several years, and it continues to be one of our best sellers. Over a thousand reviews have rated it at 4.5/5 stars.
This maximum compression workout waist trainer is a customer favorite for good reason. It slims your waist instantly and provide the firm compression you need for effective waist training during your workouts.
The band is constructed from a latex core with a soft cotton interior lining. Two columns of hook-and-eye closures allow you to size the garment down with you. Flexi-boning anchors garment in place and prevents it from sliding.
Best Waist Trainer by Hourglass Angel HA102
Customers told us they wanted a better waist trainer for their unique curves, so we created this amazing plus size waist trainer that comes in sizes XS–5XL.
We designed this waist trainer with flexible steel boning (not plastic!) for maximum effectiveness. It works together with the latex to create an hourglass shape, while still allowing you to bend and move easily. Three rows of large hook-and-eye closures create a strong, secure fit that sizes down with you.
Latex Workout Band Curve Creator by Hourglass Angel HA101
Get a maximum compression custom fit in a snap with this quick-on workout band. Featuring a double Velcro closure, it's great for when you want to dive into your waist training workouts quickly.
With a latex core, this innovative workout band provides workout enhancement. The maximum compression increasing thermal activity, causing you to sweat more around your belly, sides and back. This increases your perspiration with minimum effort, so you can feel your exercise working.
Petite Latex Waist Trainer by Hourglass Angel HA100
Get the same curve creating power as other waist trainers in a cut made just for women with petite figures. This workout band comes in sizes XS–5XL and is ideal if you have a short torso or are about 5'2" or under.
We've incorporated flexible steel boning in this workout band for stronger compression in this without compromising comfort. With a 100 percent latex core, the boning helps to maintain your hourglass curves, yet remains flexible. It also features three rows of hooks so you can get a custom fit and size down as your body changes.
Highest Compression Workout Waist Trainer by TrueShapers 1063
If you have sensitivity to latex and still want to get maximum compression, try this latex alternative waist trainer. Flexible internal steel boning and TrueShapers's 3 Plus D Structure fabric offer the perfect balance of comfort and compression, keeping you cool and dry while simultaneously making you sweat harder.
In our experience, you can't go wrong with any of these highly rated workout bands. But if you have any questions or need more recommendation for your waist training needs, be sure to contact our team of expert stylists.