Posted by Hourglass Angel on Jan 2nd 2019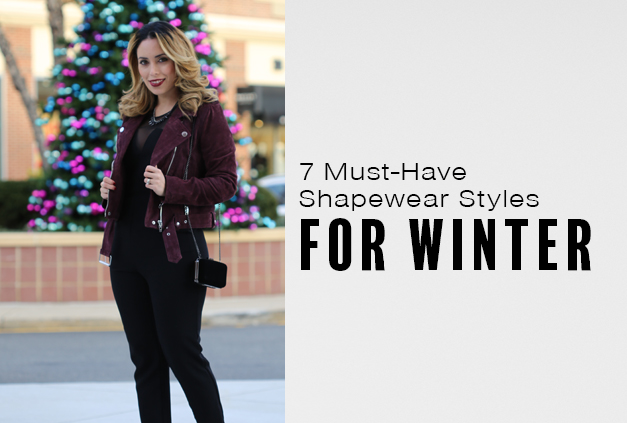 When some people think of shapewear, they imagine slimming down and smoothing their figures underneath the light and tight fabrics of warm weather.
But what about in the winter?
Since it's the season of layers and chunky sweaters, should you concern yourself with shapewear during the colder months?
The answer, of course, is YES!
Outfits made complete with scarves and chunky sweaters, boots and lots of layers all have to start somewhere. The key to a great outfit, no matter what the season, is creating a curvy and smooth foundation. There are so many ways you can use shapewear to enhance your style in the winter months, as well as help you get in shape for summer.
If you're wondering what shapewear you need for winter, here are our top suggestions.
1) Shaping Panties: for Everyday Shaping
One easy pick for shapewear that you should have on hand year-round is a collection of shaping panties. You're going to be wearing panties anyway, so why not use them to slim and enhance your figure? Shaping panties are versatile and can be used under almost any outfit.
Most shaping panties, like these High Waist Control Panties by Spanx 2746, are designed with a high waistband that keeps your tummy tucked in and your love handles at bay. You can say goodbye to muffin top with your pants and skirts too.
Shaping panties are also helpful if you want to add my shape to your backside. The High-Waisted Panty Shaper with Booty Lift by Leonisa 022239 combines powerful tummy control with curved seams and specially gathered elastic in the bottom area of the shaper, creating a natural rear rounding effect without padding. This is the perfect shaper to wear underneath your winter dresses and skirts to help you look rounder underneath thicker fabrics.
2) Thigh Slimmers: for Extra Leg Shaping Power
Just because you can doesn't mean you should hide the shape of your legs all winter long. In fact, take advantage of the winter months to wear tighter pants and shirts that can show off your figure when you're wearing bulkier sweaters and tops.
Thigh slimming shapewear keeps your thighs and hips firmly under control, so you can confidently wear pants, dresses and skirts without worrying about any lumps or bumps showing through. The Best Shapewear Mid-Thigh Bodysuit by Amia is a winter favorite that styles well under dresses and pants. It can slim your figure 1–2 inches.
We also highly recommend the Thigh Shaper Plus Size by Slim Me MSM-107Q. It does triple duty of taming the tummy, firming the rear and slimming the thighs, all in one easy-one garment design for plus-size women.
3) Cinchers and Corsets: for Waist Training and Slimming
Pretty much every body type can benefit from a slim and smooth hourglass waistline no matter what time of year it is. Wearing a waist cincher or corset can instantly drop up to several inches from your waistline and provide a smooth foundation for anything your wearing—including sweaters, blouses, dresses and more.
What's more, a slimmer waistline can help you create curves and draw attention to your waist when the weather requires you to dress with more bulk.
While you can wear a waist slimmer casually and as needed, we highly recommend following a waist training regimen to get the best results. Not only will you have instant results simply from putting the garment on, but you'll also get the benefit of working towards a slimmer waist in the long-term if you use a complementary diet and fitness regimen.
For everyday waist training, the Squeem Waist Cincher 26PW is a classic cincher available in sizes XS to 5XL. We love this garment because it can instantly slim your waist and will make you look up to 3 sizes smaller. If you decide to wear it daily as part of an ongoing regimen, you can size it down with two rows of hooks.
If you want even more slimming power, try a steel-boned corset like the Underbust Cotton Corset by Hourglass Angel HA202. With soft cotton lining, you'll feel comfortable at any time of year, but you'll also get maximum slimming power with a lace-up back and steel boning through the bodice.
4) Shaping Camis: for Layering
The key to staying warm but stylish in the winter is smart layering. That way you can be warm and cozy when facing the elements, but comfortable and chic when you get inside. A shaping cami is a must-have piece to have in your wardrobe for your foundational layer under sweaters, button down tops and any other pieces you're layering during cold season.
The Control Camisole by Amia A108 comes in black and nude, making it easy to conceal under whatever you're wearing. It slims and controls your whole midsection and won't slide around or roll up, so you can be confident that nothing will be peeking out where it shouldn't. With an open bust design, you can pair this cami with your favorite bra, creating a custom curve-creating fit that looks flattering under your sweaters and winter tops.
If you prefer an easy dressing solution, particularly when you're staying casual but still want to be stylish, try the Shaping Cami by Slim Me MSM-115. It uses a built-in bra, making it easy to slip into while wearing underneath a sweater, sweatshirt or t-shirt with no fuss. It has comfortable hold that will slim your midsection and flatten your tummy.
5) Workout Shapewear
Just because it's winter doesn't mean you have any excuse not to be active! Take the time during this season to tighten and tone your figure. Whether you like to get out in the cold or prefer working out indoors at the gym, you can use compression activewear to get the most out of your workouts.
Workout waist trainers: Amplify your workouts with a waist trainer, which can crank up the heat in your core and make you sweat harder. What's more, you'll feel confident and sexy, whether you wear your waist trainer underneath your clothes or as the feature piece of your outfit. The Latex Workout Band Curve Creator by Hourglass Angel HA101 uses a versatile double Velcro closure that makes it easy to put on with a custom fit every time.
Butt-lifting leggings:Complete your look for your workout with leggings that slim the thighs, control your tummy and shape the butt. Butt-Lifting Leggings by Bon Bon Up use internal body shaping support to firm up your rear and thighs. These pair great with your favorite workout waist trainer!
6) All-Over Shapers: for Formal Attire
It's the season for holiday parties, galas and winter weddings, where shapewear is a must. Must-have shaping options for formal attire in the winter sculpt your whole figure so you can make your most stunning appearance.
The Braless Minimizer Bodysuit with Latex by Leonisa 018433 is an all-over shaping solution that will create an hourglass silhouette for winter gowns. Underbust construction allows you to pair with your bra of choice so you can enhance your bust while slimming and smoothing your midsection and back. Unlike other shapers that compress the rear, this design includes special lifting stitching that creates a natural bottom lifting effect without padding. A high back eliminates bra bulge, while a special tummy control section shapes the midsection smoothing all the way to the lower abdomen.
If you're wearing a cocktail dress or even a skirt suit, try a shaping slip like the Naomi & Nicole Firm Control Bra Slip with Build-In Panty 7777. This is a no-fuss way to create a smooth silhouette that will make your dress easy to slip on and show off.
7) Butt-Lifting Jeans: Must-Have Casual Style
While they might not technically be shaping undergarments, butt-lifting jeans are another must-have for your winter closet. You can pair your favorite style of blue or colored denim with sweaters, button-down tops, or your favorite blouses or cardigan with a scarf. Whatever your style, you can have a firm, full butt, enhanced with the simple Brazilian-style construction.
These Dark Skinny Butt-Lifting Jeans by Bon Bon Up 3807 are dark wash, making them ideal for winter styles. The stitching at the rear creates a natural curve-creating effect, while stretchy denim lets you show off your newly enhance derriere. A high-waist cut completes the look by tucking in your tummy and eliminating any concern of muffin top or love handles. Style these jeans with your favorite winter boots for a sexy, casual look.
Other great butt-lifting denim options for winter include Midnight Lift and Sculpt Jeans by Amia A202 and Dark Skinny Butt-Lifting Jeans by Bon Bon Up 3811.
___
Are you as excited as we are about styling your winter wardrobe with figure-enhancing shapewear? If you have questions about styling for your body type, sizing or need any other advice, our expert stylists are here to help you find the shapewear you need for winter. Simply send us a message and we'll be glad to help.
And if you have some winter style you're enhancing with shapewear, please share it with us on social media! #BeTheHourglass @HourglassAngel