Posted by Hourglass Angel on Aug 14th 2019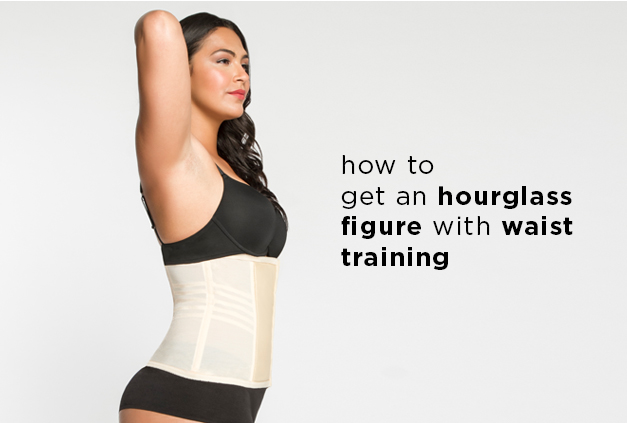 Does waist training make your hips bigger?
No, not really. Technically speaking, waist training does not physically make your hips bigger. However, it can create the appearance of rounder, more luscious hips by compressing your midsection, which gives you an hourglass-shaped silhouette.
Some women use waist trainers to create curves where they currently lack them. Some do it to sculpt and control the curves they already have. And others do it to maximize workouts and supplement a long-term slim-down routine.
What you choose to get out of waist training is completely up to you—but no matter what your goals, you can be sure that wearing a waist trainer does not actually make your hips "bigger."
Bigger curves, not a bigger bottom
So, what's the deal?
How is it that celebrities wearing waist trainers always seem to have such beautiful, robust booties? Does waist training make your hips bigger or not?
No—it has no physical impact on your hips or your bottom whatsoever. What you're really seeing in those photos is the overall hourglass effect of wearing a waist trainer.
It's all about the hourglass
High-compression waist trainers are reeeeally good at making you look skinnier in your midsection.
The strongest garments can remove up to 4 inches from your waistline while you wear them – creating the appearance of being 2 to 3 sizes smaller.
That's a pretty striking drop. And by cinching your midsection so dramatically, the waist trainer flatters your other areas: namely, your bust and your hips (or your buttocks).
A cinched waist will naturally make your bust and hips look more prominent. So while your bottom half is not actually changing in size, the hourglass shape creates the appearance of a naturally curvy figure.
That's really it?
Yes!
But here's something else to keep in mind … If you're seeing celebrities (or others) whose bottoms appear especially voluptuous, then there may be other factors at play, aside from the hourglass effect of a waist trainer.
For example, these celebrities' backsides could be naturally curvaceous. Or, they could be using rigorous booty-building routines to make their fannies look more fabulous. Or, most likely of all, they could be using other specialized garments, in conjunction with their with their waist trainers, to lift and sculpt their bottoms.
Let's look at some examples …
Flatter your hips by lifting & rounding your buttocks
If you want your own butt to look even perkier, you have a few options:
Butt-lifting leggings: These leggings are specially designed to accentuate your rear. Innovative seaming helps to lift your buttocks, giving it more shape and volume. Additionally, most are designed with a high waist, which helps to eliminate the appearance of love handles. Butt-lifting leggings are great for the gym or at-home workouts. There are numerous styles and colors to choose from, and you can easily wear them with a waist trainer for maximum effect.
Butt-lifting jeans: These unique jeans aren't exactly "denim" – they're made from a soft, stretchy fabric (similar to leggings) but are designed to look like your favorite jeans. Most importantly, they make your bottom look amazing! Butt-lifting jeans are ideal for your everyday outfits and special occasions. They're flattering on a variety of body types, creating curves where you need them and controlling the curves you already have. And since they look like real jeans, nobody will know your curve-creating secret!
So, the next time you're wondering how celebrities with waist trainers appear to have such beautiful bottoms, take a closer look at the photo. There's a very good chance they're wearing butt-lifting apparel too.
Longer waist trainers can help your hips too
If you're wearing a waist trainer and your hips are bulging in an unflattering way, the garment may actually be too short or too small.
It's extremely important when shopping for waist trainers to get the right size for your body. Be sure to take accurate measurements and check the size chart for each product (the sizing can be slightly between various brands and garments).
Longer styles of waist trainers can also help. These will not only flatten your stomach but also provide compression around your hips for added slimming and control.
Long waist trainers can help to hide love handles and muffin top. Petite waist trainers are more ideal for shorter torsos, so look for garments with some extra length if you want more coverage.
What if I want bigger hips?
Totally. Many of us crave the look of round, luscious hips. And while some women have that natural body shape, the rest of us have to work a little harder to get it.
So for starters, try wearing a high-quality waist trainer or corset – ideally one with boning inside for maximum strength and compression. This will slim your middle (often by a few inches), giving your figure the appearance of an hourglass shape. And since many styles can be hidden under clothes, nobody has to know you're wearing it.
But what if you want a naturally rounded bottom? In that case, you're going to need to work your booty.
These booty-building exercises can help you sculpt a great butt by building muscle where you need it and burning fat where you don't. They won't exactly give you bigger hips, but they can help to make your bottom half beautifully robust:
Squats
Deadlifts
Hip thrusts or bridges
Lunges
Romanian deadlifts
Bulgarian split squats
Butt-blasters / Glute blasters
These are very simple, but effective exercises for building your booty. And if you have a weight set, you can do them at home – you don't need a gym membership.
Tip: The treadmill alone won't cut it! Don't be fooled by the butt-focused settings on some cardio machines. You may indeed feel the burn, but for maximum results you should be doing strenuous compound exercises like squats and deadlifts.
Additional shapewear options
No time for working out? No problem. There are lots of other shapers that can instantly make your bottom look bigger.
Since we all have different body shapes, you'll want to choose shapewear that is most effective for your figure. Follow these tips on how to make your butt bigger, according to body shape.
From butt-lifting bodysuits to high-waisted panty shapers, there are plenty of options for adding volume, control and compression, so that you can choose the exact type of shaping you need.