Posted by Hourglass Angel on Jul 8th 2022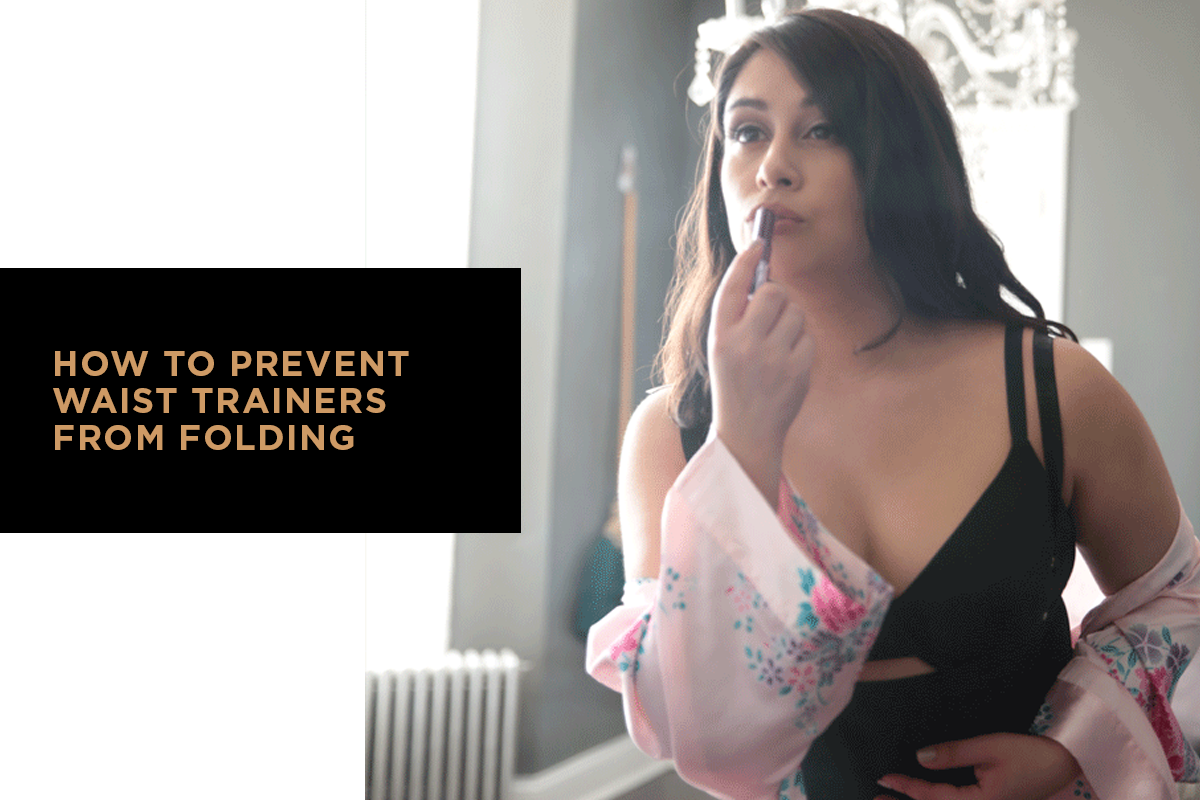 When you wear a waist trainer, you want to have a garment that is comfortable and supportive. It should also fit smoothly and snugly and create a smooth hourglass shape.
However, from time to time some people experience a problem with the waist trainer: instead of staying in place, the garment folds over on itself. This shouldn't happen!
We don't want a poor experience to turn you off from waist training. Here's what to do to prevent waist trainers from folding and improve their fit.
Why Your Waist Trainer Folds Over
The most common reason why a waist trainer folds over is that it isn't the right size and style for your body size and type. If it's too big, it can shift. If it's too small, it can be extremely uncomfortable, pinch and even start rolling. It is vitally important that you make sure to get your size right and also find the style, cut and compression level that is right for you.
How to Wear a Waist Trainer Correctly
The key to achieving the best waist trainer fit is to wear the garment correctly. When you put on a waist trainer, it should fit snugly but comfortably. This will ensure that you get the maximum support and shaping. The waist trainer should also create an hourglass shape—if it's not flattering, you need to adjust something. If it doesn't comfortably create a smooth figure between your bust and hips, try some of our tips below for improving the fit.
Let's dig into these three ways that you can improve the fit of your waist trainer and have a successful waist training experience.
1. Use the Right Size
The correct size is the most important thing when it comes to having a successful waist training experience.
Refer to the sizing chart provided on the product page of the waist trainer that you are interested in. Even if you think you know what your size is, check anyway when you place a new order. This will ensure that you have a proper fit.
To take your waist measurement accurately, use a soft vinyl or fabric measuring tape. Wrap it around the narrowest part of your waist, a couple of inches above your belly button where there is a natural bend when you lean to the side. The tape should be snug but not too tight; make sure you can still slide a finger underneath. It should also be level. You can use a mirror or have someone help you to be sure.
When you're in between sizes, always choose the larger size. Remember that waist trainers can be tightened to give you a firmer fit. However, if a waist trainer is too small, it won't fit well and may pinch or fold over on itself, which is what you're trying to avoid.
After receiving your waist trainer, try it on and be sure that it fits you properly. You should be able to put it on without discomfort or needing to yank on it (which can damage it). It will feel snug and firm, and it will immediately accentuate your curves and help your waist look slimmer and smoother. Put a top on over the waist trainer to see how it looks.
If you have a garment with hook-and-eye closures, fasten it starting from the bottom and work your way up the garment. Pull the hooks and eyes together at your natural waist so that they fasten easily, and then pull it down as you work your way up the row of eyes.
If you don't absolutely love the way you look in a new waist trainer, take it off and exchange it for another size or style. Our exchange policy is very accommodating because we want you to get the best results!
Related: How Waist Trainers Can Help Accentuate Your Natural Curves
2. Adjust the Fit
If you think you have the right size waist trainer but it's still rolling down or doesn't look quite right, you may need to adjust the way that it fits in order to get the best results.
For most waist trainers, you can adjust the fit easily with the fastening mechanism. Hook-and-eye closures have different rows of eyes, so you can try another row and see if that makes a difference. This is one reason to try one of several waist trainers we manufacture that feature three rows—you can be sure you'll find the optimal fit.

Some waist trainers use Velcro closures instead of hooks and eyes. These are even easier to adjust since you just pull the sides together in one motion. Pay close attention to how tightly you're fastening your Velcro waist trainer and see if making an adjustment helps.
If you've been wearing a waist trainer for a while and you're noticing that it's not fitting as well as it used to, this may be a sign that you're hitting your slimming goals and need to tighten it! This is a great problem to have. Try fastening it tighter and see what happens. If that still doesn't help and you've worn your waist trainer consistently for a few months, it may mean that it has lost its elasticity and needs to be replaced.
And of course, you may actually find that your waist trainer has worked so well that you're ready to order a size smaller!
3. Try Different Styles and Compression Levels
We offer waist trainers in a variety of styles because real people are all shapes and sizes! If you find that a particular style is not working for you, try a different material, cut, or compression level.
Here are some different features you can try that may help your waist trainer fit better.
Shoulder straps: Vest-style waist trainers offer the same effects as the traditional waist trainer band, but with additional support for the bust and coverage for the back. What's more, they make folding over virtually impossible. Look for shoulder straps that are adjustable to ensure a perfect fit.
Steel boning: While a lot of waist trainers are reinforced with plastic boning or don't have any boning at all, a waist trainer with steel boning offers more stability and garment structure. Several of the styles we designed ourselves have this unique feature.
Short waist: If you have a petite stature or a short waist, consider a shorter waist trainer. Not only can this prevent folding, but you may find that the garment is more comfortable and flattering for you.
Velcro closure: As we mentioned before, a waist trainer with a Velcro closure can be customized to fit for optimal comfort and the desired compression level. This is a popular option for workout waist trainers, as they will not budge even during your most intense movements.
High compression:When selecting a waist trainer, you may notice that garments feature different compression levels. For the best results, and for a waist trainer that stays put, choose a garment with high compression.
Also note that waist trainers are designed for different types of use. Workout waist trainers generally offer high compression and usually a shorter cut, so you may find that they're less likely to roll than everyday waist trainers.
And if you really want to prevent folding, you might want to skip out on a latex waist trainer altogether and go with a steel-boned corset instead. You can enjoy all the benefits of waist training with a tight-laced garment that you can customize to the exact compression level you want. A steel-boned corset will not budge once it's been broken in; it will fit your torso like a second skin.
How to Improve Your Waist Training Results
Once you have a waist trainer that fits you well and that you absolutely love to wear, you'll want to maximize your results. Here are our best tips:
Aim to practice waist training 8–12 hours per day:While you'll want to start a waist training routine gradually and only doing an hour or two in the beginning to get used to it, eventually this is the goal. You should feel comfortable after a few weeks. Consistency is key for success.
Exercise regularly: A workout routine that includes cardio and strength training is essential for building lean muscle and burning fat, which will further enhance your waist training results.
Eat small, frequent, nutritious meals: Don't let your hard work with waist training go to waste by filling your body with empty calories. Make sure to eat a balanced diet that includes protein, complex carbohydrates, and healthy fats.
Stay hydrated:You'll be sweating during your waist training routine, so make sure to drink plenty of water to stay hydrated. This will help you feel more energized and will keep your skin looking healthy and glowing. Aim for at least 8 glasses of water per day.
Related: 5 Ways Waist Training Can Help Boost Your 2022 Fitness, Waist Slimming, and Wellness Goals
We hope these tips for preventing your waist training from folding and getting a better fit inspire you to take your waist training practice to its full potential! Let us know if you have any more questions or need assistance, and we'll be glad to help!