Posted by Hourglass Angel on May 25th 2022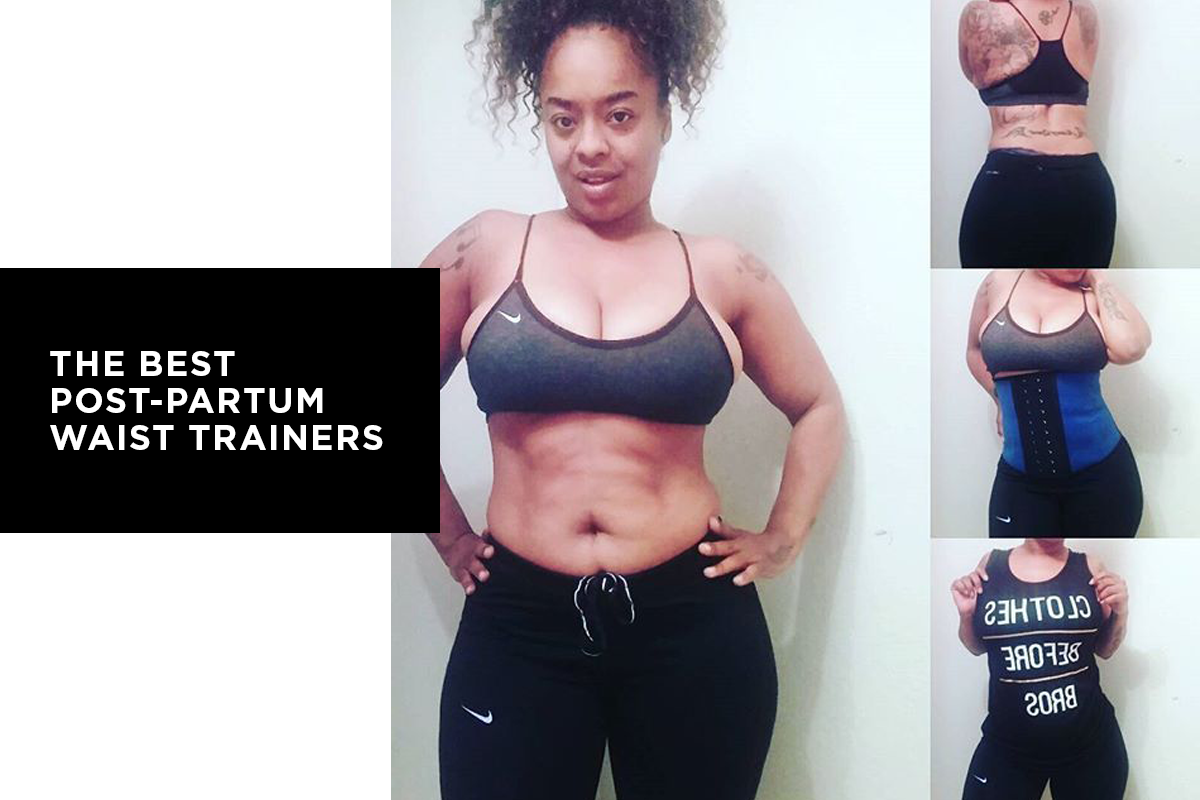 Did you recently have a baby, or are you expecting one soon? If you're eager to restore your figure after childbirth while also supporting your body's natural recovery process, waist training is an effective tool.
Postpartum waist training can help you to feel more confident about your postpartum body and will help you to feel ready to tackle the new experiences of motherhood. Here are the best postpartum waist trainers of 2022, when and how to use them, and what results to expect.
How Postpartum Waist Training Works
Postpartum waist training is a type of body shaping that helps to support your body's natural postpartum recovery. It works by creating compression and heat, which increases blood flow to the area and can help to decrease swelling. This helps to support your body's natural postpartum recovery, while also helping to reduce your current postpartum belly size.
You can start postpartum waist training as soon as you're comfortable following delivery. The waist trainer should provide gentle compression that is soothing and supportive. After a few weeks, you may feel comfortable tightening your garment and wearing it for longer periods of time.
Be mindful of any discomfort you have, especially if you have a C-section. Check with your doctor or midwife if you have any questions or concerns.
For best results, wear your postpartum waist trainer for at least 6 to 8 hours a day. You can wear it while you're at home, while you're out, or while you're sleeping. You can wear your postpartum waist trainer under your regular clothes, or you can wear it over your regular clothes. It's up to you!
A combination of the natural postpartum healing process, maintaining a healthy lifestyle and wearing your waist trainer regularly will result in changes to your body no matter where you are on your postpartum journey. Track your progress through photos and/or waist measurements to see how it works for you. With persistence, you'll most likely notice progress over a few weeks.
The Best Postpartum Waist Trainers for 2022
The best postpartum waist trainers can help you to feel more confident about your postpartum body. They can also help you to feel ready to tackle the new experiences of motherhood. At Hourglass Angel, we offer the best collection of postpartum waist trainers that will aid your recovery after childbirth. Our postpartum waist trainers come in a variety of styles, so you can find the one that is best suited to your current needs.
Best Waist Trainer by Hourglass Angel HA102
This customer-favorite postpartum waist trainer is the perfect choice for new moms. It utilizes spandex and flexible steel boning for maximum compression. With 3 rows of hook-and-eye closures, you can adjust the fit of the waist trainer to your body. This waist trainer is designed to help you to feel more confident about your postpartum body and aid your recovery. Available in a variety of sizes, it can benefit women of all shapes and sizes.
Customer Reviews
"Great: Enjoy this trainer. I've been waist training for 3 years now. This is the first trainer since having my baby so I got one with softer material and very impressed with the quality."
– Mercedes O.
"Love it: I absolutely love it. It's a stretchable material, with an amazing fit. The first ever purchased a waist trainer that actually works."
– Jamecha H.
"Fits perfectly and looks great: Fits perfectly and looks great under regular clothes. Helped a lot with my back because I have less back pain now. Was worth it."
– Everlyn K.
Petite Latex Waist Trainer by Hourglass Angel HA100
If you are shorter or have a shorter torso, this is the waist trainer for you. Constructed with a latex core, it provides the same compression you'd expect from any Hourglass Angel waist trainer, but it's cut shorter for a petite fit. Steel boning works with the latex core to create a comfortable but firm fit. Three rows of hook-and-eye closures provide a custom fit that will size down with you during your postpartum recovery.
Customer Reviews
"Amazing! High quality trainer that is comfortable enough to wear to work, the gym, and sleep in all while gently training my waist shape and posture. I find myself eating smaller, healthier portions of food instead of always going in on my food. As long as I'm conscious of my outfits, I can wear this anywhere (and I do)!"
– Maleia C.
"Most comfy waist trainer ever. Definitely worth it. I am 2 months postpartum and it is making the difference in helping me lose inches off my waist faster. Love it!"
– Danique
"My size! It was such a relief to find a waist trainer that didn't stab into my back. I think the ones I bought before were too big for my torso and I have a deep curve in my back. This is definitely a trainer I can wear everyday."
– Brenda C.
Zipped Up and Snatched Workout Waist Trainer by Hourglass Angel HA108
While this waist trainer is designed for working out, it's also a great option for postpartum moms because of its customizable closures. Simply zip up the garment and pull the Velcro tight to your desired compression level. You'll instantly shrink your waistline by up to 3 inches while optimizing your workout with increased thermal activity in your core. Four columns of flexible steel boning provide powerful compression and shaping to complement a high compression latex core.
Customer Reviews
Snatched: I absolutely LOVE this waist trainer. A must to add for your work out routine. Once you put it on you automatically seem more SNATCHED. Love it. Very comfy. Doesn't roll down. Stays in place. Easy to put on. 100% recommend. You won't regret it. By far one of my favorite waist trainers."
– Nexy
"Love it. It works really well. Best for walking or running. Good quality!"
– Yolanda S.
"So good. Love this waist trainer, use it everyday for the gym and its super comfy ☺️"
– Lorena
Hip-Control Latex Waist Trainer by Hourglass Angel HA109
After childbirth, you may find that your hips are relaxed or even a little wider than before. This waist trainer not only provides compression for your midsection, but it also helps to tighten your hips. We've updated our bestselling waist trainer with an extended bottom for additional hip coverage. Flexible steel boning provides the ultimate in shaping and support for your midsection and extends diagonally for additional hip control. Three rows of hook-and-eye closures provide an adjustable fit that sizes down with you, and the latex core ensures firm compression.
Customer Reviews
"This is one of the best waist trainers I had. It stays in place while still giving you the flexibility to move around and wear it all day."
– Dominique H.
"Not only does this product help me feel sexy, I love how it helps support my back for work. I also feel as though I am shaping my core and sucks in my mommy pouch."
– Melinda P.
"I love this waist trainer. It looks good and does what it is made to do. Excellent Quality. Thank you."
– Jack R.
Latex Waist Trainer Vest by Hourglass Angel HA103
If you desire extra support for your upper back and breasts, this vest-style waist trainer may be the perfect postpartum solution. The latex core provides firm compression, while the adjustable straps and boning provide a comfortable fit and additional support for the bust and back. It instantly sculpts the midsection and stimulates heat in your core using high compression latex. Three rows of large hook and eye closures ensure a custom fit that you can adjust to your liking as you size down.
Customer Reviews
"Great quality, thicker material and doesn't stretch like others. Love the adjustable straps. I feel supported and it holds me in."
– Laura G.
"Love it! This waist trainer is absolutely amazing. Only been wearing it for a month and the results are already amazing."
– Maliyah W.
"Comfortable. Can see my waist getting smaller in less than a month."
– Tiffany S.
Hourglass-Effects Waist Trainer by Hourglass Angel HA105
Get a sportier look in this highly effective waist trainer. The curvy design makes your figure look slimmer and more defined. Brightly colored panels create an hourglass design that you'll love to show off once you're comfortable being out and about. Created for working out, you can experience the benefits whether you're out for a walk with the stroller, hanging out at the house, or getting reacquainted with the gym. A latex core and flexible steel boning sculpt your midesction and support your back, while three rows of large hook and eye closures help you achieve a custom fit no matter where you're at in your postpartum journey.
Customer Reviews
"Fantastic.I Love this trainer! It's so comfortable and it instantly shapes me. I can wear it all day. It has helped with my back tremendously."
– Guest
"Great buy! Get one! Worth money which isn't even outrageous to begin with! Love the material and thickness of the garment. Creates great back support. I wear it at night with no problems and it makes even a simple workout more challenging. I highly recommend it!"
– Teagan M.
"Bye-Bye Baby Body. One month postpartum from giving birth, wanted a little help getting rid of extra belly and to tone as well. Fits great, at first was skeptical because it was a hassle to get on but must say this, don't give up. Lol work it on and wear at least 5-10 minutes before just tossing the whole idea of this waist trainer out the window. So don't be discouraged. Be Fierce!"
– Guest
We hope you're convinced that postpartum waist training has huge benefits for your postpartum body. Try one yourself and let us know how it goes!