Posted by Hourglass Angel on Dec 11th 2019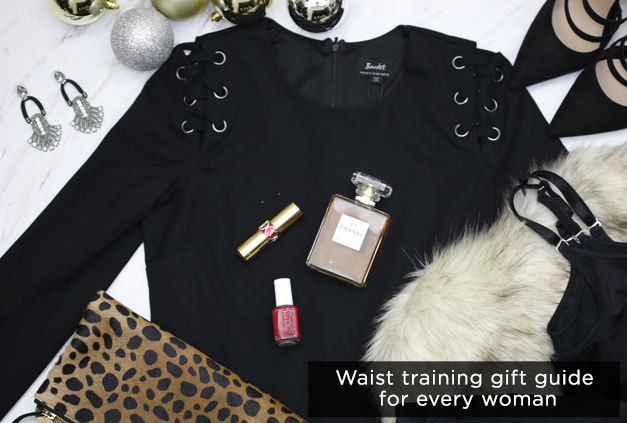 You can give the gift of confidence this year—with waist training gifts for every woman, no matter what her natural shape or size. This waist training gift guide for every woman features all styles, cuts and materials so you can get exactly what the special woman in your life needs to feel great. (You can also put these on your own personal waist training wish list!)
Waist trainers and waist training accessories make high-quality gifts for anyone who wants to intensify their workout routine or have a great piece of slimming shapewear for special occasions or a waist training regimen.
Best Workout Waist Trainers
Beginners in the world of waist training often start out with workout bands. They are accessible for everyone and instantly help you enhance your workout routine (and stay motivated with it!). Workout waist trainers heat up your core so you'll get a more intense sweat—and a more intense workout. Not to mention, they create a slim and sexy look you'll love to show off at the gym or in selfies.
Latex Workout Band Curve Creator by Hourglass Angel: We designed this workout band with the busy woman in mind. You can take it on or off in a snap with the double Velcro closure. This feature also helps you customize the fit every time you put it on—so you can tighten it as you size down. Great for waist training at home or the gym. Just pull the sides together and go.

With a latex core, this workout band creates intense heat around your midsection and helps you sweat harder. You'll also slim down instantly up to several inches. It's a must-have for any serious workout fan and is great for someone who is beginning or advanced with waist training.
Workout Waist Trainer by Ann Chery 2026: This classic workout band is one of the most popular waist trainers in our online shop. And for good reason: It's perfect for slimming your waist instantly and providing the firm compression you need for effective daily waist training.
To use this waist trainer wrap the band around your midsection and work out as normal. It fastens with two rows of hook-and-eye closures. The band will provide ongoing compression around your core, which stimulates thermal activity and ramps up perspiration. Put simply, the band helps ensure that your workout is working for you.
Waist Trimmer Belt by Ann Chery 2051: Workout waist training is made simple with this easy-on trimmer belt. When you're working out, simply slip on the shaper, pull the sides together for a firm fit and go. No hook-and-eye closures, no hassle.
The firm latex design on this waist trainer effectively stimulates heat in your core, whether you're going for a brisk walk, lifting weights or doing HIIT. Your waistline will look up to three times smaller, making it ideal under or over your workout top.
Best Everyday Waist Trainers
Create a versatile everyday wardrobe with a waist trainer that slims the midsection and flattens the belly and also is an essential piece for a daily waist training routine. These waist trainers work beautifully under casual, business and formal attire and are designed to be work 8–12 hours a day.
Classic Waist Cincher by Amia: We love how this simple waist trainer can be a classic piece in any wardrobe. It has a 4.3 rating average from hundreds of customers who love it for its effectiveness, versatility and comfort.
You'll feel confident and poised as you instantly sculpt up to 4 inches from your midsection while wearing it, improve your posture and enhance your curves. This waist cincher also increases thermal activity and perspiration in your core. Add time, plus a healthy diet and active lifestyle, and you're going to love the edge Amia provides in helping women reach their slimming goals.
Latex Waist Trainer Vest by Hourglass Angel HA103: This high-compression latex waist training vest is designed with thin shoulder straps for added support to your bust and back. Designed by our waist training experts right here at Hourglass Angel, it instantly sculpts your midsection, lowering your waist measurements by 1 to 3 inches.
A unique feature of this waist trainer is its flexible steel boning for our most powerful shaping. In combination with the vest-style design with shoulder straps, you'll find unbeatable support and figure sculpting.
Clasica Black 3 Hook Latex Waist Trainer by Ann Chery 2021: Get maximum strength waist slimming in this classic black latex waist trainer from one of our favorite brands, Ann Chery. You will instantly reduce 1-3 inches from your waistline, and you can also use this garment in your everyday waist training regimen.
Three rows of hooks ensures that this garment will size down with you as you make progress with your slimming goals. Wear it underneath any outfit, from the office to happy hour, formal events and back at home. Flat seams make the waist trainer virtually invisible underneath clothes.
Our Favorite Steel-Boned Corsets
Want to take waist training to the next level? A steel-boned corset is the next logical step to create dramatic curves and a classic hourglass cinch at the waist. Laced up the back, these garments provide a tight custom fit. You can wear them every day as part of a waist training regimen, or save them for the wow factor on special occasions.
Underbust Waspie Mesh Corset by Hourglass Angel HA201: This flirty corset is the perfect accessory for the style-conscious woman's wardrobe. It enhances your figure with powerful slimming around your midsection, helping to visibly shrink your waistline while you wear it and solve those pesky trouble areas. The underbust design gently lifts your bust, making it look fuller. The garment is fastened easily with durable closures in front, creating a secure, comfortable fit, and tightened with laces in back.
And the best part—it is made with mesh! This gives it a breathable feel underneath clothing. It also can be worn over lightweight tops as a statement piece (and yes, it will still slim your waistline when worn as outerwear).
Underbust Cotton Corset by Hourglass Angel HA202: Experience powerful slimming that sculpts your midsection into an hourglass shape with this beautiful underbust corset. We designed this corset right here at Hourglass Angel with comfort in mind. The cotton fabrication makes it feel soft and lightweight against your skin, and it will remain comfortable as long as you keep it on.
Specialty Cuts and Sizes
Every body is beautiful no matter what its size and shape. That's why we went out of our way to find and create the best waist trainers for plus size, petite and tall women.
Best Waist Trainer by Hourglass Angel HA102: We had this garment custom designed after feedback from our customers who desired a better waist trainer for their unique curves. This is a high-compression waist trainer designed with plus sizes in mind and comes in up to size 5XL. It is constructed with flexible steel boning, a latex core and three rows of hook-and-eye closures for maximum shaping and slimming effectiveness.
Petite Latex Waist Trainer by Hourglass Angel HA100: If you have a petite figure, you'll love this waist trainer that is cut at a shorter length so that it won't dig into your ribs or hips. But it still has the same curve-creating power as our other quality waist trainers. Constructed with flexible steel boning and a latex core, you'll experience dramatic slimming results.
Ann Chery Latex Waist Shaper Vest 2027: Tall women want shaping power too! This vest-style shaper from Ann Chery gets the job done. You'll notice dramatic slimming of the waist as well as full back coverage and bust support. It is cut long, ensuring coverage for longer torsos. This is a phenomenal everyday garment that also performs well for special occasions.
Waist Training Accessories
Not sure what size to get as a gift or what style the woman in your life will love? You can't go wrong with these accessories as gifts, which will enhance anyone's waist training experience.
Amp Your Curves Waist Training Gel: This unique gel enhances the waist training experience by targeting toxins and fat deposits around the waist. Clinically proven body-contouring ingredients increase the thermal burn you feel when wearing a waist trainer, stimulate microcirculation and restore the appearance of the skin's firmness and elasticity.
Ultimate Waist Training Kit: This expertly curated kit helps anyone start off their waist training journey the right way. It includes everything the beginner needs to experience success, including waist training gel, special detergent to keep your garments fresh and clean, measuring tape to track your progress, a drawstring bag to keep your waist trainer safe in transit and a must-have guide that includes everything you need to know to get started.
There's something for everyone in this ultimate waist training gift guide! If you decide to order something for a friend or loved one, make sure you have her accurate waist measurements. Still not sure what you need? Contact our expert stylists and we'll be glad to help you.