Posted by hourglass angel on Mar 14th 2018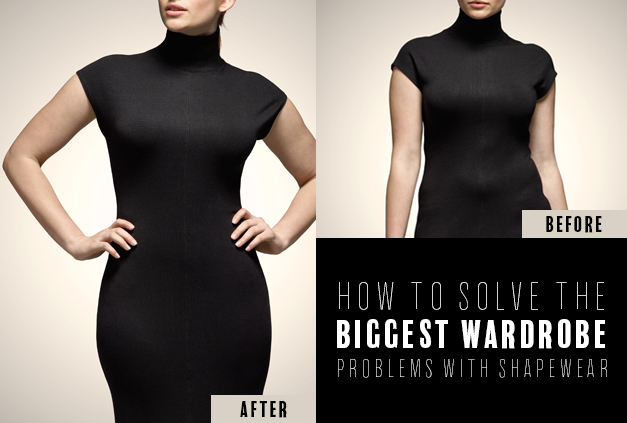 Everyone has trouble areas when it comes to their figures, which means that wardrobe options that look stunning on someone else might not be flattering for you.
While you can't do a lot to change your natural body type, the good news is that you can go a long way to enhancing your best features and concealing your trouble spots. The trick is knowing how to dress—especially with shapewear.
Shapewear can be pretty miraculous when used well! You just have to know which type is ideal for your trouble spots.
Here are some of the most common wardrobe problems women encounter, as well as how to fix them with the right shapewear and style choices.
Problem: Turkey Neck
Turkey neck is wrinkly skin in the neck and chin area. You might be tempted to wear turtle-neck sweaters year-round, but those make the problem worse!
Shapewear solutions:
Since you want to draw attention away from your neck and chin, use shapewear that enhances the bust and slims the torso. We recommend the V-Neck Slimming Tank by TrueShapers 1370 for providing the best foundation for all of your tops with low necklines. For a more sculpted look for your whole figure, try the Smooth Couture Bodysuit by Va Bien. This piece firmly slims your whole figure and can be paired with your favorite bra for optimal shaping and support.
Wardrobe solutions:
Go for tops and accessories that can camouflage the problem: necklines that draw attention away from the chin and neck and towards the collarbone such as V-necks and scoop necks. A button-down shirt with the collar popped can draw the eye down. If you want to conceal more, try light scarves in soft colors.
Turtlenecks, mock necks, chokers and dark colors near the face all draw the attention toward the neck, so avoid these styles as much as possible.
Problem: Muffin Top
This is one of the most common wardrobe problems women encounter: when the waistband of your pants or skirt squeeze against your midsection, causing excess tummy, hip and back chub to spill over.
Shapewear solutions:
You can prevent this problem by choosing shapewear with a high waist. This ensures that you'll have a smooth surface under your clothes, even above the pant line.
The Best Shapewear Mid-Thigh Bodysuit By Amia A107 is one of our favorite solutions for muffin top. It creates a smooth foundation for your figure from just below the bustline all the way down to mid-thigh. Removable, adjustable straps provide additional support and prevent the garment from rolling down or slipping.
Bodysuits like the Sculpt ActivWear Body Shaper by Shape and Slim are also effective at preventing muffin top. And if you're wearing a dress or skirt, try a compression slip for all-over shaping.
Wardrobe solutions:
In addition to the right shapewear, high waist pants and skirts can serve you well in preventing muffin top—not to mention drawing emphasis to the narrowest part of your waist rather than the trouble areas. Try shaping apparel like Butt-Lifting Leggings With Leather Sides By Bon Bon Up 1056 for your workouts and New Dawn Lift and Sculpt Jeans for everyday attire. Both of these garments not only conceal muffin top, but they also lift and shape your butt.
You'll also want to avoid styles that emphasize rather than conceal the problem, including low-rise jeans, cropped tops and any waistband that squeezes around your squishy area.
Problem: Pooch
This is another wardrobe problem located at the midsection. The difference between a tummy pooch and muffin top is that the pooch is below the belly button and is located primarily in the front, while a muffin top can occur higher up around the whole waist. Flabby abs can happen to anyone but are commonly an issue if you've had your belly stretched out by pregnancy.
Shapewear solutions:
To pull those abs in, pick shapewear that provides firm compression in your abdominal areas. Firm compression waist trainers are among our most popular shaping options that can eliminate that pooch belly and shrink your waist by an inch or more.
For everyday, powerful slimming, try the Zipper Latex Waist Trainer By Hourglass Angel HA104. This garment features flexible steel boning and a strong zipper closure over three rows of hooks, for maximum compression. And if you're plus size, you'll love this Plus Size Latex Waist Trainer HA102.
If you'd prefer an alternative to a waist trainer, shaping panties with elastic panels in the front will do the trick. And we're not talking your grandma's panties; Cassandra Thong Back Waist Cincher By Rago 801 is a sexy option that hardly looks like shapewear at all, while Sexy Shapewear with Lace and Garters by Vedette 132 looks like lingerie. For everyday slimming under casual and professional attire, you might like the High-Waisted Panty Shaper with Booty Lift by Leonisa 022239 or the High Waisted Panty by Amia A109. We recommend rotating several shaping panties like these through you're wardrobe so you'll always have options.
Wardrobe solutions:
While your shapewear should be cut high waist, we recommend that you actually avoid high waist pants and skirts, and especially tucking in your shirt into a high waist. This can accentuate the problem. Other than that, if you're wearing the right shapewear underneath, you'll have a lot of freedom to try a variety of styles.
Problem: Armpit Fat
This is excess flesh in the underarm area that is often worsened by strapless dresses and tank tops.
Shapewear solutions:
In order to correct the appearance of fat under the arms, you'll want to wear bras with side slimmers and vest style waist trainers. These not only cinch in the waist but also provide optimal support for the breasts and coverage for the back.
For a supportive bra, we recommend a shaper like the Lacy Love Push-Up Brassalette by Dominique 7759. This is an especially great option for when you want to go strapless. When you're not going strapless, vest-style waist trainers like the Ann Chery Latex Waist Shaper Vest 2027 for everyday and special occasion use or the Latex Waist Trainer Vest by Hourglass Angel HA103 for plus sizes will provide the coverage and support you need.
Wardrobe solutions:
Avoid strapless dresses that cut straight across the chest and opt for sweetheart necklines instead. You'll also want to steer clear of tube tops and tanks that are too tight.
Problem: Mom Butt
It can happen whether you're a mom or not: a flat, elongated backside, without any shape or definition. It can be particularly noticeable when wearing jeans, especially ill-fitting ones.
Shapewear solutions:
Look for panties with posterior padding or shapewear with butt-lifting properties to fill out your rear. The Alexandra Butt-Lifting Shaper by Vedette 504 is a popular shaping option with an open-bottom that firmly lifts your butt's natural shape to create an hourglass shape. The Dayann Butt Boster Body Suit by Vedette 913 is another open-bottom option with all-over shaping power. If you'd prefer padding to an open bottom design, the Butt Lifter Panty by Fullness 8011 creates a natural-looking, full shape.
Wardrobe solutions:
The right jeans go a long way in preventing mom butt. Be sure to avoid jeans with small back pockets and high waist paints, which elongate the butt even further. For this problem, butt-enhancing jeans are especially effective at creating a rounder, fuller shape using rounded seams and strategically-placed embellishments that enhance the right curves.
Problem: Chub Rub
You know it when you've got it: thighs that rub together while walking, causing clothing in that area to become worn and pilled.
Shapewear solutions:
Thick tights and bike-short-style shapers help relieve chafing and provide control in the thigh region. You'll be much more comfortable and save your clothes! Several of our most recommended thigh shapers include the High Waisted Thigh Shaper By Slim Me MSM-108, High Waisted Spandex Shorts by Spanx and the Naomi & Nicole Unbelievable Comfort High-Waist Thigh Slimmer 779 for comfortable, moderate compression that slims the tummy through the mid-thigh. For coverage that focuses primarily on the upper thighs and lower abs, try the Thinstincts Slimming Girl Shorts By Spanx 10004R.
Wardrobe solutions:
You'll have a lot of wardrobe options when you're wearing shaping shorts. Avoid pants made of thin, draping fabrics.
Problem: Back Fat
This often goes hand in hand with armpit fat and is characterized by rolls of flesh around the shoulder blades, often worsened by bra straps.
Shapewear solutions:
Having a well-fitting bra with the straps adjusted so they are not too tight is your first line of defense. A slimming camisole or a compression waist trainer can also help reduce the appearance of back fat. Try the Waist Trainer Corset Vest by Amia A103 to provide extra coverage for your upper back, or the Black Cashmere Underbust Corset for unbeatable support. For shaping camis we recommend the V-Neck Slimming Tank by Trueshapers 1370 for an all-in-one solution that prevents back fat, or the Control Camisole by Amia A108 to pair with your own best-fitting bra.
Wardrobe solutions:
Once you've got the problem under control with the right shapewear, you'll also want to avoid thin fabrics like charmeuse or jerseys.